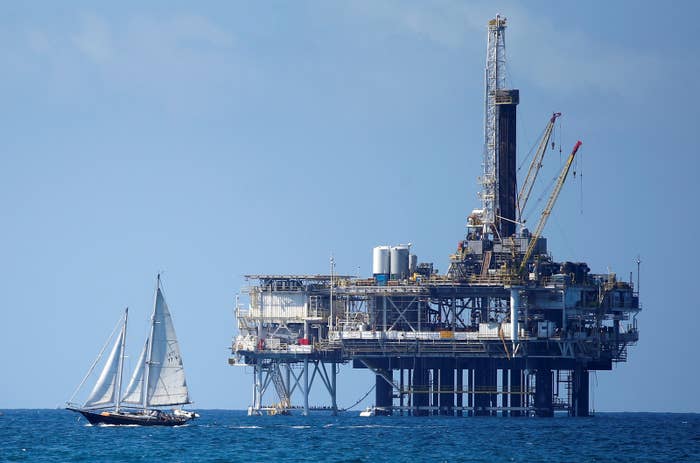 California officials hope to cripple President Trump's offshore drilling program in their state, saying Wednesday that "not a single drop" of oil produced by the proposal would be allowed to travel through the state.
The California State Lands Commission laid out its opposition, and plans, in a harshly worded letter to federal regulators. The letter describes offshore drilling as unpopular, dirty, and the potential source of "catastrophic harm." It goes on to say that any newly extracted oil won't be allowed to pass over the state.
"Given how unpopular oil development in coastal waters is in California," the letter states, "it is certain that the state would not approve new pipelines or allow use of existing pipelines to transport oil from new leases offshore."

California Lt. Gov. Gavin Newsom — who is also chair of the commission and one of the signatories on the letter — went even further in a statement Wednesday, saying that he has "resolved that not a single drop from Trump's new oil plan ever makes
landfall in California." Newsom is currently the frontrunner in California's 2018 governor's race, meaning his agenda, including opposition to offshore drilling, could potentially dominate the state for years to come.
The comments are a response to a proposal from the Trump administration last month that originally would have allowed oil and gas drilling on 90% of the US outer continental shelf. Coastal governors from both parties immediately condemned the proposal.
Shortly after introducing the proposal, Interior Secretary Ryan Zinke met with Florida Gov. Rick Scott, a Republican, and said he would remove that state from the plan. Zinke has promised to meet with other governors as well, but has not yet said if he will also grant exemptions to their states.
The California lands commission's letter Wednesday explicitly compares the state to Florida, saying that both have coastal economies that rely on tourism. It also argues that California is transitioning to renewable energy and criticizes federal officials for scheduling only "one public meeting in California, in an inland area, for the public to weigh in on the proposal."
That meeting is scheduled to take place Thursday in Sacramento.
If California does block the transportation of oil over land, drilling could become significantly more difficult and expensive.
Whether it even gets to that point remains an open question because another powerful state agency, the California Coastal Commission, also opposes the drilling plan. That agency has significant authority to "review federal activities for consistency" with state objectives, spokesperson Noaki Schwartz told BuzzFeed News in an email Wednesday.
"In other words, the law gives us equal authority to analyze these activities and make conclusions," Schwartz explained. "That's a huge tool because it gives states a say what gets leased off the coast. We're the only state agency with direct review authority over offshore drilling in federal waters."
The coastal commission sent its own letter to the federal government Wednesday. That letter, which was provided to BuzzFeed News, argues that "virtually all of California's coastal economy and valuable coastal resources would be at significant risk under this program."
"If offshore drilling poses a risk to Florida's economy, the risk to California's is three times greater," the letter states.
The letters from the California commissions were addressed to Bureau of Ocean Energy Management, which is a part of the Interior Department. In an email to BuzzFeed News Wednesday, Interior Department spokesperson Heather Swift said creating the drilling plan "is a very open and public process" and that Zinke plans to meet with additional governors. She also said there are 23 more public meetings scheduled, as well as an online option for people to weigh in on the plan.
Still, the Trump administration faces significant and powerful opposition from California's state officials. Dayna Bochco, the chair of the coastal commission, said in a statement to BuzzFeed News that "nothing galvanizes bi-partisan resistance in California like the threat of more offshore oil drilling."
"Fortunately the coastal commission is the one state agency that actually has the authority to potentially prevent this from happening," Bochco said. "We've fought similar efforts before, and we will fight them again."