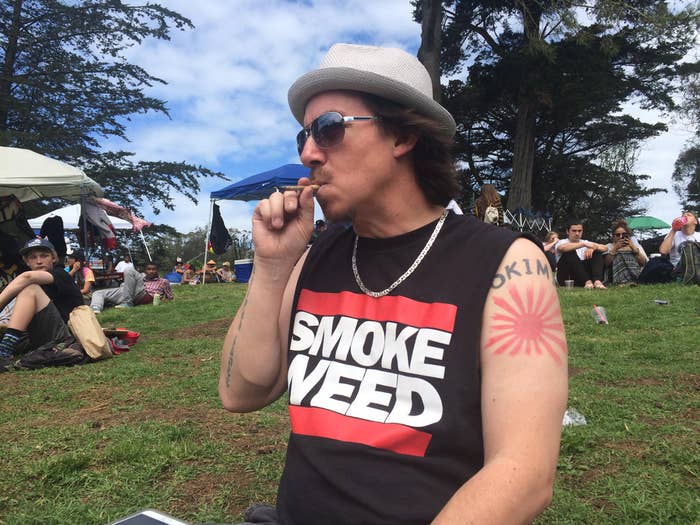 Californians will get a chance to vote on recreational marijuana, after an initiative formally qualified on Tuesday for November's ballot.
The qualification was expected and previously announced by supporters of fully legalizing pot, who called the war on drugs a failure and act of "tyranny."
California Lt. Gov. Gavin Newsom said during a news conference last month that the Adult Use of Marijuana Act had met the qualifications to appear on the November ballot.
Oregon, Washington, Alaska, Colorado, and Washington, D.C., also allow for recreational use of marijuana.
Here's what the ballot measure would mean for Californians if approved:
How does this change marijuana laws in California?
Medical marijuana is already legal in California, and prescriptions are easy to obtain for any number of ailments — both real and perceived. Moreover, the Golden State decriminalized marijuana possession in 2011, meaning it was no longer a misdemeanor to carry small amounts of the drug.
As a result, the practical effect of the Adult Use of Marijuana Act would be largely symbolic of many Californians who already have access to weed. However, the act does aim to legitimize much of the marijuana industry by promising to tax sales, prohibit cultivation on public land, and impose a series of regulations on what supporters say is currently an unregulated sector.
The measure would allow adults to buy and consume 1 ounce of non-medical marijuana. Californians would also be able to grow up to six marijuana plants as long as they are out of public view.
Using weed in public, however, would still be illegal.
Newsom said the measure should consequently generate "millions and millions of dollars" for things like education, drug treatment, law enforcement, and research.
Stephen Downing, a retired deputy Los Angeles police chief also spoke at Wednesday's news conference, saying the aim was to defeat cartels that have proliferated in recent decades.
"There is no metric I found that points toward any kind of success with our current drug policies," Downing said, adding that the initiative "is the best chance for California to break the back of the cartels operating in our state."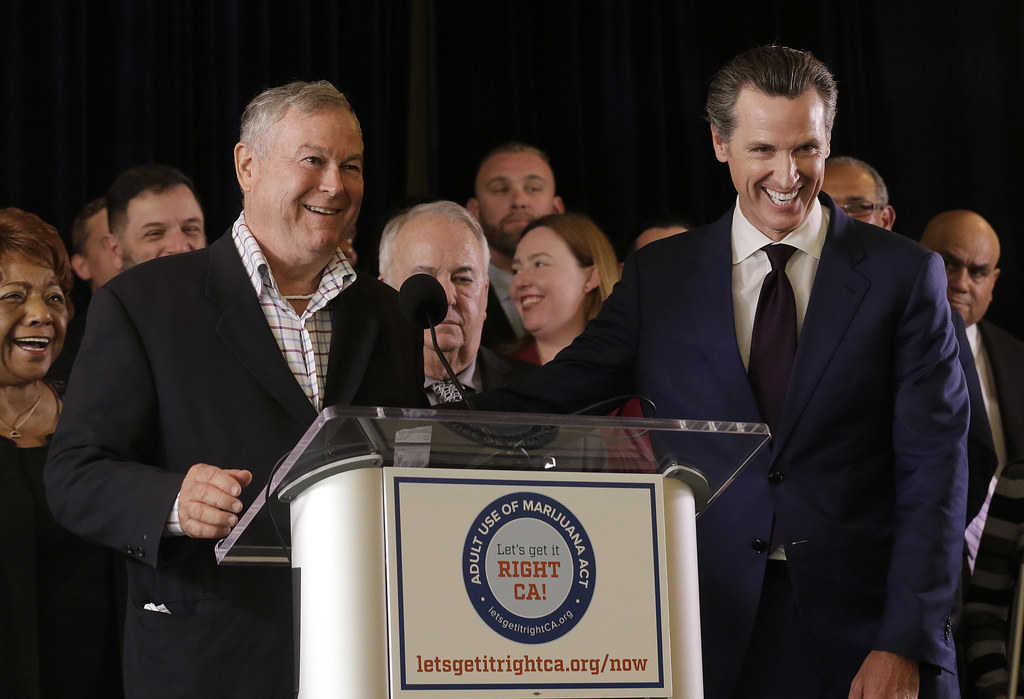 Who would be able to buy marijuana if this measure passes?
Only adults over the age of 21.
During Wednesday's news conference, Marsha Rosenbaum — director emerita at the Drug Policy Alliance — said the measure is designed to keep marijuana out of the hands of minors.
"Some people think that what we have now is a system that controls availability of marijuana to teenagers," she said. "That could not be further form the truth. What we have now is basically chaos."
Rosenbaum went on to say that children can currently buy illegal marijuana on the street. She and other supporters hope the Adult Use of Marijuana Act will put an end to that, making it easier for adults — but harder for minors — to get the drug.
The measure also leaves the door open for employers to keep their drug testing policies. That means that while adult Californians will legally be able use pot, their employers could still penalize them for doing so.
Where will Californians be able to buy marijuana?
The Adult Use of Marijuana Act includes a handful of restrictions on pot shops. They can't be located near schools or "where children are present." Shops will also have to be licensed, and be barred from also selling alcohol or tobacco products.
Local communities will also be allowed to decide if they want to issue business licenses to pot shops.
As a result, legal pot shops could theoretically multiply in California, but face a series of restrictions on where they can actually operate.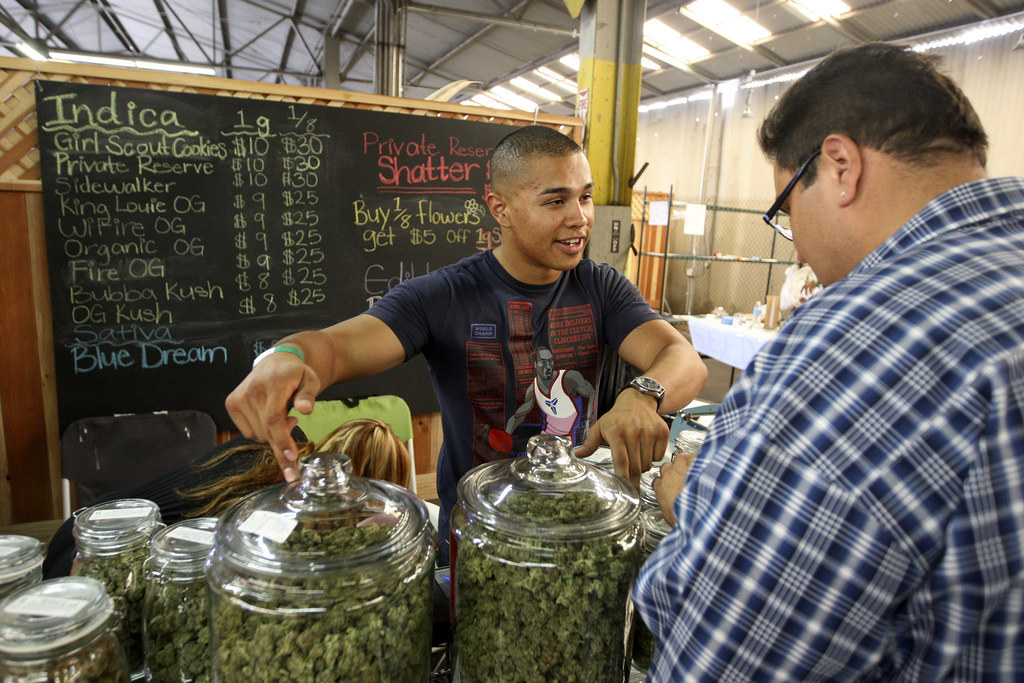 What does this mean for people who already have marijuana convictions?
Tamar Todd, a senior director at the Drug Policy Alliance, said on Wednesday that people who are currently in jail or prison for offenses that would no longer be crimes under the proposed measure would have the opportunity to return to court and petition to be re-sentenced.
The measure also opens the door for people who have already served their sentences to have their convictions dismissed.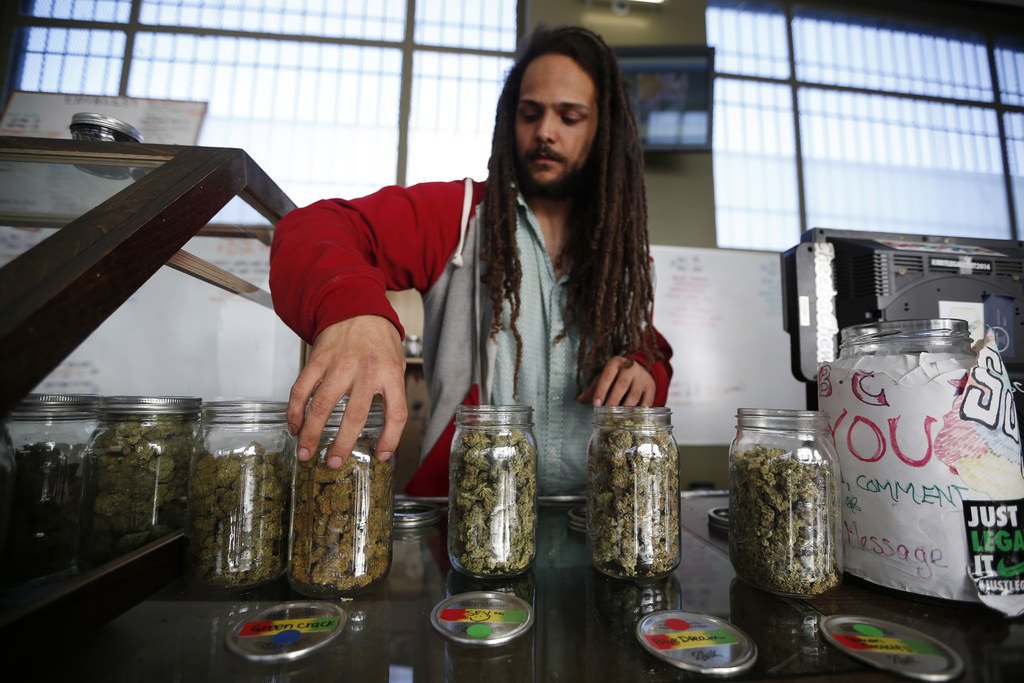 Who is on either side of the issue?
Newsom was joined by people from academics, law enforcement, and advocates. Newsom himself said that while he personally dislikes marijuana, he's more concerned about disproportionally high incarceration rates for black Americans.
"I don't like criminalization," he said.
Other supporters include the California State NAACP, California Medical Association, Marijuana Policy Project of California, and other organizations. Napster and Facebook billionaire Sean Parker also supports the measure.
Rep. Dana Rohrabacher (R-Coronado) is also supporter, telling reporters Wednesday that "the walls of cannabis prohibition and this tyranny that our people have faced is coming down."
However, a large coalition also opposes the measure, including the California Police Chiefs Association, California Teamsters, California State Sheriffs' Association, California Peace Officers Association, the Small Growers Association.
In a statement, Ken Corney — president of the California Police Chiefs Association (CPCA) — argued the measure would let people become licensed marijuana dealers even if they had felon convictions related to harder drugs.
The CPCA has also argued there are insufficient protections for local communities who do not want recreational marijuana use within their jurisdictions.
Scott Chipman, chairman of the Citizens Against Legalizing Marijuana, said his group will fight the measure as well. He rejected the idea that the measure would fight cartels, saying California is an exporter of marijuana, and argued that proponents' claims about racial disparities in law enforcement are moot thanks to decriminalization and medical marijuana laws.
"Nobody is lighting up a joint and getting arrested anywhere that I'm aware of," he said.
He also called marijuana a gateway drug. And legalization, he contended, hasn't eliminated the black markets in Washington and Colorado.
"They're just basically trying to put suits and ties on criminals," Chipman said.
Both coalitions have promised a strong fight heading into election season, with Newsom calling 2016 "the perfect election cycle for this issue."