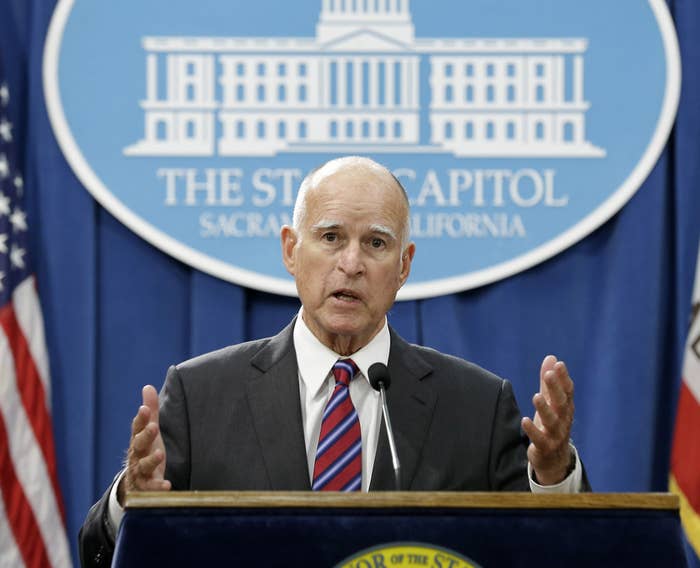 Just weeks before California Gov. Jerry Brown plans to lead a delegation to a global climate change conference, a published report revealed Thursday the governor ordered state regulators to investigate his private land for its oil and gas potential.
The Associated Press report — which was based on documents obtained via public records requests — described a 51-page report that was allegedly produced over two days by oil and gas regulators. Regulators also created a map labeled "Oil and Gas Potential in West Colusa County," and "JB_Ranch" — both references to Brown's 2,700 acre ranch.
The documents were created after Brown asked state officials to examine the land's "potential for future oil and gas activity," the AP reported. The findings revealed there was little potential for drilling or mining at Brown's ranch.
Both Brown's office and state regulators have said the work was legal, but experts interviewed by the AP characterized it as both unusual and potentially troubling.
"Anyone calling in for help is not going to get that," Roland Bain, a petroleum geologist, said of the documents produced for Brown. "The division of oil and gas has never been in a position to give you detailed geological mapping."
Other experts agreed, saying that state officials typically do not provide private citizens with the kind of help Brown got. And Jessica Levinson — a governance expert at Loyola Law School — questioned the ethics of Brown's request, telling the AP that "if no other private individual is able to avail himself of this opportunity, and it's clearly just for personal gain instead of public benefit, then it's clearly problematic."
Brown's office, however, denied many of the assertions made in AP's report.
In a statement to BuzzFeed News, Brown's office said the governor was "interested in the history and geology of his family ranch in Colusa County—not drilling for oil or gas—and has the same right as anyone to obtain public records."
Gareth Lacy, spokesperson for the governor, argued that Brown was presented with "maps, historical well records, and a one-page summary of the information—not a 51-page report."
The governor's office also said regulators spent hours, not days as the AP reported, compiling the information, and that no one actually went to Brown's land, instead creating the assessment electronically.
Brown's office sent BuzzFeed News the documents the governor's request apparently produced. The documents include a one-page report titled "Oil, Gas and Mineral Potential of West Colusa County" and conclusion of a "very low" potential for oil and gas drilling in the area.

The documents provided by Brown's office also include 83 additional pages of historical records and maps.
The "Department of Conservation regularly fields similar requests for public, historical well and geological information," the governor's office said. Included with the statement were documents produced by three other such requests; one from the city of Los Angeles, another from a Santa Barbara non-profit, and a third from an individual whose name was redacted.
The Center For Biological Diversity, an environmental advocacy group, blasted Brown's use of state resources in a statement to BuzzFeed News.
"Gov. Brown's use of state officials as his own private oil prospecting team is especially outrageous given his administration's failure to prevent oil companies from polluting California's underground water," the statement read. "Our governor is showing his true colors by using state resources to search for fossil fuels that he's acknowledged are cooking our climate."
Republican California Assemblywoman Shannon Grove called for an investigation into the allegations Thursday in response to a question from Breitbart.
The backlash comes at an inopportune time for Brown; at the end of the month he plans to attend a United Nations conference designed to address climate change.
According to the Los Angeles Times, Brown and a Bay Area billionaire have been circulating a letter on the governor's stationary encouraging others to attend the conference to "share California's success stories with world leaders and to urge other business leaders to support similar efforts."