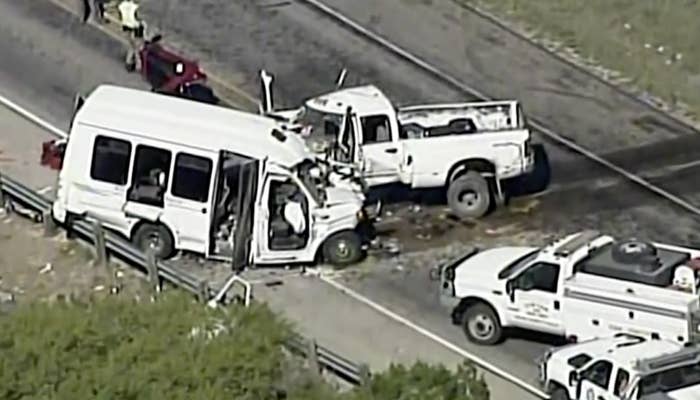 Thirteen members of a seniors church group died in Texas Wednesday when their bus was involved in a head-on collision.

The bus collided with a pickup truck about 90 miles west of San Antonio, Texas Department of Public Safety Lt. Johnny Hernandez told BuzzFeed News. The crash happened just before 12:30 p.m.
The bus had been carrying members of the First Baptist New Braunfels Church who were returning from a retreat. Officials pronounced 12 people dead in the hours after the collision. A 13th person died later Wednesday night, the Associated Press reported.

The crash also left several people injured, Hernandez said, including the driver of the pickup truck. Hernandez described the crash as a "head-on collision," but said the cause of the accident was still under investigation.
Images from the scene Wednesday afternoon showed debris strewn across the highway and wreckage of the two vehicles still intertwined.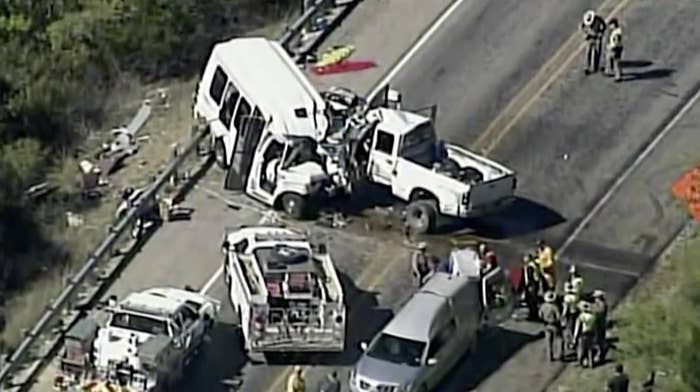 The bus had been carrying 14 church members, the AP reported. According to the church, the group had just spent three days at the Alto Frio Baptist Encampment a few miles north of crash site.

In response to the collision, the church canceled all Wednesday night activities and in a statement requested that people "pray for those who lost their loved ones and for the church family."
Texas Gov. Greg Abbott also called the crash "tragic" in a statement.
"We are saddened by the loss of life and our hearts go out to all those affected," Abbott added.