Thanks to intense lake effect snow, the Buffalo Bills' Ralph Wilson Stadium is currently buried in a staggering amount of snow. Which is a problem, because the team has a game Sunday.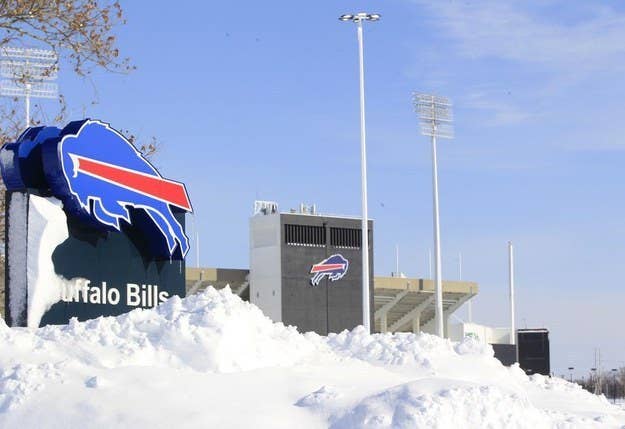 A team spokesman said Wednesday the stadium was filled with more snow than ever before, the Associated Press reported.
The game against the New York Jets is scheduled to start at 1 p.m. Sunday. The NFL ultimately can decide if the game should be postponed, or moved to another location.
In order to get ready for the upcoming game, the Bills made an offer to fans Wednesday: come shovel the stadium for $10 an hour and free tickets to the game.
A BuzzFeed News email to the Bills received what was apparently an automated response revealing that shoveling will happen around the clock:
Thank you for your interest in shoveling at Ralph Wilson Stadium. We'll begin shoveling operations shortly after the driving ban has been lifted and will be shoveling 24 hours a day until the stadium is cleared. Please bring 2 forms of ID along with a shovel.
The Bills did not respond to calls seeking comment.
Right now, the stadium is covered in 220,000 tons — or 440,000,000 pounds — of snow. If each shovel-full of snow weighs 25 pounds, it would take 17,600,000 scoops to clear the stadium.
And that's being conservative. The Colorado Spine Institute reports that a full shovel of snow can weigh 25 pounds, but actual weights vary dramatically depending on moisture content. Lighter snow would be easier to lift, but if each shovel-full only weighed 12 pounds, for example, that means more total scoops.
So, assuming one person was shoveling at a rate of one scoop per minute, it'd take about 33.5 years to entirely clear the stadium.
If 500 people show up to shovel, it'd take them each about 35,200 scoops to clear the whole stadium. But at that rate, it'll still take three and a half weeks to clear the stadium.
Again, this is assuming 25 pound scoops and one scoop per minute, which is being generous. It's also assuming everyone doesn't get super tired and start scooping up way less snow at a much slower speed.
Of course, the Bills will have machinery on hand to help clear the stadium, but these calculations also don't account for the fact that more snow is on they way, and standing snow tends to become ice after a while.
And ice is even harder to clear.
There are also other factors that will complicate snow removal. For example, how do you shovel around bleachers and seats? And where is all the snow going? Unlike shoveling a driveway, for example, the snow in the stadium can't just be pushed to the side; instead, presumably, it'll have to be trucked out to some other location.
On the other hand, Buffalo is a snowy place and if anyone can pull this off, it's probably the Bills and their fans.