British Airways Jet Catches Fire At Las Vegas Airport, At Least 14 Injured
A London-bound plane was engulfed in flames Tuesday after an engine caught fire during takeoff. All of the injuries suffered while evacuating the jet were minor, officials said.
A British Airways passenger jet erupted in flames during takeoff Tuesday in Las Vegas, forcing passengers to escape on emergency slides.
Ian Gregor, an FAA spokesman, told BuzzFeed News the Boeing 777's left engine caught fire. The crew aborted takeoff and everyone on board evacuated using inflatable emergency slides, Gregor said.
There were 159 passengers and 13 crew members aboard the 275-seat aircraft, which had been bound for Gatwick airport in London at about 4 p.m. when the fire broke out.
The cause of the engine fire was not immediately known.
Rosemary Vassiliadias, director of aviation for Clark County, told reporters Tuesday night that a team of investigators from the National Transportation Safety Board was scheduled to arrive Wednesday to start inspecting the jet.
Fourteen people were transported with injuries to Sunrise Hospital, spokesperson Marissa Mussi told BuzzFeed News, although Vassiliadias put the number at 13.
Vassiliadias said most of the injuries were related to evacuating the jet.
Everyone who was hospitalized was released by Wednesday morning, British Airways said in a statement. The National Transportation Safety Board is conducting an investigation into the incident.
In the plane's radio communications — which were posted online Tuesday evening — the pilot could be heard saying "mayday, mayday" and asking for "fire services."
An air traffic controller responded "heavy fire services are on their way."
The pilot was identified by The Guardian as Chris Henkey, who has been a pilot for 42 years. His daughter, Charley, told the Reading Chronicle that he was due to retire next week.
Images shared online showed passengers as they evacuated the plane.
Jacob Steinberg, a writer for The Guardian, tweeted that he was asleep as the plane was taking off. It then "came to a crashing halt." Steinberg could smell smoke and, after initially being told to remain seated, heard shouts to evacuate.
According to Steinberg, the pilot later said the fire was the result of a "catastrophic failure of the engine."
Steinberg tweeted a photo of his friend fleeing during the evacuation:
Photos and videos also showed flames and smoke engulfing the front of the jet while it sat on the tarmac.
Inflatable emergency slides, which were used in the evacuation, could be seen in some images as well.
Ian Payne, who was on the plane, told ITV News that a woman was trampled during a "stampede" of passengers trying to get off the aircraft.
"Initially we all had to go to one side of the plane, then the chutes didn't deploy correctly, so we all rushed to the other side," he said.
"There was a big of a stampede and a bit of trampling, panicking and tears and screaming.
"From the time we got asked to evacuate it was absolute panic stations; unfortunately some people got trampled on. It was just pandemonium."
Firefighters eventually managed to extinguish the blaze, but not before it forced the airport to shut down one of its three runways.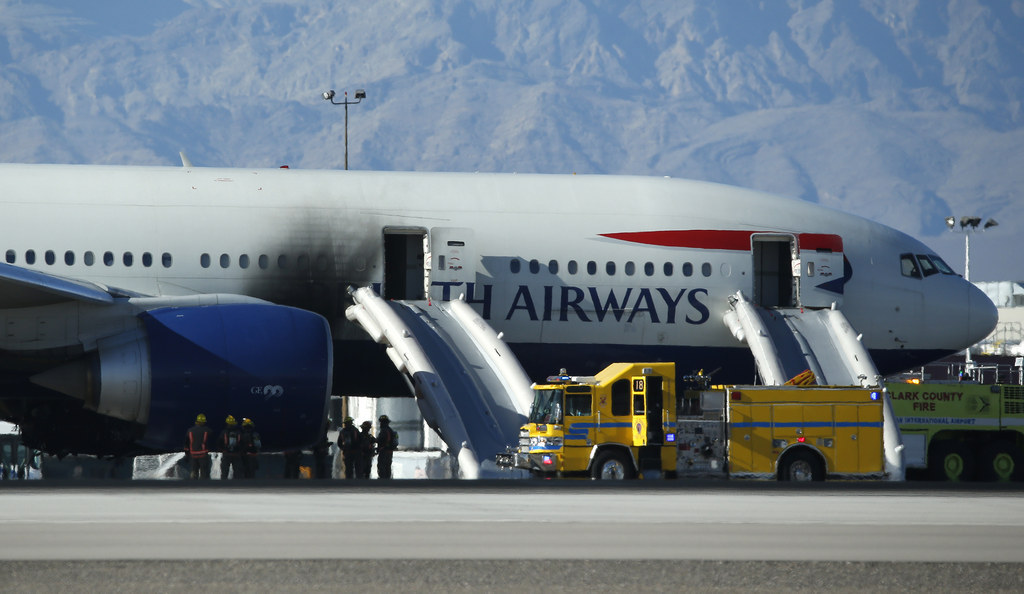 Correction
Jacob Steinberg is a Guardian reporter. An earlier version of this post said he worked for the BBC.