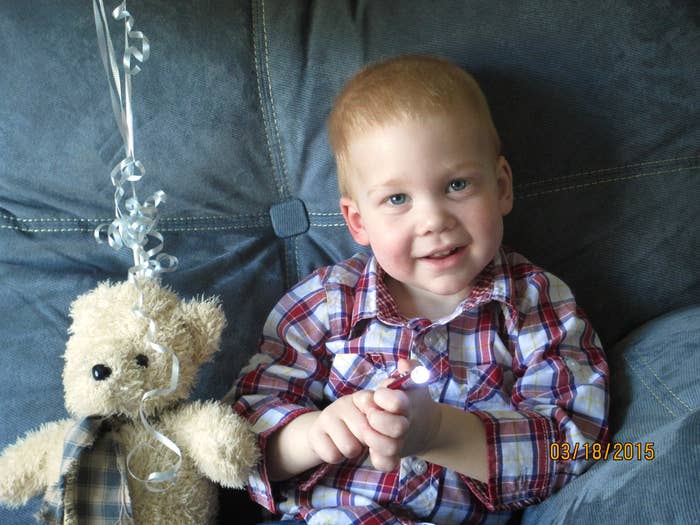 When a neighbor found 22-month-old Gardell Martin in the middle of a freezing Pennsylvania stream last week, it seemed impossible that he could survive.
Randall Beachel told BuzzFeed News that he and his wife had been searching for Martin after several kids in the Mifflinburg neighborhood ran by saying they couldn't find their brother.
It was the evening of March 11, and as Beachel and his wife split up along the riverbank, he had a feeling.
"I had the inkling to come back upstream about 50 yards," Beachel recalled.
Minutes later, Beachel saw Gardell's lifeless body, resting on an embankment in the middle of the stream. Beachel plunged in.
"It was cold enough that my feet kind of instantly froze and I could not feel them," he said. "They estimated afterward the water temperature was about 34."
Beachel carried Gardel out of the stream and soon was met by an ambulance. At the time, Gardell was cold and frozen. He had no pulse. And from his appearance, he looked like he had died.
"He was pretty much a lifeless baby," Beachel said.
But rescuers didn't give up. Instead, they began CPR, and they kept going and going.
The CPR continued as Gardell was driven to one hospital, then flown to another, The Patriot News reported. When he arrived at the final hospital, his body temperature was just 77 degrees — far below the average of about 98 degrees.
In total, medical teams kept CPR going on Gardell for one hour and 41 minutes. They also worked to warm him his body temperature, put him on a ventilator, and gave him medication, according to The Patriot News. When his temperature rose to 82 degrees, doctors detected a pulse and soon thereafter his heart restarted.
Then, around 2 a.m. the next day, Gardell's father, Doyle Martin, arrived. Martin, a truck driver, asked Gardell if he wanted to "play truck." His mother, Rose Martin, told BuzzFeed News that everyone in the room thought Gardell "was out of it" at the time.
But then he opened his eyes.
Gardell's mother said the toddler is now doing well, and called his recovery a "miracle."
Hours after Gardell opened his eyes, his brain was functioning normally, doctors told the Associated Press.
Doctors also explained that hypothermia actually protected Gardell by reducing the oxygen requirements for his organs. His young age also may have helped save him, they said.
And so far, it appears Gardell avoided suffering brain damage — a common fate for those in similar circumstances.
Doctors who worked on Gardell did not immediately respond to BuzzFeed News' request for comment.
But in an interview with The Patriot News, one of the doctors who worked on Gardell, Richard Lambert, said the boy's recovery was a first.
"I've never experienced anything like this," he said.
Those close to Gardell said there was something more going on.
"The hand of God was with this little boy the whole way through," Beachel said.
Rose Martin agreed, adding that Gardell was doing well Thursday and was "very close back to normal."
"We feel very thankful to God," she added. "We feel like it was an act of God. It was a miracle."