Hundreds of Black Lives Matter protesters formed a giant peace symbol in a Los Angeles-area intersection Sunday night.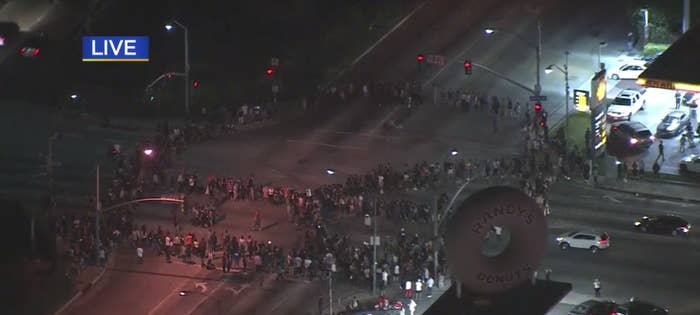 The protest happened outside the iconic Randy's Donuts building in the city of Inglewood. CBS 2 News reported on air that the crowd at one point appeared to include about 700 people or more, though by the time the protesters formed the peace symbol it had shrunk to a few hundred people.
The protest happened amid ongoing demonstrations in cities across the U.S. over the deaths of black men in Louisiana and Minnesota last week, and just days after a sniper killed five police officers at a protest in Dallas.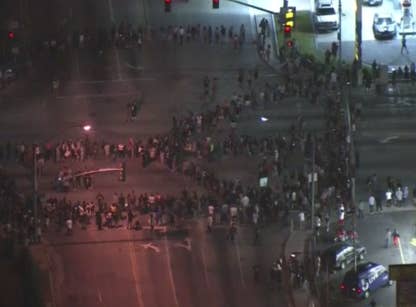 Protester Angelo Valentin told CBS 2 News that he went to the Los Angeles demonstration Sunday because "it's time to step up and do some action."
"We're here tonight because several things have been transpiring in the news and a lot of times we just sit on social media and complain about it," he said.
Protesters also blocked the 405 freeway.
The protest ultimately remained peaceful and police did not make any arrests.
Inglewood Police Lt. Gregory Held told the Times the gathering had "all been peaceful."
"There has been no reason for interference by us," he said. The Times also reported that there had been no arrests.
Inglewood Police did not immediately respond to BuzzFeed News' request for comment early Monday. However, live video from the protest showed only a small law enforcement presence. As of early Monday morning, ABC 7 also had reported that the protest was peaceful.
Most protesters had dispersed after 11 p.m., though about 150 remained in the intersection, CBS 2 News reported.
Elsewhere over the weekend, more than 100 people were arrested and 27 police officers injured at a protest in Minnesota Saturday. More than 100 people, including activist DeRay Mckesson, were also arrested Saturday at a protest in Louisiana. Protests and arrests continued Sunday in Louisiana, with Baton Rouge Police taking dozens of people into custody.