Thousands of Bernie Sanders supporters are protesting against Hillary Clinton and the Democratic National Committee on Philadelphia's streets and inside the convention hall.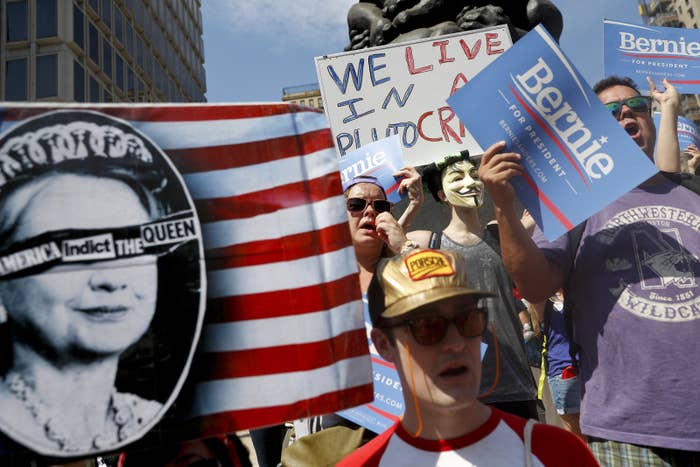 The first Sanders rally kicked off Sunday with more than 1,000 protesters from all over the country chanting anti-Hillary slogans.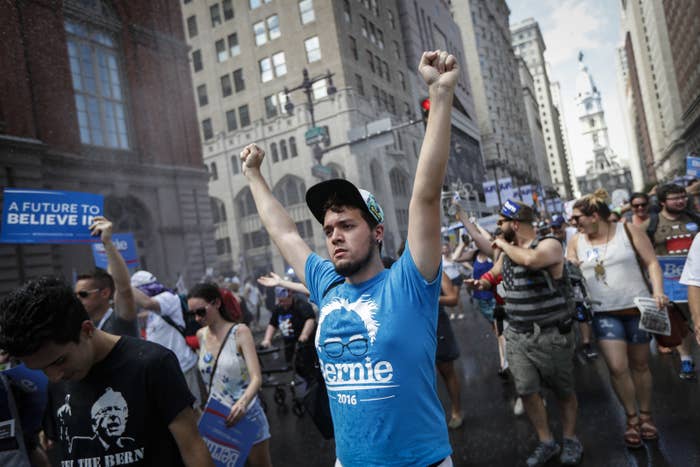 Sanders supporters continued to march in large numbers Monday, demonstrating the lingering divide between Democratic party voters just hours before the convention kicked off.
The rallies are larger than any of the protests seen at last week's Republican National Convention in Cleveland.
Sanders' supporters chanted "Lock Her Up" — which was stunning because it was frequently, and loudly, heard during the Republican National Convention.
Clinton's campaign dismissed the "Lock Her Up" chants, saying it wasn't a "consensus sentiment at all."
Then, at a rally for his supporters, Sanders called for people to elect Clinton and her pick for vice president, Tim Kaine. That triggered resounding boos and thumbs-down by his supporters on Monday.
Even as the Clinton campaign sought to compare the "optimistic and hopeful" message of the DNC to the "dark and divisive" message at the GOP's convention, there was strong anti-Clinton rhetoric at the pro-Sanders rallies.
"I hate Hillary. She's a manipulative, corrupt politician," a Sanders supporter told BuzzFeed News.
Some protesters likened Clinton to Trump: "Everything we're afraid of with Trump, Hillary is already doing."
A "Hillary for Prison" truck sponsored by right-wing conspiracy theory website Infowars.com was cheered by Sanders supporters when it appeared at Monday's demonstration.
Among the dozens of pro-Sanders supporters who spoke with BuzzFeed News, not a single one expressed a willingness to vote for Clinton.
"I would take a sharp stick to my eye before I vote for Clinton."
Many said they would leave the party.
Like many people at the protest, Gordon DiQuattro of Oregon held out hope that Sanders supporters could swing super delegates and hand the nomination to the Vermont senator. There is little to no chance of this happening.
"I might have been able to hold my nose and vote for Hillary if she was honestly elected," Helen Day told BuzzFeed News. "But WikiLeaks showed this week that she wasn't honestly elected."
"Wake up DNC. Bernie can win. Hillary will lose."
They yelled "election fraud!"
There were police on hand, but they left a small footprint when compared to Cleveland.
Sanders supporters even drowned out the prayer with chants of "Bernie! Bernie!"
Then there were boos drowning out the business of the DNC, at one point led by Ohio Rep. Marcia Fudge.
They also booed Rep. Elijah Cummings when he mentioned Clinton.