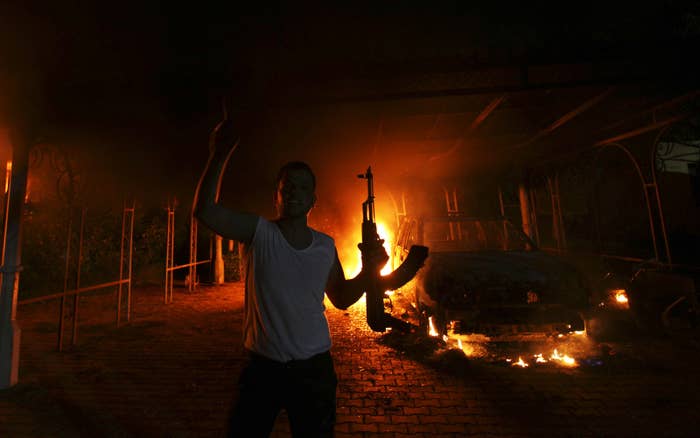 The accused ringleader of the deadly 2012 attack on a US facility in Benghazi, Libya, that left an ambassador and three other Americans dead was convicted Tuesday of terrorism, but cleared of more serious charges, including murder.
A jury cleared 46-year-old Libyan Ahmed Abu Khatallah of 14 different charges Tuesday afternoon, but convicted him on four others, including conspiracy to provide support for terrorists. Prosecutors had argued that Khatallah was involved in orchestrating a pair of attacks that began on the 11th anniversary of 9/11, and that left US ambassador Christopher Stevens and three other US personnel dead.
Khatallah now faces up to life in prison. The judge has yet to set a date for sentencing.
Following Tuesday's verdict, CIA Director Mike Pompeo sent a note to agency staffers saying that "a small measure of justice was meted out."
"It took intelligence to find him, soldiers to assist in capturing him, law enforcement to interview him, and a legal team to put him away," Pompeo said in the note, which the agency provided to BuzzFeed News. "Khatallah's sentencing is to follow; but no term in prison will bring our people back."
Acting Assistant Attorney General Dana Boente said in a statement that capturing and prosecuting Khatallah were "critical steps in our efforts to identify and hold accountable those who were responsible for the terrorist attacks on our facilities."

"Our work is not done," Boente continued. "We will not rest in our pursuit of the others who attacked our facilities and killed the four courageous Americans who perished that day."

US forces captured Khatallah, who had been a leader in an Islamist militia, in 2014. At his trial earlier this month, prosectors reportedly described him as the "on-scene commander" of attacks that targeted the US diplomatic mission in Benghazi, as well as a nearby CIA complex. Prosecutors also argued that Khatallah had suspected the US was running a spy base, and that he had planned the attacks for at least a year, the Associated Press reported.

In a statement Tuesday, the Justice Department also said Khatallah coordinated the attack via cellphone, prevented emergency responders from getting to the scene, and warned other militant leaders not to interfere.
However, defense attorney Michelle Peterson reportedly told jurors that there were "holes" in the prosecution's evidence, and "they want you to hate him." Defense attorneys also characterized Khatallah as a bystander on the night of the attacks who arrived at the scene merely to see what was going on.
The attacks, which led to the first death of a US diplomat since 1979, became a political lightning rod in the preceding years, with Republicans criticizing the Obama administration and then-Secretary of State Hillary Clinton for their response. The resulting investigation showed that Clinton had used a private email server to conduct government business, an issue that continued to dog Clinton through her failed presidential bid last year.

Khatallah was the first person captured and tried for the attacks. His case was a significant one for the US attorney's office in Washington, DC, on multiple levels; although the government identified more than a half-dozen alleged co-conspirators and participants in the attack during its opening presentation, Khatallah is the only person to stand trial so far.
Moreover, the US attorney's office in DC has handled terrorism cases before but not to the same extent as its counterparts in New York and Alexandria, Virginia.
Last month, US Special Forces captured another man, Mustafa al-Imam, who is also suspected of involvement in the attacks.
Tuesday's verdict means Khatallah now faces up to a lifetime in prison. According to the US attorney's office, the firearms offense carries a maximum sentence of life in prison and a mandatory minimum sentence of 10 years. The terrorism counts each carry maximum sentences of 15 years in prison, and the property destruction charge has a maximum sentence of 20 years in prison. Prosecutors had previously said they would not seek the death penalty.
BuzzFeed News reporter Zoe Tillman contributed to this report.