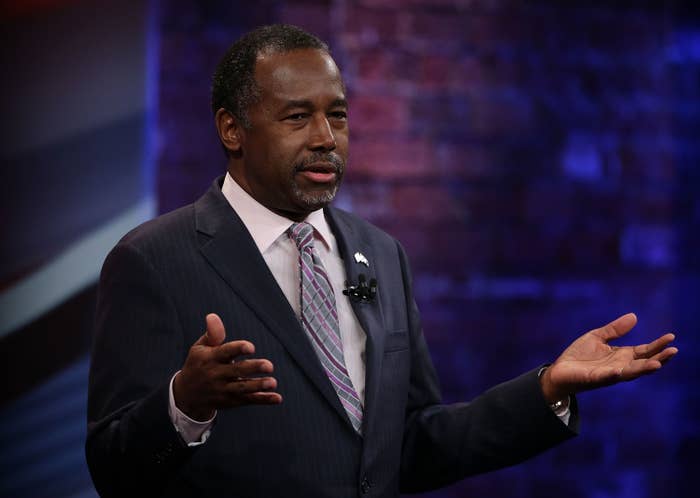 Republican presidential candidate Ben Carson ended his bid for the White House on Friday, four days after failing to win any Super Tuesday contests.
Carson, a retired neurosurgeon, announced that he was dropping out of the race during a speech at the Conservative Political Action Conference in Washington, D.C.
"Even though I might be leaving the campaign trail, you know there's a lot of people who love me," Carson said. "They just won't vote for me."
He added that he would still be "heavily involved in trying to save our nation."
In a statement, Carson said despite the fact that running for president was never on his bucket list, he believed that his "values, life experience, and common sense solutions put me in a position to help get our nation back on track for the sake of our children and grandchildren."
He also stressed the need for a united Republican party.
"Equally important, we need to understand that Republicans are not each others' enemies," he said. "Conservatives need to unify together so that that we do not snatch defeat from the jaws of victory and put another secular progressive in the White House."
Carson's campaign struggled to gain traction among voters throughout primary season. Most recently, he came in either last or second to last place in every Super Tuesday contest, falling far behind frontrunner Donald Trump as well as prominent contenders Ted Cruz and Marco Rubio. Carson's disappointing Super Tuesday finish followed similar results in earlier contests.
Despite fighting an uphill battle, Carson had insisted he remained a competitive candidate for his party's nomination. In the run up to Super Tuesday he also predicted a "major shift" of support to his campaign.
That shift never materialized.
Carson didn't endorse another Republican on Friday, but after announcing the end of his campaign, he did urge voters to cast their ballots for a Republican in order to keep Democrat Hillary Clinton out of the White House.
"If we get in there someone like Hillary Clinton who loves Saul Alinsky and who loves Margaret Sanger, she's going to get two to four Supreme Court picks," Carson said. "That's going to, I think, ruin the future for our children, our grandchildren, all of our progeny. I think that's just as bad as taking a knife and stabbing them with it."