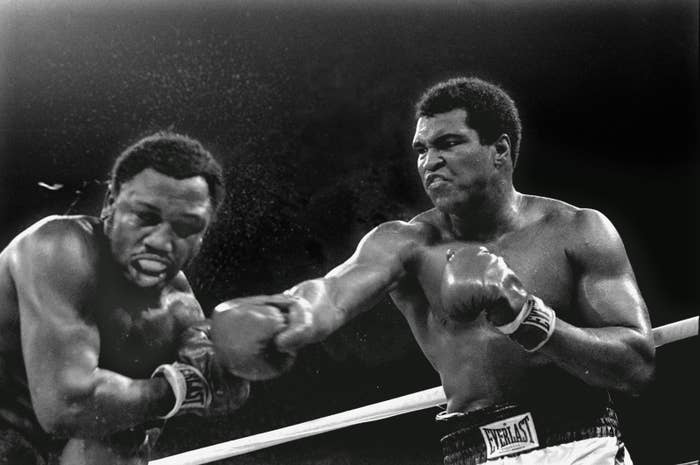 Boxing legend Muhammad Ali died Friday at a hospital in Phoenix at the age of 74. The iconic fighter was beloved both for his accomplishments in the ring, as well as his social positions, wit, and bravado. His death was met with an outpouring of grief and condolences.
The Obamas issued the following statement:
Muhammad Ali was The Greatest. Period. If you just asked him, he'd tell you. He'd tell you he was the double greatest; that he'd "handcuffed lightning, thrown thunder into jail."

But what made The Champ the greatest – what truly separated him from everyone else – is that everyone else would tell you pretty much the same thing.

Like everyone else on the planet, Michelle and I mourn his passing. But we're also grateful to God for how fortunate we are to have known him, if just for a while; for how fortunate we all are that The Greatest chose to grace our time.

In my private study, just off the Oval Office, I keep a pair of his gloves on display, just under that iconic photograph of him – the young champ, just 22 years old, roaring like a lion over a fallen Sonny Liston. I was too young when it was taken to understand who he was – still Cassius Clay, already an Olympic Gold Medal winner, yet to set out on a spiritual journey that would lead him to his Muslim faith, exile him at the peak of his power, and set the stage for his return to greatness with a name as familiar to the downtrodden in the slums of Southeast Asia and the villages of Africa as it was to cheering crowds in Madison Square Garden.

"I am America," he once declared. "I am the part you won't recognize. But get used to me – black, confident, cocky; my name, not yours; my religion, not yours; my goals, my own. Get used to me."

That's the Ali I came to know as I came of age – not just as skilled a poet on the mic as he was a fighter in the ring, but a man who fought for what was right. A man who fought for us. He stood with King and Mandela; stood up when it was hard; spoke out when others wouldn't. His fight outside the ring would cost him his title and his public standing. It would earn him enemies on the left and the right, make him reviled, and nearly send him to jail. But Ali stood his ground. And his victory helped us get used to the America we recognize today.

He wasn't perfect, of course. For all his magic in the ring, he could be careless with his words, and full of contradictions as his faith evolved. But his wonderful, infectious, even innocent spirit ultimately won him more fans than foes – maybe because in him, we hoped to see something of ourselves. Later, as his physical powers ebbed, he became an even more powerful force for peace and reconciliation around the world. We saw a man who said he was so mean he'd make medicine sick reveal a soft spot, visiting children with illness and disability around the world, telling them they, too, could become the greatest. We watched a hero light a torch, and fight his greatest fight of all on the world stage once again; a battle against the disease that ravaged his body, but couldn't take the spark from his eyes.

Muhammad Ali shook up the world. And the world is better for it. We are all better for it. Michelle and I send our deepest condolences to his family, and we pray that the greatest fighter of them all finally rests in peace.
Michael J. Fox, who, like Ali, was diagnosed with Parkinson's disease, called the legendary boxer "an inspiration, a man of peace."
Fox told ABC News how the two ended up working together in their fight to find a cure for the degenerative disease, and how he had to work up the courage to call Ali the first time the two spoke.
"I'm in the bathroom talking to Muhammad Ali. He didn't say much. He just said, 'With you in this fight, we can win,'" Fox said. "I cried."
The two worked together for the Michael J. Fox Foundation for Parkinson's Research.
"He was really committed to finding an answer to this disease, as he was to finding answers to strife in the world and wars and conflict and all kids of things," he said. "He was a very complex man and a very special man."
Boxing stars Oscar De La Hoya, Mike Tyson, and George Foreman:
BIll Clinton, via a statement to ABC News.
Hillary and I are saddened by the passing of Muhammad Ali. From the day he claimed the Olympic gold medal in 1960, boxing fans across the world knew they were seeing a blend of beauty and grace, speed and strength that may never be matched again. We watched him grow from the brash self-confidence of youth and success into a manhood full of religious and political convictions that led him to make tough choices and live with the consequences. Along the way we saw him courageous in the ring, inspiring to the young, compassionate to those in need, and strong and good-humored in bearing the burden of his own health challenges.
Sen. Harry Reid, via a statement to BuzzFeed News.
On the morning of June 22, 1972 I got to hang out for a little while with the Greatest of All Time. Muhammad Ali was everything the world had come to know and love – funny, charming and one hell of an athlete. That morning I was just a star struck kid from Searchlight. I will never forget being at Caesars Palace, talking to the Greatest and watching in awe as he trained.

I was deeply saddened to learn today of Muhammad Ali's passing. The world has lost a monumental, unforgettable figure. I offer my condolences to his family and join the millions around the world in mourning his passing.

Ali was a legend and a fighter in every sense of the word. He fought and won inside the ring and fought for equality and justice outside the ring. Ali taught us all about the value of hard work, tenacity and never giving up. He was an inspiration whose tireless work ethic, unmatched skills and supreme self-confidence made him the Greatest of All Time. And he showed us that even when you get knocked down, you can always get back up.

There has never been anyone like Muhammad Ali and there never will be again. He leaves behind an indelible legacy that will continue to serve as an inspiration for generations to come.
"Dear Muhammad Ali. I loved that man. He was great from the first day we met him in Miami, and on the numerous occasions when I ran into him over the years. Besides being the greatest boxer, he was a beautiful, gentle man with a great sense of humour who would often pull a pack of cards out of his pocket, no matter how posh the occasion, and do a card trick for you. The world has lost a truly great man. Love Paul"
Boxing promoter Bob Arum told the AP: "He was the greatest fighter of all time but his boxing career is secondary to his contribution to the world. He's the most transforming figure of my time certainly."