At Least 75 People Dead After Explosion Hits Factory In East China
The blast happened Saturday in Kunshan, Jiangsu, according to Chinese state media.
Updated — Aug 4., 1:15 a.m. ET:
A blast killed at least 75 people Saturday in Kunshan, a city near China's east coast, the Associated Press reported.
The explosion happened at 7:37 a.m. in a factory owned by Zhongrong Metal Products Company, according to the Associated Press. In addition to those killed by the blast, 186 more were injured, in some cases suffering severe burns over much of their bodies. Of the roughly 450 people who work at the factory, about 200 were present at the time of the explosion.
Kunshun is located near Shanghai and about 600 miles from Beijing. Zhongrong is a Taiwanese company that supplies General Motors.
Investigators faulted poor safety measures and believed the blast was a dust explosion, the AP reported.
In a dust explosion, particles including dust and powdered metal come into contact with a spark and rapidly burn up. News reports reveal employees had long complained of dust at the facility.
The dust sticks to the skin of workers, burning between 50 and 90% of their bodies, said Liu Wei, deputy chief of the health bureau in the Chinese city.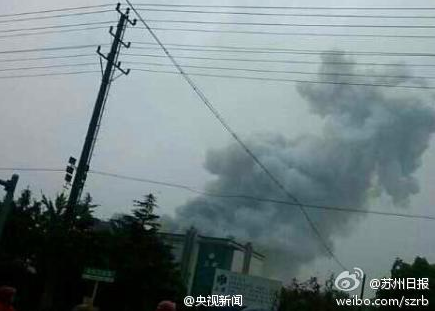 Photos taken at the scene of the explosion showed several people injured and dead.
Graphic pictures posted to Sina appeared to show the carnage at the scene of the blast, as well as the aftermath at a local hospital.