At Ebola Ground Zero In Dallas, Residents Are Surprisingly Calm
Texans say they're "rocking business as usual" despite the deadly Ebola infections in their neighborhood that have sparked headlines and fear around the country.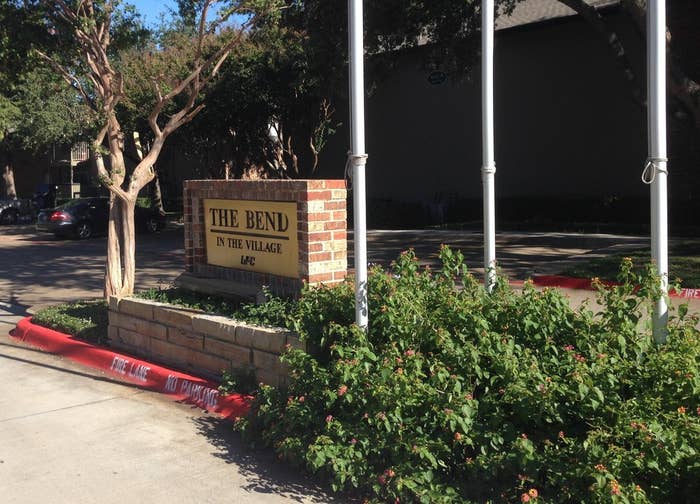 People all over America are worried about contracting Ebola, but here's one place where everyone isn't panicked: Dallas, Texas.
More specifically, residents are surprisingly calm in the neighborhoods surrounding Texas Presbyterian Hospital, the so-called ground zero of Ebola in the U.S. where Thomas Duncan died and two nurses later became infected.
What's going on?
The scene at The Bend in the Village — the apartment complex of nurse Amber Vinson, who was diagnosed with Ebola this week — was especially relaxed Thursday. On the complex's park-like campus people exercised under leafy trees, moms chatted on cellphones as they pushed babies in strollers, and one man was slacklining.
Each front door displayed an Ebola warning flyer that fluttered in the wind, but everyone who spoke with BuzzFeed News seemed mostly unfazed.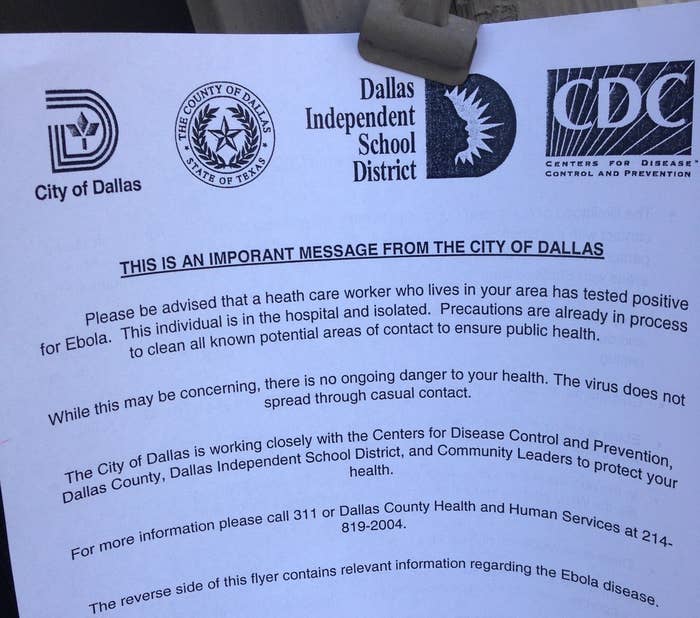 "I've seen indifference on one side and mild concern on the other side," said Jordan Malouf, who like many at the complex was alerted to the situation early Wednesday via a text message from apartment managers.
Malouf's apartment lies just minutes from Vinson's, and his office is a stone's throw from Texas Presbyterian, but he and his wife haven't made any changes, nor do they plan to. Malouf is still going into the office, going to the gym, shopping for groceries, and doing everything else according to routine. "I personally am not too worried about it," he added. "The worst I've seen is a guy who won't shake hands."
And that was pretty typical for the area. Stewart Owens was lying out on an expansive lawn Thursday reading V-Wars — a book he laughingly explained as "about a virus that sweeps America and turns people into Vampires" — but said he hadn't really noticed anyone changing their daily routines. Jackie Callanen, a retiree who saw the hazmat trucks Thursday, also was undeterred and said the area was still ideal for walking. And Kris Berry recalled waking up to news helicopters hovering overhead, but said he was still "rocking business as usual."
More than half a dozen other people made similar comments to BuzzFeed News.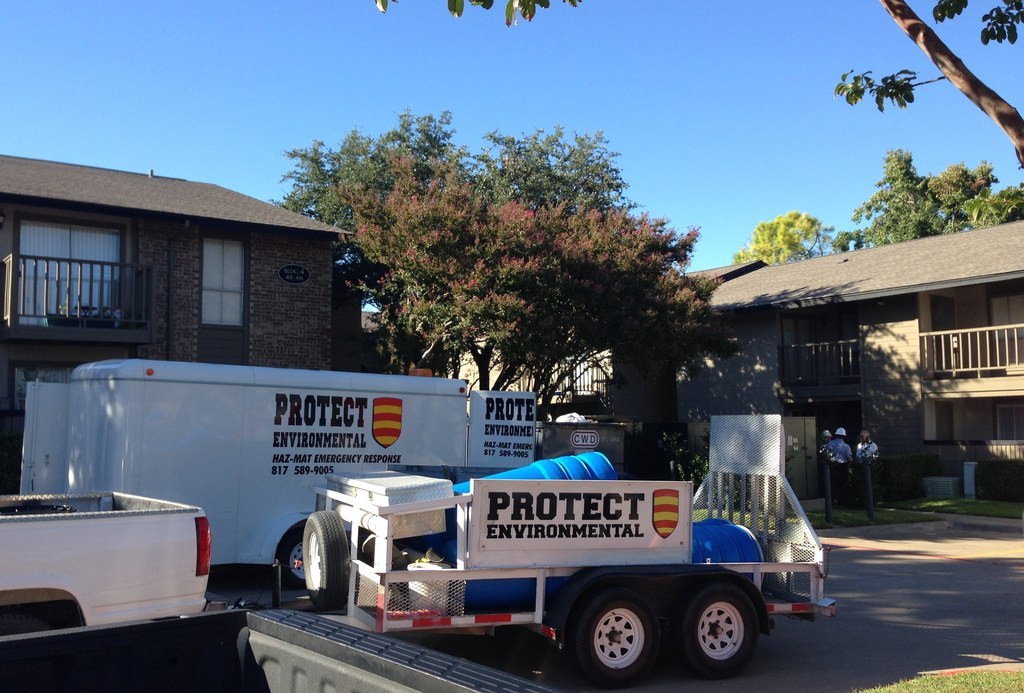 Just a few miles away, near the home of Nina Pham — the first American nurse infected with Ebola — things were similarly quiet. A row of neighborhood shops was bustling and Matthew Torbik, a bartender at The San Francisco Rose, said he hasn't seen any dip in business. "A lot of people are cracking jokes about it," he said. "Just making fun of it. Granted, they still know it's a serious issue, but to lighten the mood they're making jokes about it. But business hasn't changed and people don't seem scared around here."
The scene at Texas Presbyterian Hospital was also calm Thursday. In the cafeteria, many scrub-clad doctors and nurses discussed Ebola, but otherwise there was no indication that the hospital was the epicenter of Ebola in America. Several hospital workers declined to comment to BuzzFeed News.
Ebola is affecting people, but in subtle ways.
Though no one who spoke with BuzzFeed News was too concerned about the deadly virus, a few mentioned that friends and co-workers were nervous because they live near the nurses who picked up the virus.
Kyle Stewart said that while he isn't "too overly concerned about those kinds of things," he has seen people judging him because he lives near Vinson's apartment. "I kind of got some interesting looks, you know, people reaching for the hand sanitizer."
Aaron Dunn, who is self employed, said his wife Heather has had similar experiences at her job in a law office, with co-workers being "on pins and needles" about her coming into the office.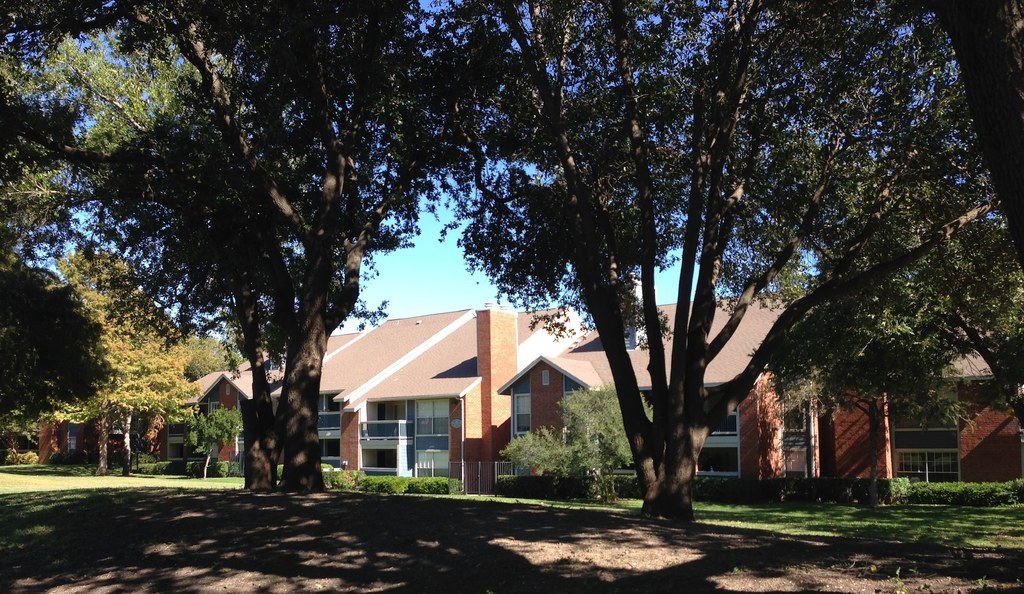 So why aren't the residents in these neighborhoods scared?
Different people gave different reasons for being calm in the face of Ebola nearby. Some thought it was because people in Dallas are religious, or due to the tone of local media coverage. But several people independently said that they hadn't panicked because they live near the outbreak. The idea, according to Berry, is that seeing first hand what happens offers a more accurate view of the threat.
"I can actually see them working to contain it so that might give me a little bit of calm," he explained.
Jennie Brown, who also lives nearby, agreed. Brown and her husband, Jason, are the parents of a toddler who likes to "touch everything," prompting the family to create an informal, self-imposed quarantine. The more they saw what was going on, however, the less threatened they felt.
"As I'm finding out more about the protocols and procedures, I feel empowered by knowing right where it is," Brown said. "I feel empowered to carry on as normal."
Kris Berry lives in the Green in the Village complex. An earlier version of this post misstated the location of his home.