A large group of militia members in Oregon broke into and took over a government building Saturday as part of a demonstration against the federal government.
The militia members broke into the headquarters of the Malheur National Wildlife Refuge, in Harney County, Saturday, The Oregonian reported. The size of the group was not immediately clear, but Nevada rancher Cliven Bundy — whose family members reportedly are participating in the occupation — told Oregon Public Broadcasting there were about 150 people involved.
Others at the scene suggested the crowd was smaller — closer to a dozen people.
In a statement Harney County Sheriff Dave Ward said: "After the peaceful rally was completed today, a group of outside militants drove to the Malheur Wildlife Refuge, where they seized and occupied the refuge headquarters."
"A collective effort from multiple agencies is currently working on a solution. For the time being please stay away from that area. More information will be provided as it becomes available. Please maintain a peaceful and united front and allow us to work through this situation."
Bundy family members did not immediately respond to BuzzFeed News' inquiries.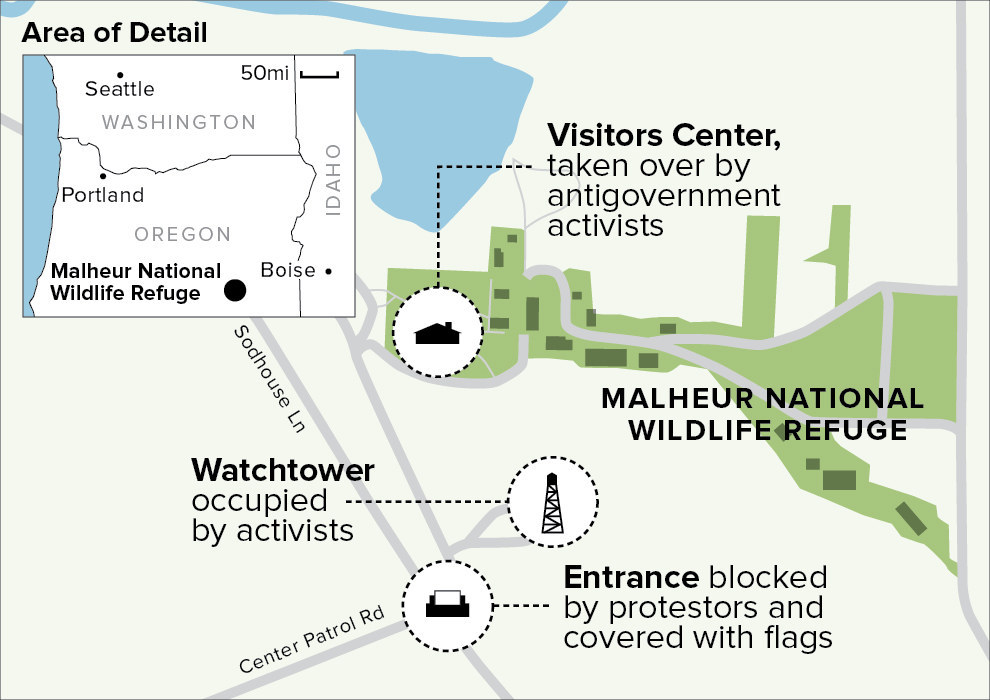 In a video shot Saturday, Ammon Bundy — Cliven Bundy's son — explained that the plan was to turn the Malheur National Wildlife Refuge into a "base place for patriots from all over the country to come and to be housed here and to live here."
"We're going to be staying here for several years. We need you to bring your arms and we need you to come to the Malheur National Wildlife Refuge," Bundy added later in the video.
In another video posted Saturday night, Ammon Bundy said "the people have been abused long enough" and said people should be allowed to use public land and resources.
Maureen Peltier, a Bundy supporter and veteran from Washington state, told The Oregonian that the group is doing well and hasn't damaged any property.
"They are calling for other American patriots to take this stand with them," she said. "You don't have to be armed. They want everything to be very peaceful. They want the government to hear their grievances."
Peltier, who travelled from her home to show support for the movement, said children are with the group and protesters are allowed to come and go as they please.
She wrote on Facebook that the protesters "aren't terrorists."
"There is absolutely no armed standoff," she wrote, according to the newspaper. "They want us to know: They are simply occupying land and a building owned by 'We The People.' Our tax dollars. And that for them, this is a civil peaceful protest."
The occupation — as well as other demonstrations that happened Saturday in the region — came in response to the impending imprisonment of two ranchers convicted of arson for burning federal land.
Dwight Hammond Jr., and his son Steven burned 139 acres of federal land in 2001. According to Oregon Public Broadcasting, the ranchers said they lit the fires to fight invasive species, but the government argued they were trying to cover up poaching activities.
In 2015, a judge sentenced both men to five years in prison each. They are scheduled to report to prison Monday.
But the Hammond family have said they are not involved with the occupation by Bundy and his supporters. "Neither Ammon Bundy nor anyone within his group/organization speak for the Hammond Family," the Hammonds' lawyer W. Alan Schroeder said in a letter, KOIN 6 News reported.
Saturday's events and the Hammonds' case are part of long-simmering tensions between the federal government and rural western ranchers, militia members, and patriot groups.
Federal management of land in the West has rankled many people living in rural parts of the region for years, but the tension exploded onto national headlines in 2014 when Bundy led a standoff against federal rangers.
In recent months, the Bundys have become increasingly vocal supporters of the Hammonds, with repeated calls to action in Bundy newsletters and blog posts. In a statement Saturday, Cliven Bundy urged Steven Hammond to turn himself in to the county jail "for protective custody." He also said the "United States Justice Department has NO jurisdiction or authority within the State of Oregon."
On Thursday, in yet another video posted to Facebook Ammon Bundy said "this is a time to stand up." And in a further video, posted Friday to YouTube, Ammon resisted calls to back down and warned that without action "the blatant violations of the constitution will become the normal."
In the video, Ammon Bundy said the Hammonds support "us standing."
According to Willamette Week, the Hammonds' hometown of Burns, Oregon, has seen an influx in recent weeks of militia members and supporters.
During Saturday's events, about 300 people marched through Burns, The Oregonian reported. The protest passed by the Hammonds' home at one point, where Dwight and his wife, Susan, reportedly greeted participants.
"Remember, this is not about me," Dwight Hammond reportedly said. "It's about this country."