Five Dead, Dozens Injured In Amtrak Train Derailment Near Philadelphia
The train was carrying 238 passengers and five crew members, officials said. About 140 people were transported to area hospitals following the derailment.
An Amtrak train derailed Tuesday in the Philadelphia area, killing at least five people and injuring dozens more.
The train was en route from Washington, D.C., to New York City. Philadelphia Mayor Michael Nutter said late Tuesday that five people were confirmed dead in the crash as crews continued to comb through the wreckage.
"It is an absolute disastrous mess," Nutter said at a news conference. "I have never seen anything like it in my life."
About 140 people were taken to area hospitals in varying condition, the AP reported. Another six were transported in critical condition.
Aerial television news footage showed multiple cars on their side as emergency crews worked to extract passengers.
Nutter said there were seven cars on the train, adding that the "engine completely separated from the rest of the train."
"It's unbelievable," he added.
Nutter said early Wednesday morning in a news conference that not all passengers were accounted for, and that crews would continue searching the wreckage.
In a statement, Amtrak said there were 238 passengers and five crew members on the train.
As of late Tuesday night, officials did not know what caused the crash.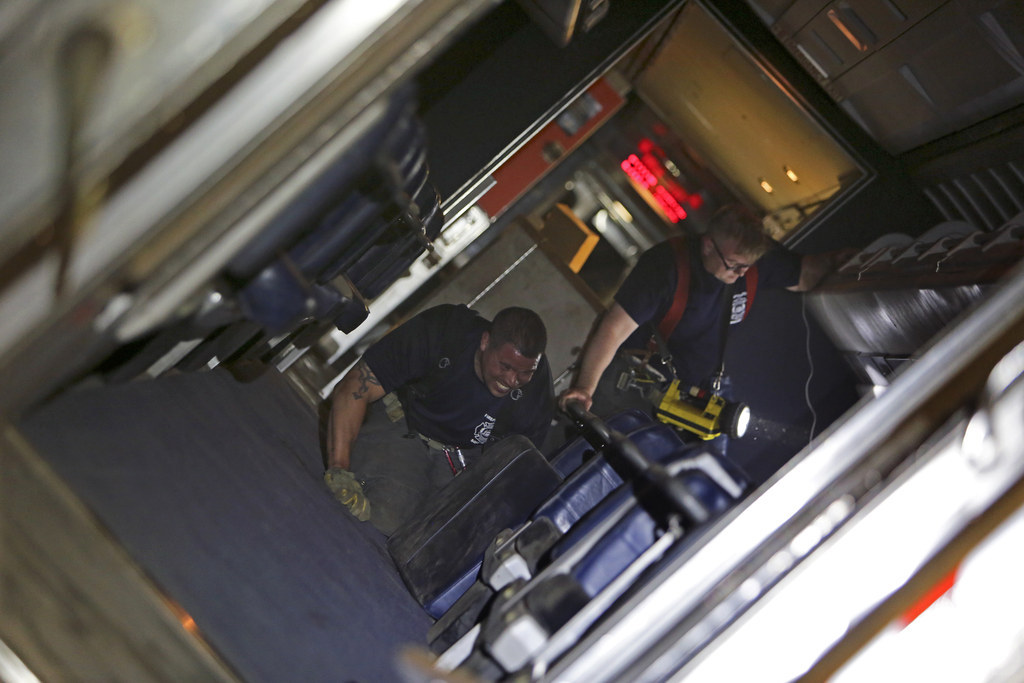 Jefferson University Hospital spokeswoman Jacqueline Kozloski told BuzzFeed News that her facility had received 26 patients from the crash. Most of those patients had minor injuries, Kozloski added.
A spokesman for Temple University Hospital, Jeremy Walter, told BuzzFeed News that they had received "at least two dozen" victims, describing them as being in "varying conditions."
According to a Philadelphia police dispatcher, the train derailed at about 10 p.m. and described it as a "very active scene."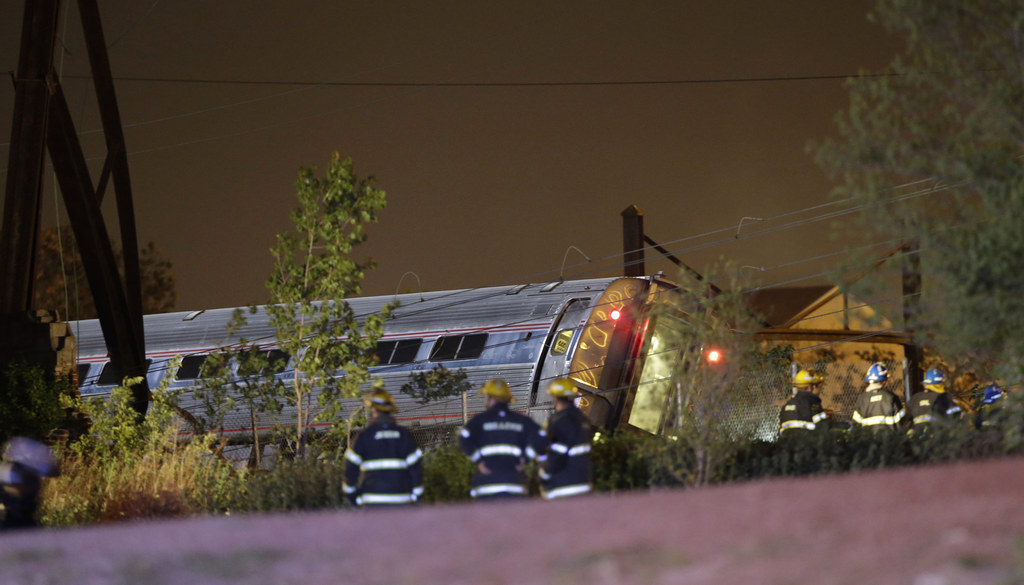 Rail service between New York and Philadelphia was suspended Tuesday night as a result of the crash, according to Amtrak.
The National Transportation Safety Board also launched a team to investigate the crash Tuesday night.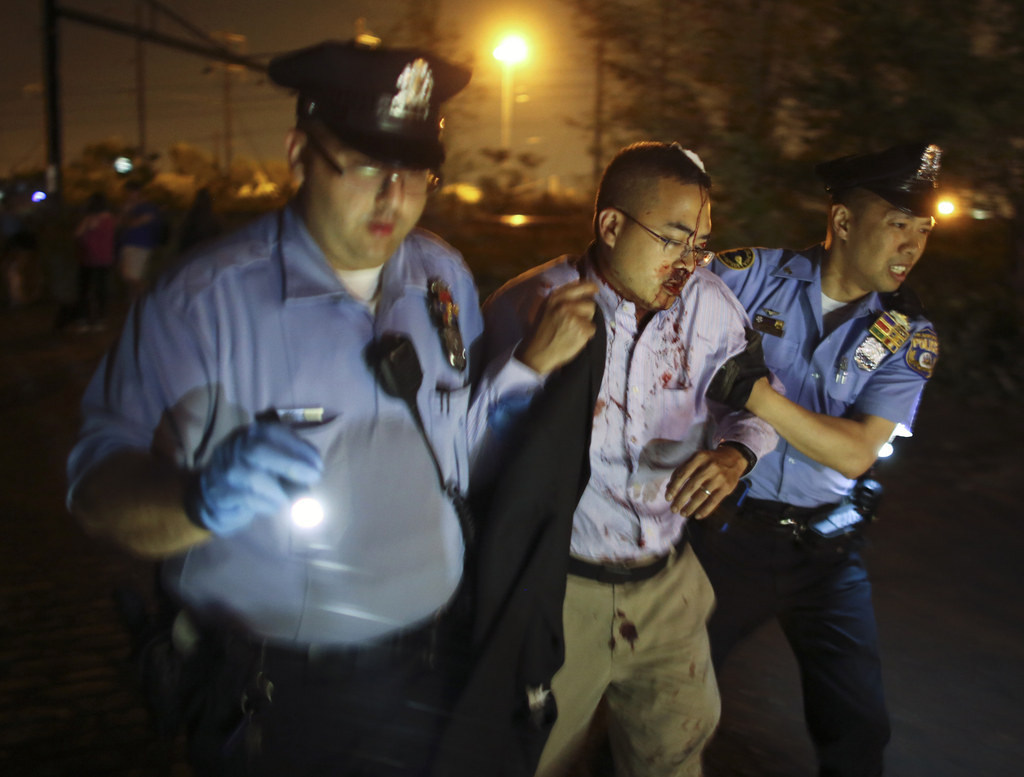 Associated Press Director of Interactives Paul Cheung was on the train in one of the rear cars. He told BuzzFeed News that he was watching the Netflix show Daredevil on his phone at around 9:30 when it suddenly felt like someone "slammed on the brakes."
"The car started shaking and everything went dark," Cheung said. "People started flying all over the place."
When the train finally stopped shaking, another passenger told everyone to get off from the rear. Cheung escaped, then saw mangled cars and injured people.
"A bunch of cars were flipped over on their side," he said. "And a bunch of people were trying to escape from the windows."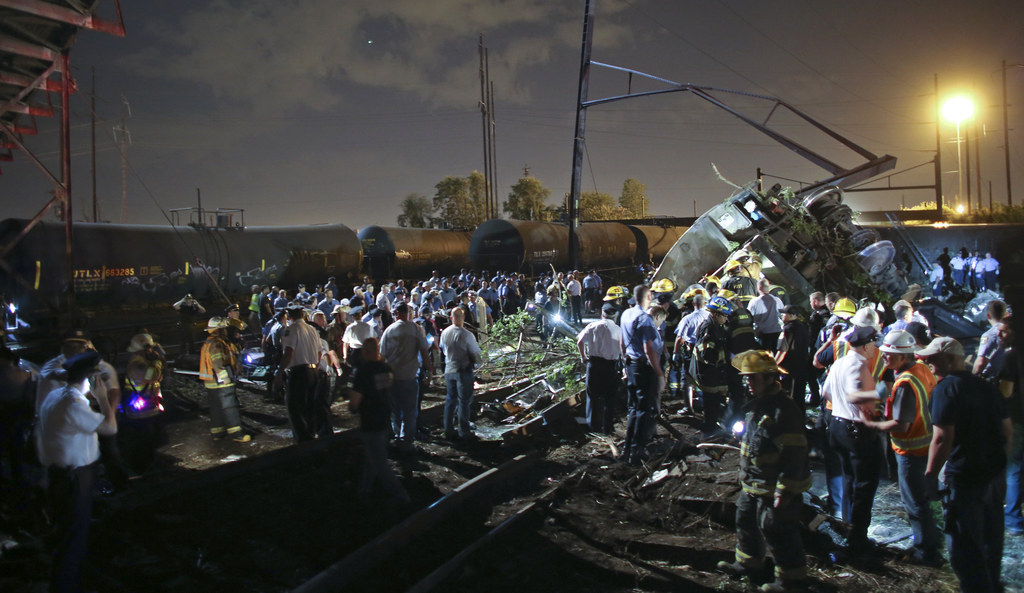 It was 10 or 15 minutes before emergency responders arrived, and Cheung said that there were people around him who were injured and in shock. The front of the train was completely destroyed.
"It looked like a wrecking ball, it was all mangled up," Cheung said, adding that he was later bussed to a hospital.
Amtrak did not immediately respond to BuzzFeed News' request for comment. Philadelphia Fire Department dispatchers told BuzzFeed News they were working on the incident, but could not comment.
Pennsylvania Gov. Tom Wolf tweeted Tuesday night that he was monitoring the crash.
Other images from the scene showed wreckage and rescuers trying to extract victims.
Former U.S. Rep. Patrick Murphy told BuzzFeed News he was in the train's cafe car as the crash began. He said he felt a sudden, violent rocking from left to right, and then was thrown across the car.
"I just flew head first into the other bench," Murphy said. "I landed on my head and partially on someone else."
Then the shaking ended.
"The train came to a stop," Murphy said. "There was debris and screams and blood."
One of the men next to him had been knocked unconscious, so Murphy and another passenger sat him up, saying "brother, brother wake up."
Murphy, an Iraq War veteran, then punched out a window and helped other passengers evacuate. When the first rescuers arrived, he pointed them to a pair of nearby passengers who had apparently been hit the hardest.
"There were two guys who were in really bad shape," Murphy said. "One guy couldn't move anything. And the other guy was just delirious."