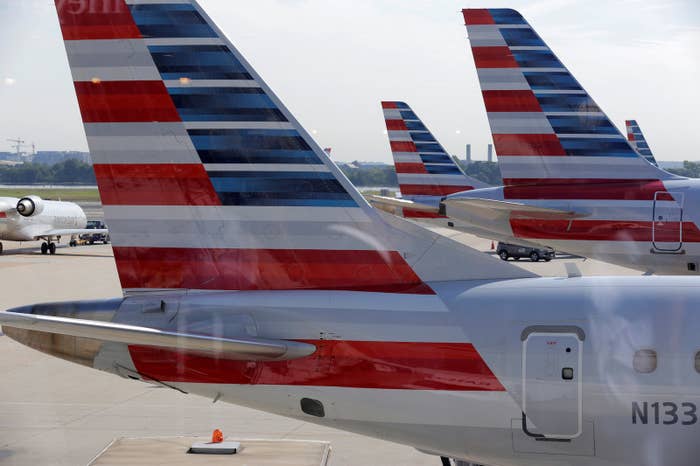 American Airlines is investigating a video that appears to show a flight attendant confronting passengers and challenging a man to "hit me."

The incident was recorded and uploaded to Facebook on Friday by Surain Adyanthaya. At the beginning of the video a woman holding a baby can be seen crying near the front of the plane, which was preparing to fly from San Francisco to Dallas-Fort Worth.
It's not clear from the footage what instigated the incident, but according to Adyanthaya's description, a flight attendant "violently took a stroller from a lady with her baby on my flight, hitting her and just missing the baby."
After about two minutes, another passenger, a man, can be seen intervening. The passenger says to a flight attendant, "you do that to me and I'll knock you flat."
The flight attendant orders the man to "stay out of it."
"Hit me, come on hit me," he then tells the man, adding a moment later, "you don't know what the story is."
Eventually the man returns to his seat and other airline crew escort the flight attendant out of view. Adyanthaya could not immediately be reached Friday, but did post a photo showing the woman that says: "They just in-voluntarily escorted the mother and her kids off the flight and let the flight attendant back on, who tried to fight other passengers."
American Airlines told BuzzFeed News it was investigating the incident and that "this video does not reflect our values or how we care for our customers."
"We are deeply sorry for the pain we have caused this passenger and her family and to any other customers affected by the incident," the airline continued in a statement.
American also said the flight attendant had been removed from duty while the incident is investigated.
"The actions of our team member captured here do not appear to reflect patience or empathy, two values necessary for customer care," the statement added. "In short, we are disappointed by these actions."
The altercation comes less than two weeks after airlines' treatment of passengers vaulted into headlines after a United passenger was dragged off a plane. That man, Dr. David Dao, suffered a number of injuries and United was widely criticized for its handling of the incident.

The United passenger's lawyer, Thomas Demetrio, said Monday that he is also representing the American Airlines passenger.
Demetrio told the Today Show that the woman had contacted him and that he was now representing her.
"The video that we just saw is a microcosm of the entire problem," he said. "We've got a flight attendant out of control. We've got a distressed mother. We've got a passenger trying to protect that mother."
In the case of Saturday's incident, American told BuzzFeed News that the woman did not have to be treated for injuries and that she voluntarily continued her trip on the next flight.
"We are making sure all of her family's needs are being met while she is in our care," American said in its statement. "After electing to take another flight, we are taking special care of her and her family and upgrading them to first class for the remainder of their international trip."