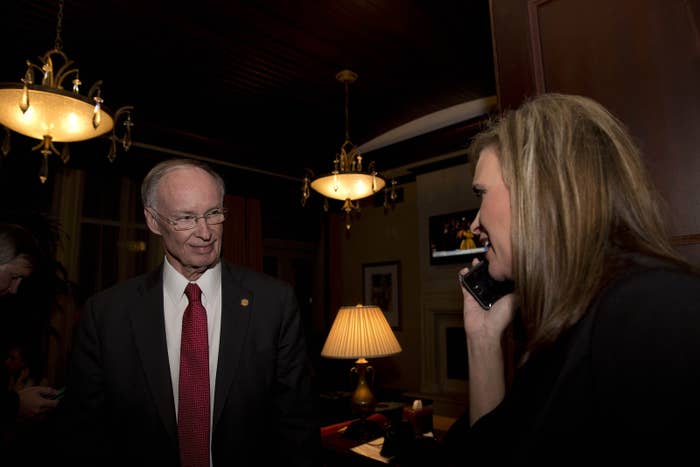 Embattled Alabama Gov. Robert Bentley was arrested and resigned from office Monday, bringing to a close a long-running sex and campaign finance scandal that rocked the statehouse.
Bentley, 74, was booked Monday afternoon into the Montgomery County Jail on two misdemeanors for campaign finance violations stemming from an alleged affair with an aide. Moments later, he appeared in court and pleaded guilty to both charges, and shortly thereafter submitted his letter of resignation.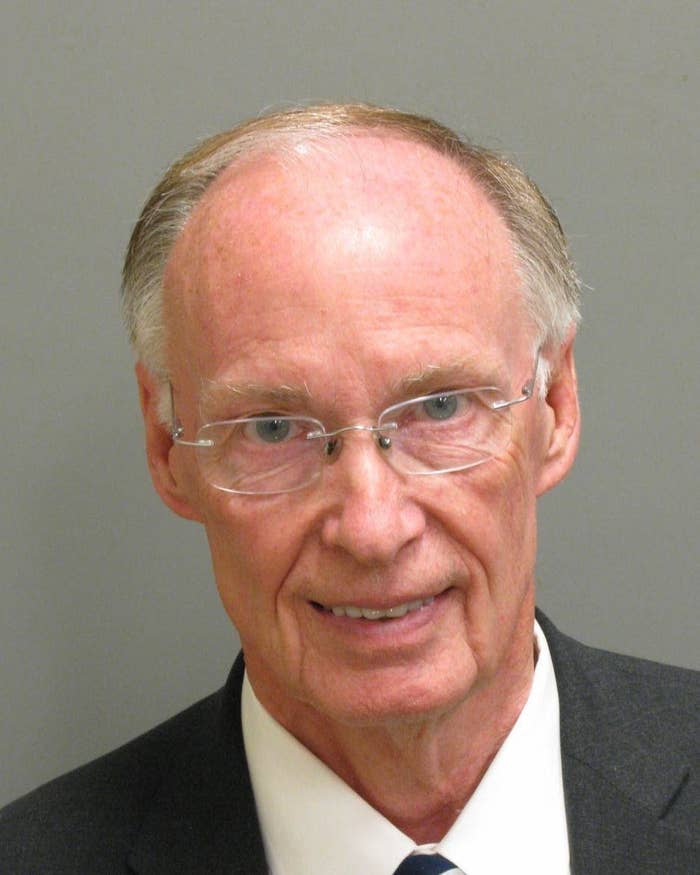 At a news conference, Bentley said that he has "not always made the right choice," but did not elaborate on his mistakes or comment on the charges he pleaded guilty to.
"I have let you and our people down," be said, adding, "the time is come for me to look at new ways to serve the people of our great state."
"I love this office," he said. "However, I realize that there are things more important than a political office."

As a result of his guilty plea, Bentley was fined $2,000 and ordered to perform 100 hours of volunteer service, WBRC reported. He also agreed not to run for office again, and will have to pay back campaign funds.
A judge suspended a 30-day jail sentence, meaning Bentley will not spend any time behind bars.
Ellen Brooks, of the Alabama Attorney General's office, said that as a result of the resignation, "the investigation into former Gov. Bentley is over."

Lt. Gov. Kay Ivey succeeded Bentley on Monday evening, becoming Alabama's second-ever female governor.
The scandal surrounding Bentley first ignited in March 2016, when the governor fired Spencer Collier, then the head of the Alabama Law Enforcement Agency. After her termination, Collier said he had seen evidence of, and investigated, an affair between the governor and his former political advisor and campaign spokesperson, Rebekah Mason.

Bentley denied having an affair with Mason, but by April 2016 Alabama lawmakers were considering impeachment charges against the governor. During the ensuing months, investigators issued numerous subpoenas seeking information about the alleged affair. In January, Bentley attended President Trump's inauguration with Mason and her husband, WIAT reported.
The case culminated last week when the House Judiciary Committee released a damning report detailing Bentley's alleged misdeeds. The report characterizes Bentley as paranoid and accuses him of directing "law enforcement to advance his personal interests" by, among other things, telling officers to break up with Mason for him.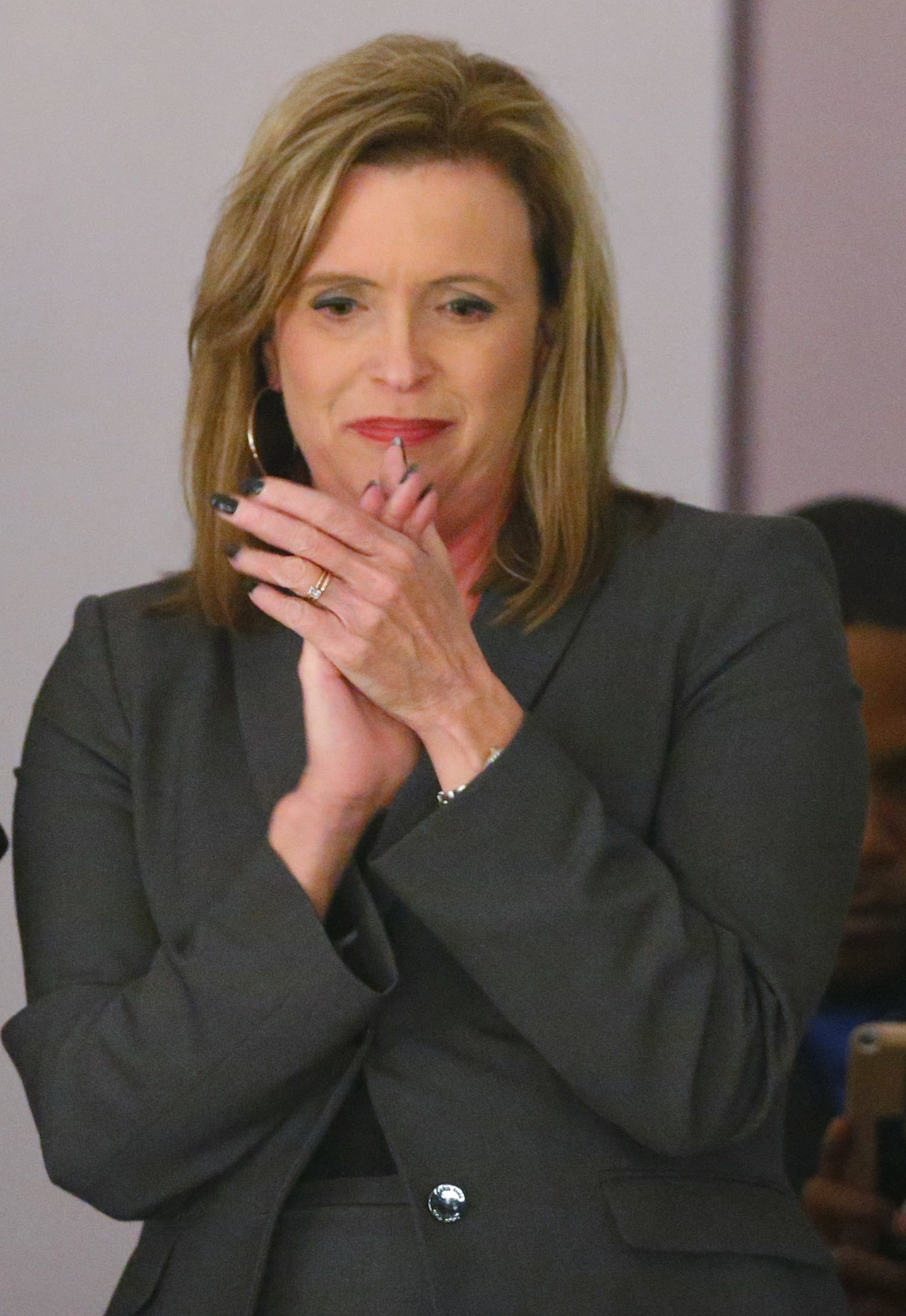 The report also reveals that romantic text messages between Bentley and Mason were intercepted by Bentley's now-ex wife because her iPad synced with the same iCloud account as the governor's iPhone. In another instance, Bentley's wife saw texts he was sending Mason while they were all at a dinner together, the report alleges.

And in still another instance, Bentley accidentally sent his wife a message that was meant for Mason.
"I love you Rebekah" the message reportedly said. According to the report, it was accompanied by a red rose emoji.
The report repeatedly blasts Bentley for not cooperating with investigators and for withholding information.

Bentley has never publicly admitted having the affair, but authorities believe his relationship with Mason eventually involved misusing funds. According to the Alabama Ethics Commission — which also released findings last week — Bentley used public resources for personal gain, used campaign money to pay for Mason's legal fees, improperly received campaign money, and improperly loaned money to his campaign.
Brooks, of the attorney general's office, said Monday afternoon that Bentley spent about $9,000 in campaign cash on Mason's legal fees. Each of the four ethics allegations could have resulted in a felony.
In response to the scandal, Alabama Senate President Pro Tempore Del Marsh said last week that Bentley was putting the state "under a cloud" and that he should consider resigning.

Despite the mounting pressure to step down, Bentley insisted Friday that he would not resign. The comments reiterated his prior insistence that he would not leave the governorship.
"I have done nothing illegal," he said at a news conference Friday. "If the people want to know if I misused state resources, the answer is simply no. I have not."

It was not immediately clear what caused him to change his mind, though his lawyers reportedly spent Monday negotiating over the case with prosecutors. Lawmakers also began impeachment hearings just hours before Bentley was booked into jail and subsequently resigned.
Other Alabama lawmakers welcomed Bentley's resignation. US Rep. Martha Roby called it "the right thing to do" in a statement, and US Sen. Richard Shelby said Bentley "made the right decision in offering his resignation."
"The American people's trust in their government depends on the integrity and dignity of those in office," Shelby said in a statement, "and it is clear that Alabamians have lost this in Governor Bentley."