Alabama Chief Justice Faces Removal From Bench Over Same-Sex Marriage Stance
Roy Moore told lower judges to ignore the U.S. Supreme Court ruling legalizing same-sex marriage. Officials have filed ethics charges against Moore.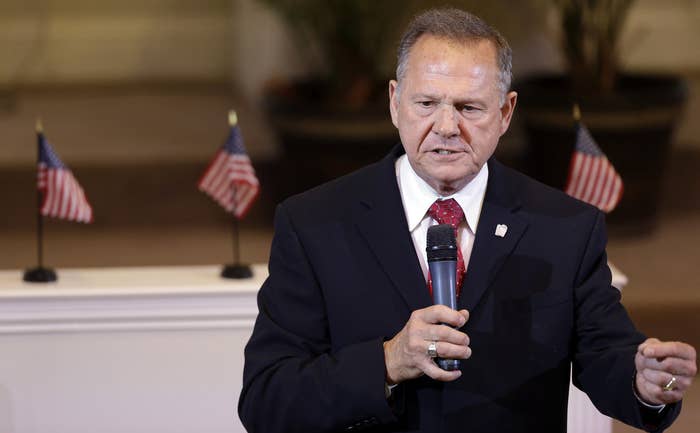 The chief justice of Alabama's Supreme Court has been charged with ethics violations and could be removed from office after resisting the U.S. Supreme Court ruling legalizing same-sex marriage.
The Alabama Judicial Inquiry Commission filed the ethics charges against Chief Justice Roy Moore on Friday. Moore can now either settle the case, or face trial in the Alabama Court of the Judiciary.
If found guilty, Moore could be removed from office or face other sanctions. Moore will be suspended with pay until there is a ruling in the case, Al.com reported.
The charges stem from Moore's resistance to same-sex marriage. After the U.S. Supreme Court legalized the practice in 2015, Moore claimed that his state's ban remained in effect. He also instructed probate judges in Alabama not to issue marriage licenses to same-sex couples.
In response to those orders, the Southern Poverty Law Center (SPLC) filed a complaint against Moore. That complaint led to an investigation and, now, ethics charges.
In a statement Friday, SPLC President Richard Cohen said Moore "has disgraced his office for far too long."
"He's such a religious zealot, such an egomaniac that he thinks he doesn't have to follow federal court rulings he disagrees with," Cohen said. "For the good of the state, he should be kicked out of office."
Moore could not immediately be reached for comment Friday. However, he released a statement arguing that the judicial inquiry commission has no authority over his orders.
"The Judicial Inquiry Commission has chosen to listen to people like Ambrosia Starling, a professed transvestite and other gay, lesbian, and bisexual individuals, as well as organizations that support their agenda," he said. "We intend to fight this agenda vigorously and expect to prevail."
The new ethics charges are not Moore's first run-in with controversy. In 2003, he was removed from office for installing, then refusing to remove, a monument of the Ten Commandments in a state judicial building. He regained his seat by winning re-election in 2012.