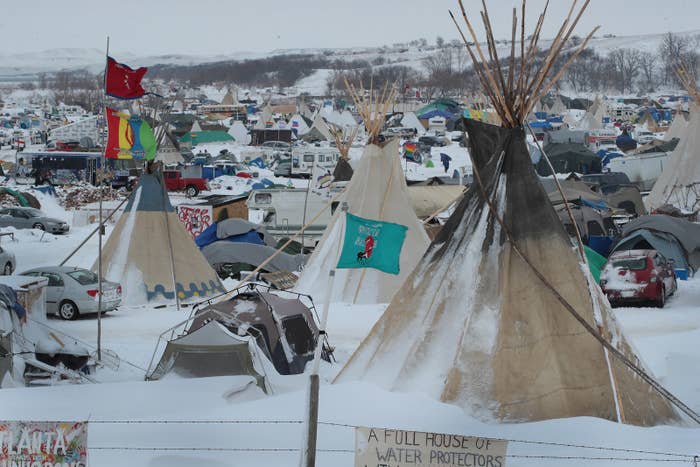 Despite social media reports and rumors to the contrary, Ace Hardware says that its stores have not stopped selling supplies to people protesting the Dakota Access Pipeline.

Protests in North Dakota have been ongoing for months. The protesters, many of them Native Americans, say that the nearly completed, 1,172-mile Dakota Access Pipeline — which is designed to carry oil — could damage sacred sites and pollute water supplies.
In recent days, both North Dakota Gov. Jack Dalrymple and the Army Corps of Engineers have ordered the protesters to evacuate their camps as intense winter storms pummeled the area with snow.
Reports began circulating Wednesday night that the Ace Hardware chain had stopped selling supplies to protesters, or supplies that could be used in protests. The rumors picked up steam after a number of people, including singer-songwriter Neko Case, tweeted an apparent screenshot from Ace stating that law enforcement had requested a ban on some sales.
But late Wednesday, Ace told BuzzFeed News that the reports were untrue and that there was no ban on sales to protesters or of protest supplies.
"It is our policy to serve all customers without discrimination and to follow all laws in each respective community," the company said in a statement, adding it had worked "feverishly to unearth all of the facts, which have been cloudy at times."
"In an effort to clear any misunderstanding and/or misinformation, Ace Hardware can now confirm that there is no ban on the sale of products at our locally-owned Ace stores; customers should feel free to check with their local store for inventory availability," it continued.
When asked about the discrepancies between the statement to BuzzFeed News and the statement being widely shared online, Ace spokesperson Kate Kirkpatrick said in an email that "I can confirm the text was manipulated (not by Ace). By who, we don't know."
Ace did not respond to questions about a video that shows a man allegedly calling the hardware supply chain, reaching a woman who identifies herself as Camillia, and being told the company had indeed banned some sales. In the video, the woman's comments closely match the language in the statement tweeted by Neko Case and which Ace said was manipulated.
BuzzFeed News also reached out to several stores near the pipeline protests, all of which reported that they had not banned any sales and had not been contacted by law enforcement. At a store in Bismarck, North Dakota, a clerk who identified himself as Jeff said Thursday that "we're selling anything to anyone." He added that protesters come into the store "all the time."
At another Bismarck store, a clerk who gave her name only as Connie also said "we're selling anything to anyone." She added that "we've got everything out" and confirmed that pipeline protesters had been in the store and were "shopping all over Bismarck."
At a store in Mobridge, South Dakota, a clerk named Jackie said "all Ace stores are providing services to anybody."
None of the Ace clerks would provide their last names.
BuzzFeed News also called the number in the statement shared by Neko Case. The number did reach Ace Hardware, but an operator (who was not named Camillia) directed this reporter to the company's original statement and said no additional information was available.
The reports about an alleged sales ban nevertheless prompted calls for a boycott and people were still using the hashtag #BoycottAceHardware on Twitter Thursday.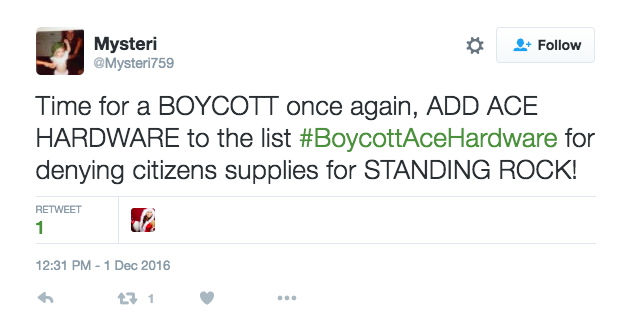 Commenters also continued posting messages about a boycott to the company's Facebook page.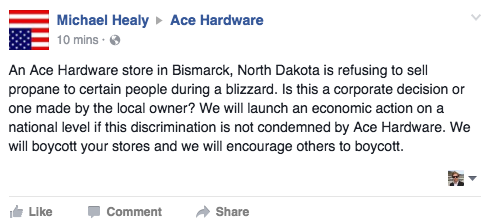 On both Facebook and Twitter, Ace was responding to some of the comments, telling people that it had not banned sales to protesters.