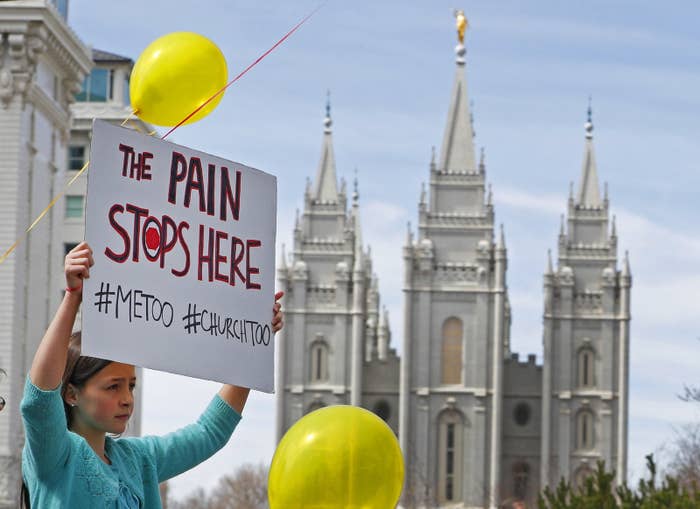 A woman who was first heard last month in a leaked audio recording discussing her alleged sexual assault has now filed a lawsuit against the Church of Jesus Christ of Latter-day Saints, saying the president of the faith's Missionary Training Center raped her at the facility.

McKenna Denson filed her suit Wednesday against the LDS church, known colloquially as the Mormon church, and Joseph Bishop, the now-former church leader she says committed the assault. The suit accuses Bishop of taking Denson to a "secluded room" on the campus of a training facility in Provo, Utah, then raping and sexually assaulting her.
The suit argues that the church "knew or had reason to know, or was otherwise on notice of prior sexual improprieties against women" that Bishop allegedly committed. The church also "failed to take reasonable steps and failed to implement reasonable safeguards to avoid acts of unlawful sexual assault" by Bishop, the lawsuit states.
At a news conference Thursday in Salt Lake City, Denson said that the "Me Too movement and the Times Up movement is the reason I had courage to get on that plane, to fly to Arizona and interview Joseph Bishop."
Denson suffered a variety of mental, physical, and economic hardships as a result of the alleged assault, the suit says. She is asking for an undisclosed amount of money, as well as a change in church policies regarding the reporting of criminal activity.
The allegations first became public in March, after the website MormonLeaks posted a lengthy audio recording of a conversation between Denson and Bishop. Denson made the recording under the pretense of writing an article about Bishop's church service, but after about 40 minutes she confronted the former church leader about the alleged rape.
In the recording, Bishop says he doesn't remember the incident, but apologizes to Denson anyway and says that he has a "sexual addiction." Bishop describes himself as a "sexual predator" and states that his position as a church leader "makes my sins more grievous." He also admits that he assaulted other women.
At Thursday's news conference, Denson described a series of escalating interactions with Bishop at the training facility that began with sexually explicit questions and ended in rape. She said that Bishop told her no one would think she was telling the truth if she tried to talk about the incident.
"He said to me no one will believe you," Denson said. "Look at you. Look at me."
After the recording was leaked, the church said it had learned of the allegations in 2010, and confirmed that it was aware of a second woman who also said she was abused by Bishop.
BuzzFeed News obtained a police report that shows Bishop admitted to investigators last year that he asked Denson to "show him her breasts which she did." The report also includes a note from a prosecutor who said he would have pursued charges against Bishop if the allegations hadn't been from so long ago.
"I have no reason to doubt the victim's disclosure, and would have likely prosecuted Mr. Bishop, but for the expiration of the statute of limitations," David Sturgill, the prosecutor, wrote.
At Thursday's news conference, Denson responded to reports that she had a criminal history of her own, confirming that she does have a record and that she is "not proud of that, but I own that." She said that there are false and "twisted" accusations against her, and that the LDS church has tried to "minimize" her credibility.
"Yes I do have things in my past that are shameful," Denson added, "but that does not take away the fact that he raped me at the Missionary Training Center in Provo, Utah."
Though BuzzFeed News has previously spoken with Denson, Wednesday's lawsuit is the first time she has publicly identified herself.
Denson referred most questions Wednesday to her attorney, but told BuzzFeed News that she was optimistic about the suit and hoped it would give other victims the courage to speak out.
"I am very happy and it's been a long time coming," she said of the suit. "I feel very confident in our case and in the Me Too movement."
When asked for a response to the lawsuit, the church referred BuzzFeed News to the statement it released after the audio recording was made public, stating that the "church has great faith in the judicial system to determine the truth of these claims."

"Nevertheless, the church takes seriously its responsibility to hold its members accountable for their conduct with respect of the laws of God and man," it added.