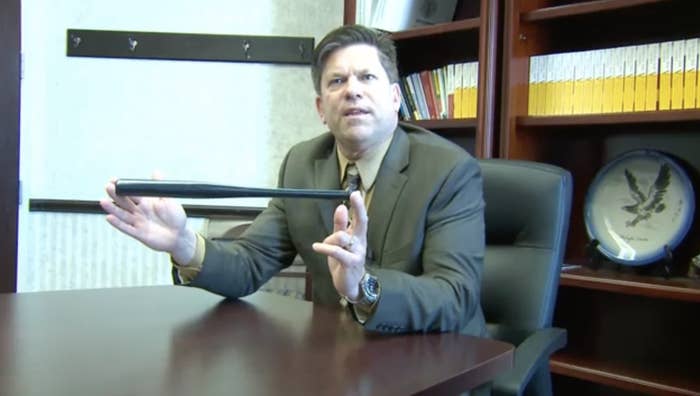 As campuses across the country grapple with how to deal with potential attacks in the wake of the deadly Valentine's Day school shooting in Parkland, Florida, one Pennsylvania district has decided to arm teachers — with tiny baseball bats.

The roughly 500 educators in Millcreek Township School District, near Erie, are to use the miniature, souvenir-style bats as a "last resort," Superintendent William Hall told WICU Tuesday.
"It is the last resort, but it is an option and something we want people to be aware of," Hall said. "We passed them out with the goal being that we wanted every room to have one of these."
The district did not immediately respond to BuzzFeed News' request for comment on the bats Wednesday. The 16-inch bats were reportedly passed out after a recent training for campus shootings.
Though Hall described the bats as primarily "symbolic," he also suggested they could actually serve as defensive weapons. "Unfortunately we're in a day and age where we may need to use them to protect ourselves and our kids," he said.
"It's not about just hiding and waiting," he added in comments to the Erie Times-News. "There are options, and one of those is to fight."

The district bought 600 bats for about $1,800, Hall told the Times-News.
The bats were handed out less than two months after 17 people died at Marjory Stoneman Douglas High School in Parkland. The shooting renewed the debate over how to deal with attacks on school campuses, and sparked a student-led movement pushing for new gun control legislation.

A school safety plan released by President Donald Trump in the wake of the shooting floated the idea of arming teachers and said that educators who are "talented with weaponry" might carry firearms. The idea, prompted a significant backlash, including opposition from many teachers and military veterans, though it was quickly embraced by gun rights supporters.
At least one other Pennsylvania school district has armed teachers with something other than guns, suggesting that teachers literally stone school shooters with a bucket of rocks.
For at least two years, the Blue Mountain School District, in Schuylkill County, has armed classrooms with what Superintendent David Helsel described as a "5-gallon bucket full of river stones" as a deterrent to potential attacks.
"We have some people who have some pretty good arms — they can chuck some rocks pretty fast," Helsel told state lawmakers at a recent hearing. "If an armed intruder attempts to gain entrance to any of our classrooms, they will face a classroom full of students armed with rocks. And they will be stoned."
Though the buckets of rocks were not a direct response to the Parkland shooting, Helsel cited other school shootings, including at Virginia Tech and Columbine High School, as the inspiration for the move.
In Millcreek Township's schools, the doling out of small defensive baseball bats follows the district's release of its revised defense plan "that incorporates run, hide, and fight options for students and staff." The district is also building security barriers, installing cameras, and has hired a firm to evaluate security.

Jon Cacchione, president of the local educators union, told the Times-News that while teachers are divided on whether they should carry guns, they are generally in favor of the mini bats.

"It's to make people comfortable," he said, "with the idea that they can attack and not simply go into hard lockdown and just hide, as we'd been told in our training up to this point."

CORRECTION
Schuylkill County was misspelled in an earlier version of this post.