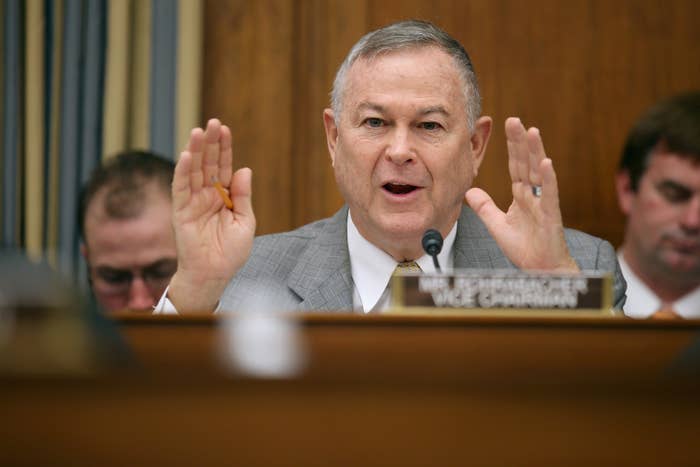 A powerful congressman from California has come under fire and lost a major endorsement after suggesting that homeowners should be allowed to refuse to sell their property to people because of their sexual orientation.

Republican Rep. Dana Rohrabacher, who represents coastal Orange County, said last week in a meeting with realtors that "it should be every homeowner's right to decline to sell a home if they don't agree with" a buyer's lifestyle, according to Wayne Woodyard, a regional vice president for Berkshire Hathaway who attended the meeting. The comments were a response to Woodyard's question about a proposed federal law that would ban housing discrimination on the basis of sexual orientation and gender identity.
Woodyard told BuzzFeed News that when he finished his question, Rohrabacher "just came unglued and said he would not support it."
"We were all so stunned," Woodyard added.
Woodyard later posted about the comments in a closed Facebook group for LGBT realtors and a backlash ensued, culminating Thursday with the National Association of Realtors (NAR) pulling its endorsement of Rohrabacher. In a statement to BuzzFeed News Friday, NAR confirmed that "Rohrabacher will no longer receive support from NAR's President's Circle. Making this decision was the right thing for NAR to do."
The loss of the endorsement is a blow to Rohrabacher, who is currently facing a difficult reelection campaign against a crowded field of Democrats and a well-known Republican. The NAR had previously encouraged its 1.3 million members to donate to Rohrabacher, and had given money of its own via its political action committee.
Responding to the controversy, Rohrabacher's campaign spokesperson Greg Blair told BuzzFeed News in an email that the congressman "does not believe the federal government should force those with strong religious convictions into a personal or business relationship that is contrary to their religion."
When asked about the backlash by the Orange County Register, Rohrabacher also doubled down, saying that "a person who owns their own home, they have a right to choose who they do business with."
"We've drawn a line on racism," he continued. "But I don't think we should extend that line."

Rohrabacher told the paper that it "can't do me any good" to lose the endorsement, but that "there are some fundamentalist Christians who do not approve of their lifestyle. I support their rights."
Woodyard, who said he was glad the endorsement was withdrawn, described the NAR as "one of the most powerful trade organizations in the United States" and noted that while Orange County has historically been a conservative area, it is becoming increasingly less so.

"It's about what's right for America and what's right for housing," he added.
John Graff, a Los Angeles realtor and chair of the National Association of Gay and Lesbian Real Estate Professionals, agreed, telling BuzzFeed News that "we appreciate NAR putting their money where their mouth is."
Graff said he believed that prohibiting housing discrimination on the basis of sexual orientation and gender has a host of benefits, and is not a political issue. He condemned Rohrabacher's comments as out of date.
"It's kind of an opinion more out of the 1950s," Graff said, "than out of 2018."