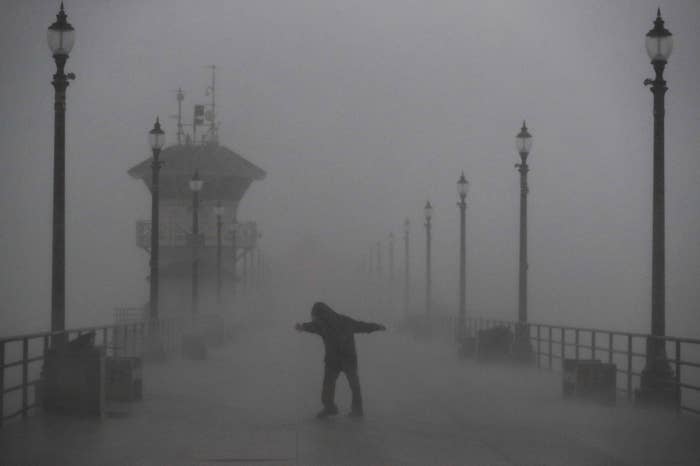 The most powerful storm in years to hit Southern California battered the region Friday with heavy rain and winds, leaving behind surreal scenes in its wake.
The storm dropped an incredible 8.7 inches of rain in the hills of Santa Barbara and Ventura counties. In more densely populated Los Angeles, two inches fell on downtown. Canoga Park received more than 4.7 inches of rain, and Long Beach saw 2.7 inches — a record.
The storm left at least two people dead as of Friday night; a 55-year-old man was killed when he was electrocuted by downed power lines, and another person died in a submerged vehicle in Victorville
Elsewhere across Southern California, chaos took other forms.
In the Cajon Pass, which links Southern California to Las Vegas, a section of Interstate 15 collapsed, sending a fire truck tumbling down a cliffside as if it were a toy.
No firefighters were injured when the truck toppled off the interstate, according to the San Bernardino County Fire Department, however the incident forced the closure of the usually busy freeway on a holiday weekend. Images from the scene showed heavy traffic backed up.
Meanwhile, in Los Angeles, a sinkhole swallowed up two cars Friday night, prompting fire crews to mount a rescue.
According to reporters at the scene, one person was injured and had to be hospitalized.
The sinkhole and Interstate 15 collapse were just the conclusion of a long and very wet day across the entire region. As the storm began, many noted that Los Angeles waterways, usually dry and empty, were brimming with water.
Some people took advantage of all the water to surf in the streets.
Others documented the process of LA's buildings turning into waterfalls.
As the day wore on and the rain continued, Southern California roadways became clogged with several inches — and in some cases feet — of water.
The flooding forced the closure of major highways.
Cars were trapped.
Trees toppled.
An apartment building in Los Angeles' Westwood neighborhood was smashed.
In other areas, floodwaters rose until they reached houses.
The storm came during the state's wettest winter in several years, and as the region looks increasingly likely to emerge from its nearly six-year drought.
By Friday night, the rain was tapering off, though waterways were still swollen and authorities continued watching hillsides for signs of collapse. It also remained to be seen how extensive the damage from the storm was, and how long it would take to fix it.