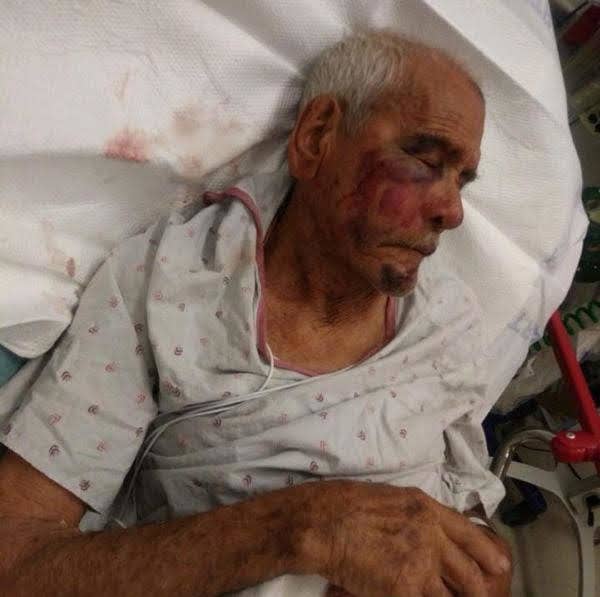 Rodolfo Rodriguez was walking through a neighborhood the night of July 4 when he accidentally bumped into a little girl and, according to his grandson, was thrown to the ground by her mother and beaten with a brick.
Erik Mendoza — who did not see the assault but has since spoken to police and witnesses about what happened — told BuzzFeed News four men joined the mother in the attack on his 92-year-old grandfather in the Los Angeles County community of Willowbrook, leaving him with a broken cheekbone, two broken ribs, and other injuries.
Misbel Borjas told BuzzFeed News she saw the attack and heard the assailants shouting for Rodriguez to "go back" to Mexico. Borjas later posted video taken moments after the assault that showed Rodriguez bloodied and sitting on a strip of grass beside a sidewalk.
The incident has since prompted an investigation, as well as confusion among Rodriguez's family over why someone would beat up a grandfather on a routine neighborhood walk. Los Angeles County Sheriff's spokesperson Lt. Richard Ruiz said investigators were trying to track down the woman believed to have started the assault, as well as "possibly more" suspects.
Sheriff's Deputy D'Angelo Robinson told KTLA that detectives are looking for five suspects and that they are "especially concerned with the type of crime they committed."
"There was what appears to be a 4-year-old child there who witnessed the entire thing," Robinson added. "We can't have these kind of people like that out in the streets."

No arrests had been made as of Monday.
Another witness, identified only as "Catherine," told CBS Los Angeles that she also saw the assault and took a picture of the woman who hit Rodriguez.
Mendoza said his grandfather doesn't speak English, so he never understood why he was being hit.
"He's a 92-year-old man," Mendoza said. "There's no possible threat."
Rodriguez has been hospitalized twice: once immediately following the incident and again on Sunday. Mendoza said Rodriguez splits his time between Los Angeles and Mexico and is a lawful resident of the US. He had been planning on traveling to Mexico later this week, but will have to remain in the LA area for months to recover.
That recovery could be especially lengthy due to Rodriguez's advanced age, and Mendoza said doctors aren't sure if damage to his right eye will ever heal.
"He has good days and bad," Mendoza said.
However, strangers have stepped in and donated more than $45,000 via a GoFundMe campaign Mendoza started to help defray medical costs. The campaign initially had a goal of $15,000, but Mendoza speculated people have given more because they are aware that minorities often face discrimination.
"A lot of minorities feel like in this society we are looked down upon," Mendoza said. "But I feel like we should all help each other."