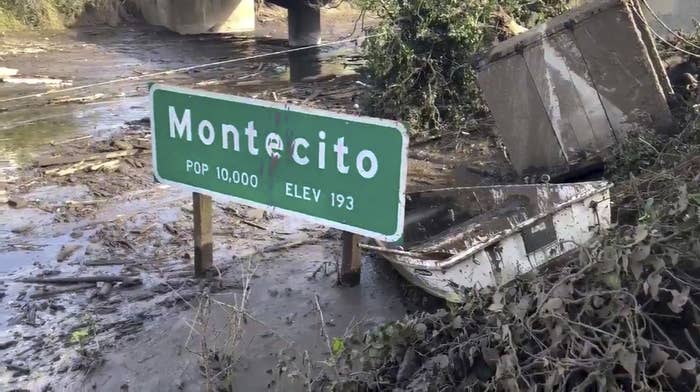 The death toll from the devastating mudslide that buried a Southern California city in mud and debris earlier this month has risen to 21 after authorities found the body of a 28-year-old mother, the Santa Barbra County Sheriff's Office said. Two people are still missing.

On Saturday morning, a search and recovery team, led by detection dogs, found Faviola Benitez Calderon in a mud-encased neighborhood in Montecito, nearly two weeks after a torrent of mud and rain swept into and leveled the upscale community near Santa Barbara.
Her death now brings closure to the Benitez family, who lost several members of their family and had been waiting for news on Calderon, officials said. Calderon's 10-year-old son, Jonathon, her three-year-old niece, Kailly Benitez, and Kailly's mother, 27-year-old Marilyn Ramos also died in the slides.
Search teams are still scouring the debris for 17-year-old Jack Cantin and two-year-old Lydia Sutthithepa, whose father, 30-year-old Pinit Sutthithepa, 30, was found dead last week. The Sutthithepa family's six-year-old son, Peerawat, and 79-year-old father-in-law, Richard Loring Taylor, also died.
"This family is one of several that lost multiple family members," Santa Barbara County Sheriff Bill Brown said Sunday. "And we know that the suffering of those who knew and loved all of the victims is immense."

A total of 28 people were injured in the mudslides, and rescue teams continued to comb the area in search of victims Monday where three people were still reported missing.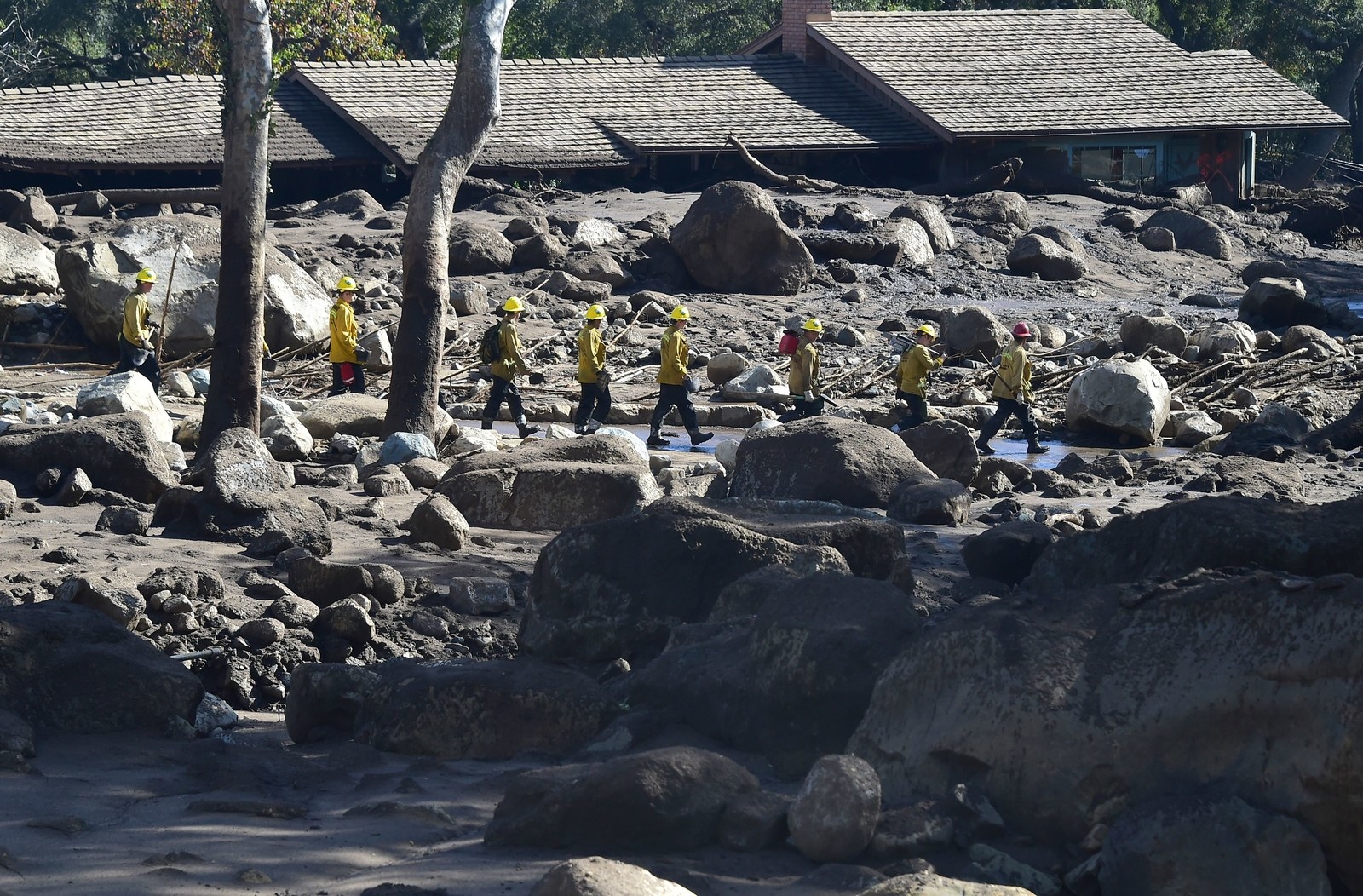 "The Sheriff's Department is continually receiving reports of missing persons and is actively investigating each report," the county said, noting that while "many reports reach a rapid and successful conclusion," others have required additional investigation.

On Sunday night, thousands gathered outside the Santa Barbara County courthouse for a candlelight vigil honoring the victims. "It is breathtakingly horrible," county supervisor Das Williams told mourners. "Our community is going through something it has never gone through."

The extent of the property destruction started to come into view over the weekend, as officials began damage inspections on homes and buildings affected by the flooding and mudslides that began before dawn Tuesday when the first storm of the wet season dumped heavy rain on hillsides recently stripped of vegetation by the state's largest-ever recorded wildfire.
County officials estimated that 73 single-family homes were destroyed and another 161 damaged, mostly in the wealthy enclave of Montecito, which is home to celebrities like Oprah Winfrey, Ellen DeGeneres, and Rob Lowe. The number of damaged homes had been revised down from earlier estimates, but officials warned that the numbers will likely continue to fluctuate as crews continue to assess the area.

A section of US Highway 101, which had been closed since the slides, finally reopened on Sunday. The road is a major thoroughfare in the region and authorities had initially hoped to have it back in service by Monday.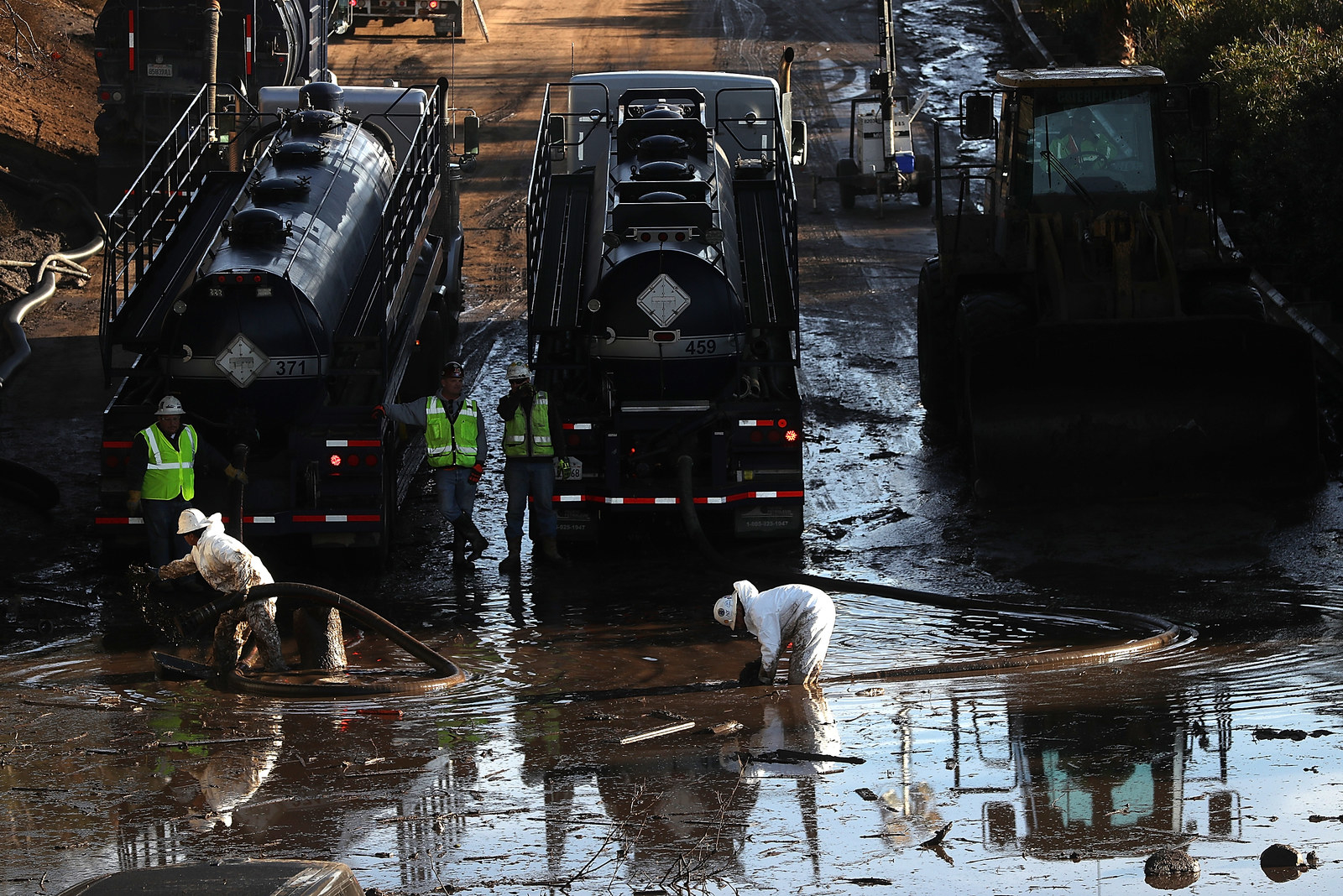 An emergency notification delivered to cell phones in the area wasn't sent until around 3:50 a.m. Tuesday — more than an hour after the National Weather Service issued a flash flood warning for the area reporting mudslides were imminent. Brown defended the use of the emergency notification, saying authorities had adequately warned people of the dangers faced by the storm.

The cell phone system was "activated at the appropriate time when actually an event was occurring," he said.
"There were extraordinary efforts made to warn our community about this problem," Brown told reporters Friday, adding that in the days leading up to the event authorities sent letters, held a press conference, and sent "a variety of different notifications through a variety of electronic media" to warn residents of the dangers.

Authorities expanded the mandatory evacuation zone Thursday evening to include much of the city of Montecito, citing the need to clear the area to make room for emergency crews. By Sunday evening, most of the community of around 9,000 remained under an evacuation order, and officials said there was no timeline for when people might be allowed to return to their homes.

More than 2,200 emergency officials from multiple agencies responded to the scene, including members of the US Coast Guard and the US Navy. Hundreds of people lacked electricity in the area after the mudslides, and outages were expected to continue for several days.

Other victims caught in the destruction, include 3-year-old Kailly Benitez and her 10-year-old brother, Jonathon. The oldest victim was James Mitchell, who had just celebrated his 89th birthday. He died alongside his wife, Alice, and their dog.