Mayci Breaux, 21, worked at Coco Eros clothing boutique in Lafayette, Louisiana, and was remembered by her employer in this Facebook post.
Breaux's heartbroken family spoke to the New York Daily News Friday, with her mother, Dondie, saying she "lost one of [her] best friends."
"I didn't believe it. I didn't want to believe it," Dondie Breaux said. "I lost one of my best friends."
Mayci had been sitting in the back row of the theater with her boyfriend Matthew Rodriguez, who was also wounded in the attack, according to the Daily News.
The high school sweethearts had plans to marry after Mayci graduated college. She was studying to be a radiology technician.
"They were so good for each other. They had so many plans — just to get married, have kids. I think it would have been soon," Dondie Breaux said.
According to her Facebook page, Mayci attended Louisiana State University at Eunice and was a graduate of Hanson Memorial High School in Franklin, Louisiana. Police said that she died at the scene of the shooting.
The president of Louisiana State University tweeted about the loss of student Mayci Breaux.
According to her LinkedIn page, Jillian Johnson co-owned gift boutique Red Arrow Workshop with her husband, Jason Brown. She also co-owned a clothing line called Parish Ink with her brother Bram Johnson and a third partner named Tom.
On LinkedIn, she wrote:
I work with my big brother Bram and my awesome husband, Jason in the retail biz.

I love to work and design things like patterns and gardens and interior spaces. I love color.

My specialties include: poodles, really good salads, pruning hedges and trees, big hugs, humor, self-contracting, space planning, homemade popcorn, quoting songs and movies, ukulele, picking stuff out, organic gardening, sewing stuff, etc.
Friends flooded Johnson's Facebook page with messages of love, shock and despair.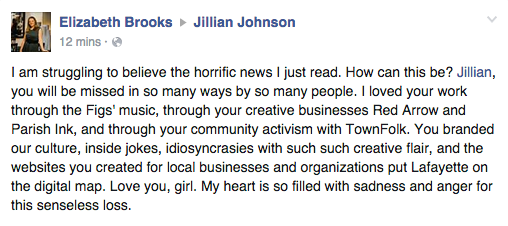 The band, which has six members, posted a short note about Johnson on their Facebook page on Friday. Hundreds of people "liked," shared, and commented on the post.
We wish there were words to penetrate the hearts of the people watching the news to help them understand the kind of person Jillian was. Jillian made everything more beautiful.

She was boundlessly creative, passionate, generous, talented, brave, and hard-working. She took pride and care in every detail, and she was easy to delight. She appreciated small beauties.

She worked to make Lafayette a more beautiful place, and one of the most tragic things that has ever happened here took her. She was a wife, a mother, a daughter, a sister, an artist, a collaborator, a bandmate, a friend to so many. We are devastated.

Please keep her loving and loved family in your hearts. <./blockquote>
Allison Fensterstock of Gambit Weekly described them: "The all-women sextet The Figs looks like a country-time tea party of pretty girls in pretty dresses, but it rocks, Cajun-style, like a roadhouse full of moonshine and buckshot."
Stephen Ortego, a member of the Louisiana House of Representatives, told BuzzFeed News that Johnson had worked on his campaign and was well known in the community for her art and design work.
"Not a day goes by that you are walking around and don't see one of her T-shirts, patches, flags, or hats" Ortego said.
Johnson also did work with some of his colleagues at the architecture firm he works at, including designing a sign for a restaurant that the company built, Ortego added.
"Some of my colleagues came in crying to work this morning," he said. "I think the community right now is kind of in shock, lot of sadness."
Here's the entire message:
Jillian E. Johnson (1982-2015).
Our hearts are shattered. We will love you forever. She was a once-in-a-lifetime gal. A mother, daughter, sister and a truly exceptional wife. She was an artist, a musician, an entrepreneur and a true renaissance woman. She was the love of my life and I will miss her always.
Thank you all for your kind words and offers of support. Our family is together now to mourn our loss. We would appreciate privacy during this time but your messages on outlets like this truly mean the world to us.
Our thoughts are with the family of Mayci Breaux. We mourn with you. And finally our thoughts and prayers are with Jillian's best friend, who was in the theater with her at the time of the shooting. We love you and we're wishing you the best!
This was a senseless act and, as is the case with all such acts, there is no playbook, no rules on how to cope. We're trying our best to pull ourselves together. We're putting one foot in front of the other. Thank you all. If you have a thought or memory you'd love to share, feel free to do so here or Facebook.
Red Arrow will be closed until further notice. Thank you all for your support and understanding.