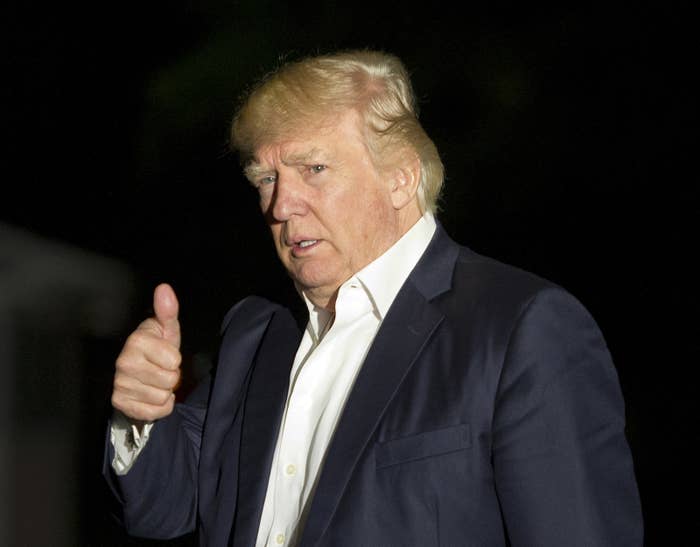 President Donald Trump went on a wild Twitter rant the morning after he fired FBI Director James Comey, yelling at the morning cable news coverage.
Early in his Wednesday morning rant Trump said that Washington will thank him once things calm down.

But one of the most remarkable interactions was when the president called out CNN for what he called a false report that said Trump fired Comey at the recommendation of his former campaign adviser Roger Stone.
Stone, a longtime political ally to Trump, has been investigated by the FBI for his alleged ties to the Russians during the 2016 campaign.
He backed up Trump's tweet with one of his own, confirming that he was not the source of the reports. Though Stone claims never to have urged the president to fire Comey, he made sure to point out that he supports the decision.
The president began sounding off on Twitter by vowing to replace Comey with "someone who will do a far better job" and who will bring back "the spirit and prestige of the FBI."
He also called out the Democrats for crying foul, claiming that they had "said some of the worst things about James Comey."

Meanwhile, Sen. Tim Kaine, Hillary Clinton's former running mate, said Wednesday on MSNBC's Morning Joe that the president fired Comey because he was concerned about an investigation into his Russian ties.
Kaine cited the president's "unusual" decision to thank Comey in his letter to the former FBI director for informing him "on three separate occasions" that he wasn't under investigation.
"That shows a deeply insecure president who is very, very concerned about this investigation and that's the reason Jim Comey got fired. We've got to get to the bottom of this. A special prosecutor is needed," Kaine said.
Sen. Richard Blumenthal was also on Morning Joe, calling for the appointment of a special prosecutor to investigate Trump's ties to Russia.
Following Blumenthal's morning show circuit Trump tweeted that "watching Senator Richard Blumenthal speak of Comey is a joke."
He then went on to tweet that Blumenthal should be under investigation and that he orchestrated "one of the greatest military frauds in U.S. history."
"For years, as a pol in Connecticut, Blumenthal would talk of his great bravery and conquests in Vietnam - except he was never there. When caught, he cried like a baby and begged for forgiveness...and now he is judge and jury," Trump tweeted.
Trump adviser Kellyanne Conway defended the president's decision in a heated interview with CNN's Chris Cuomo Wednesday morning, saying that not only did this come as a recommendation from the deputy attorney general but also cited a loss in public confidence in the FBI director.
"This is a president who saw that the FBI director had lost the public confidence, the confidence of the Republicans and Democrats," Conway said.
Deputy Attorney General Rod Rosenstein, who took office just two weeks ago, had compiled a two-page memo that outlined the "growing erosion of trust" in the FBI.
Conway quoted from the memo that said Comey had "impaired the FBI's reputation and credibility, that he should not hold a press conference, that he was doing things that are textbook examples of what federal prosecutors should never do."
As for when Trump will nominate a replacement, Conway said, "He'll do it when he wants to."