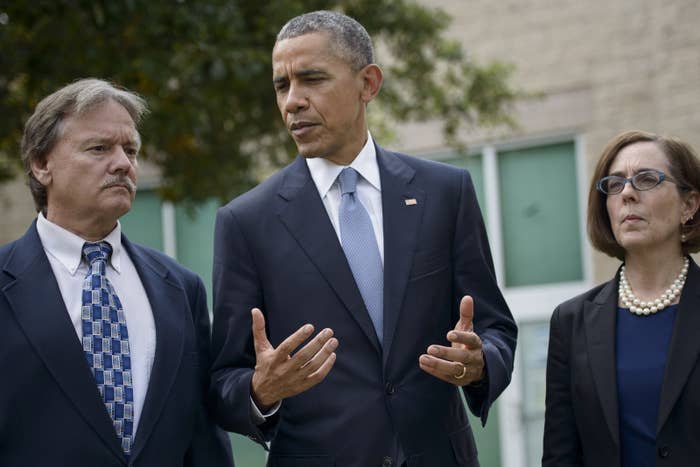 President Obama spoke for about an hour Friday with the families of the victims of the deadly shooting at Umpqua Community College in Oregon.
The meeting took place at Roseburg High School, where he also offered Oregon Gov. Kate Brown any help he could provide on a federal level.
"We're going to have to come together as a country, but today is about the families,"' Obama told reporters after the meeting.
The president's visit to Oregon, eight days after Chris Harper-Mercer opened fire on the campus, killing nine people before taking his own life, brought protesters and supporters from the moment he landed in the state Friday afternoon.
Outside the airport, people lined streets in anticipation of Obama's motorcade, many of them upset that just hours after the deadly shooting, he called on voters to hold anti-gun control lawmakers to account at the polls.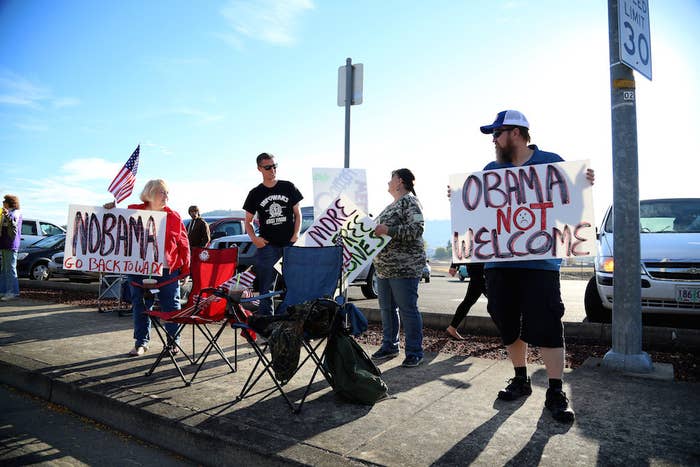 "Our thoughts and prayers are not enough — it's not enough. It does not capture the heartache and grief and anger that we should feel … and does nothing to prevent this carnage from being inflicted elsewhere," Obama said shortly after the shooting. "We collectively are answerable to those families who lose their loved ones due to our inaction."
The president's visit garnered a strong reaction from the moment it was announced he would meet Roseburg leaders and the families of the victims of the shooting.
About 200 gun-rights activists who disagreed with the president's remarks about gun control shortly after the shooting stood outside the airport Friday.
According to the Associated Press and several local news outlets, many of the protesters were visibly armed with holstered weapons.
Residents began organizing protests opposing the visit on social media, including a Facebook page simply titled, Stay Out of Roseburg.
And the publisher of local newspaper The Roseburg Beacon told Fox News Obama would "stand on the corpses of our loved ones to make some kind of a political point."
Word that several people in the community opposed Obama's visit reached such a high level that the city issued a statement to clarify that the city council and mayor, "welcome the president to Roseburg and will extend him every courtesy."
Obama's meeting with the families remained private, and he offered little details when speaking with reporters after.

"I've obviously got very strong feelings about this," he said.
Obama was expected to spend a total of three hours in Oregon before heading to events in Seattle and will spend the night in San Francisco.