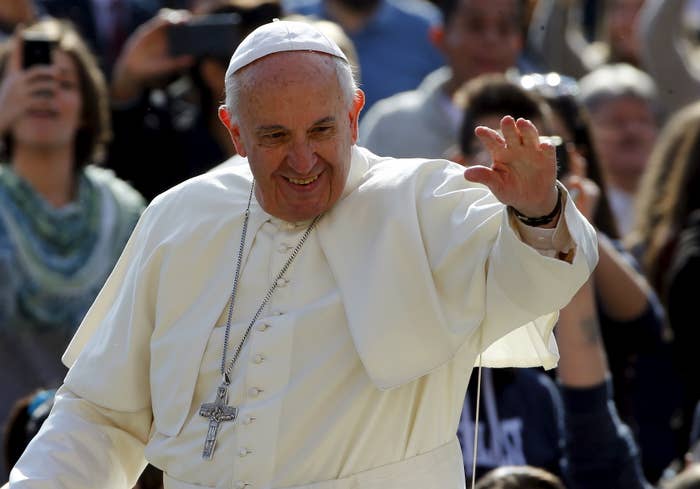 Pope Francis released a massive 256-page document entitled "The Joy of Love" — or "Amoris Laetitia" in Latin — on Friday, in which he outlines a plan for the church to be more open and accepting of its members who are navigating marriage, sex, and family live in the modern age.
The document is seen as another step toward allowing some divorced Catholics – like those who've remarried without having their previous marriage annulled – to receive Communion.
The document does not change any church doctrine but makes clear that the church is in need of change and that the aim is not to judge and "throw stones," but to welcome members and guide their consciences, according to the AP.
"I understand those who prefer a more rigorous pastoral care which leaves no room for confusion," he wrote. "But I sincerely believe that Jesus wants a church attentive to the goodness which the Holy Spirit sows in the midst of human weakness."

Though the pope did not officially endorse a process that would allow for some divorced and remarried Catholics to receive Communion, he emphasized the need for priests to help members on an individual level and not think that "everything is black and white."
"By thinking that everything is black and white, we sometimes close off the way of grace and of growth and discourage paths of sanctification which give glory to God," he said.

He acknowledged that Catholics are not infallible, and urged the church to adopt a new language to aid pastors in addressing factors such as fear, ignorance, habits, and duress as they offer counsel, the AP reported.
The pope proposed that those who have irregular living situations should not necessarily be considered living in a state of mortal sin, and that those same people could be viewed as in a state of grace — and thus more pleasing to God — if they show efforts to improve their situation.

On several occasions, Francis cited the former Pope John Paul's 1981 "Familius Consortio," the previous guiding document from the Vatican. He explicitly rejected Paul's notion that people who remarry should abstain from sex in order to continue receiving the sacraments.
He went further in a footnote to suggest that placing such strict rules could endanger faithfulness and that "the good of children suffer."
Along the lines of family planning, Francis continued to oppose abortion — he referred to it as "horrendous" in the document — but did not say that the church was inherently opposed to "artificial contraception."
The pope continued to uphold the church's position against same-sex marriage but did say that the LGBT community should be welcomed into the church and not discriminated against, a stance he has long taken.
The document is seen as a step toward easing the church's strict and antiquated rules when it comes to many issues that families and couples face in modern times.

CORRECTION
The pope cleared a path for some divorced Catholics – like those who've remarried without having their previous marriage annulled – to receive communion. A previous version of this story said that the pope cleared the path for divorced Catholics to receive communion.