An NYPD officer was shot and killed while sitting in her patrol car on Wednesday morning in what the police commissioner is calling an assassination.

New York City police Officer Miosotis Familia, 48, was sitting in the marked police vehicle with her partner in the Bronx around 12:30 a.m. on Wednesday when suspect Alexander Bonds approached and fired through the window in an ambush-style attack — striking the officer in the head, according to the NYPD and the Associated Press.
Bonds previously posted videos to Facebook with expressing anti-police sentiments.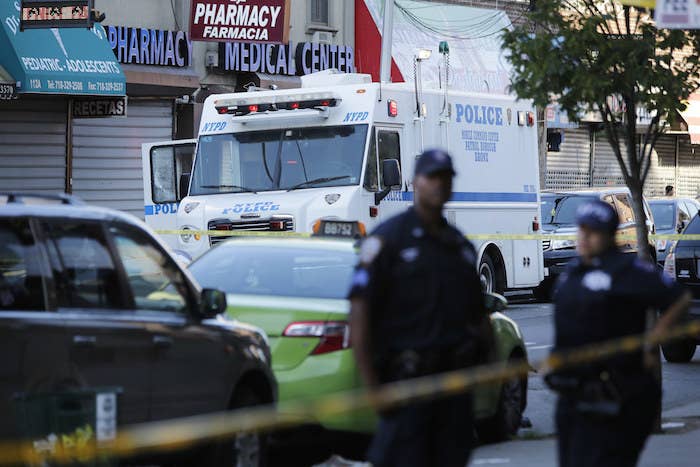 Familia, a mother of three, was rushed to an area hospital and later died from her injuries.
"Based on what we know now, it is clear that this was an unprovoked direct attack on police officers who were assigned to keep the people of this city safe," the NYPD said in a statement.
Familia was a 12-year veteran of the police department, and was just wrapping up her shift when the suspect fired the single fatal shot, the AP reported.
In September last year, Bonds posted a video to his Facebook page of a police officer in Merced, California, detaining a young black man riding his bicycle.
In October, Bonds posted another video of a man scuffling with police officers after they allegedly use a Taser on his wife.
He also posted a video in September of himself talking about police brutality and life in prison. "Don't think every brother, cousin, or uncle you've got that get killed in jail is because of a Blood or Crip or Latin King killing them — police be killing them and saying an inmate killed them," he says in the video, before talking about life in prison being hard: "Ain't nothing cool about jail, you know what I'm saying?"

"Niggers ain't taking it no more, Mr. Officer," he says later in the video.
The same day, he posted a video that allegedly shows a police officer raping a black teenager in South Africa. The video he linked to is no longer available on YouTube.
Patrolmen's Benevolent Association President Patrick Lynch said in a statement: "Police officer Miosotis Familia, the mother of three, gave her life protecting a neighborhood that had been plagued by gang gun violence. Fully knowing the dangers that she faced, she suited up in uniform everyday and stood tall against those who threaten and terrorize the good folks of the Bronx."

Familia graduated from the Borough of Manhattan Community College in 2009 with a liberal arts degree.
"President [Antonio] Perez and the BMCC community sends their thoughts and prayers to her friends and family," Manny Romero, executive director of public affairs for the college, told BuzzFeed News.
The officer had been a member of the New York Dominican Officers Organization (NYDO) for the past four years.
"She's just a good-natured person, has nothing to do with her death, that's just who she was," NYPD detective Raysa Galvez, president of the NYDO, told BuzzFeed News. "Kind-hearted, giving, willing to help. Always available to assist, even though she had three younger kids."
Galvez said the NYDO is reaching out to provide support for officers, Familia's family, and the community in the 46th Precinct, in the central part of the Bronx, where the shooting happened.
"Pure shock. It's unexpected and we know it's 4th of July, and you're not expecting such a direct hit that way," she said. "We're reaching out to as many people as we can. We're spreading ourselves out ... trying to keep in touch with as many people as we can that need our assistance, that need to talk. We're trying to assist in any way we can."
The 34-year-old suspect was found about a block away from the crime, and was shot and killed after he pointed a revolver at police, the NYPD said. The revolver was recovered at the scene. A bystander was hit by a bullet when the police were firing at the suspect. That person is in a stable condition.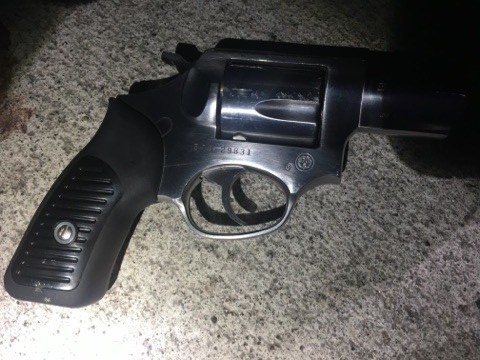 NYPD Commissioner James O'Neill called the attack "unprovoked" and an "assassination." According to the AP, police do not know of any connection between the slain officer and the attacker, and it was not immediately clear what provoked the attack.
The NAACP Legal Defense and Education Fund released a statement on Wednesday expressing its condolences to the officer's family and stating the organization's commitment to "furthering strategies and policies that will improve public safety and improve the relationship between law enforcement and communities of color."
"Our hearts ache every time an individual is indiscriminately shot down, officer and civilian alike," said LDF Associate Director-Counsel Janai Nelson. "We, along with so many New Yorkers, are horrified by this unprovoked attack. While shootings targeting law enforcement remain exceptionally rare, they are piercingly painful when they occur."
And Attorney General Jeff Sessions released a statement Wednesday afternoon addressing the shooting.
"Officer Miosotis Familia proudly wore the badge for 12 years, serving her community and keeping the people of New York City safe," Sessions said in the statement. "She was doing her duty, on patrol in the Bronx, when she was unjustly targeted and murdered in a cowardly, unprovoked attack. She will be remembered for her years of service and for the example of selflessness that she set protecting innocent people on our streets. This murder in cold blood is a tragedy, and sadly it is the latest in a troubling series of attacks on police officers over the past two years. These attacks must stop and we must honor the service of every law enforcement officer and the memory of those we have lost in the line of duty."

According to the National Law Enforcement Officers Memorial Fund, 143 police officers were killed while they were on duty in 2016 — six more than in 2015. But those numbers are far lower than the number of officers killed on duty in the '70s, in the '80s, and earlier in the 2000s.
In 2014, NYPD officers Wenjian Liu and Rafael Ramos were shot and killed while sitting in their squad car in Brooklyn. The gunman, Ismaaiyl Brinsley, traveled from Baltimore to New York to kill cops. After the shooting, he fled into the subway and killed himself.