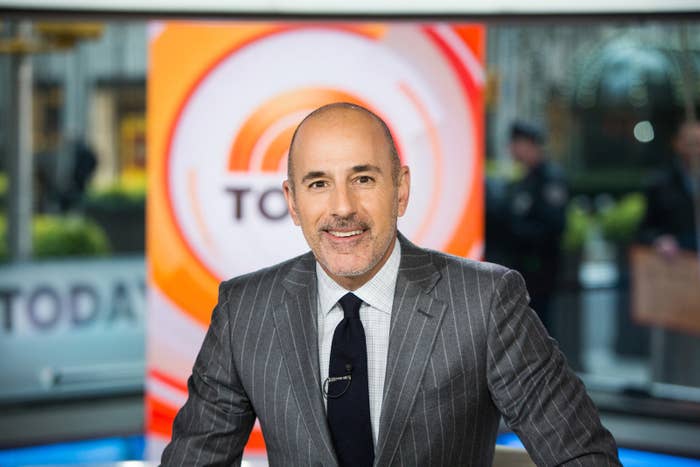 Matt Lauer — the longtime host of Today, the prominent face of NBC News, and one of the most powerful and highly-paid men in American media — was swiftly fired on Wednesday after a colleague complained of "inappropriate sexual behavior."
The unidentified woman reported Lauer's behavior to the company on Monday night, NBC News Chairman Andrew Lack told staff in a memo, prompting an immediate investigation.
"It represented, after serious review, a clear violation of our company's standards," Lack said of Lauer's alleged behavior.
Lauer responded Thursday with a statement saying that while some of what people are saying is "untrue or mischaracterized," "there is enough truth in these stories to make me feel embarrassed and ashamed."
The statement was read by Savannah Guthrie at the top of Thursday's Today broadcast:
There are no words to express my sorrow and regret for the pain I have caused others by words and actions. To the people I have hurt, I am truly sorry. As I am writing this, I realize the depth of the damage and disappointment I have left behind at home and at NBC. Some of what is being said about me is untrue or mischaracterized, but there is enough truth in these stories to make me feel embarrassed and ashamed. I regret that my shame is now shared by the people I cherish dearly. Repairing the damage will take a lot of time and soul searching, and I'm committed to beginning that effort. It is now my full-time job. The last two days have forced me to take a very hard look at my own troubling flaws. It's been humbling. I am blessed to be surrounded by people I love. I thank them for their patience and grace.
Lack added that while this was the first official complaint against Lauer, "we were also presented with reason to believe this may not have been an isolated incident."
The woman alleged Lauer began behaving inappropriately while in Russia covering the Winter Olympics in 2014, NBC said Thursday.
Two more complaints were made against Lauer on Wednesday, the New York Times reported. One woman told the newspaper Lauer summoned her to his office in 2001, locked the door, and told her to unbutton her shirt. He then bent her over a chair and had sex with her, the Times reported.
The woman also said she passed out at some point during the incident. She recalled waking up on the office floor, and said Lauer had his assistant take her to a nurse. She said she didn't report the incident — which came after Lauer had made inappropriate comments to her on multiple occasions — because she felt helpless because didn't want to lose her job.
On Wednesday afternoon, Variety published a piece on Lauer featuring allegations from multiple former anonymous colleagues. One told the outlet the host once gave her a sex toy as a gift, adding a note describing how he wanted to use it on her. Another said he once showed her his penis and then reprimanded her when she didn't engage in a sex act.
The news anchor reportedly also had a button installed under his desk so that he could lock his office door without getting up, allowing him to initiate contact with female colleagues and not be disturbed.
Variety reported several women had complained to NBC executives about Lauer's behavior, but were ignored because of his status at the network and the lucrative Today advertising revenue.
A NBC News spokesperson told BuzzFeed News, "We can say unequivocally, that, prior to Monday night, current NBC News management was never made aware of any complaints about Matt Lauer's conduct."
The news of Lauer's sudden firing was announced to viewers by his Today cohost, Savannah Guthrie, at the opening of Wednesday's program.
"This is a sad morning here at Today," said a visibly stunned Guthrie before reading Lack's memo.

Guthrie, who was accompanied by cohost Hoda Kotb, was choked up and said she had just received the news herself.
"As I'm sure you can imagine, we are devastated and we are still processing all of this," she said, adding that they would continue to report the story as journalists.
"All I can say is we are heartbroken," Guthrie said. "How do you reconcile your love for someone with the revelation that they have behaved badly? And I don't know the answer to that."
Kotb said she's known Lauer for 15 years and has loved him as a friend and colleague.
"It's hard to reconcile what we are hearing with the man we know, who walks in this building every single day," Kotb said.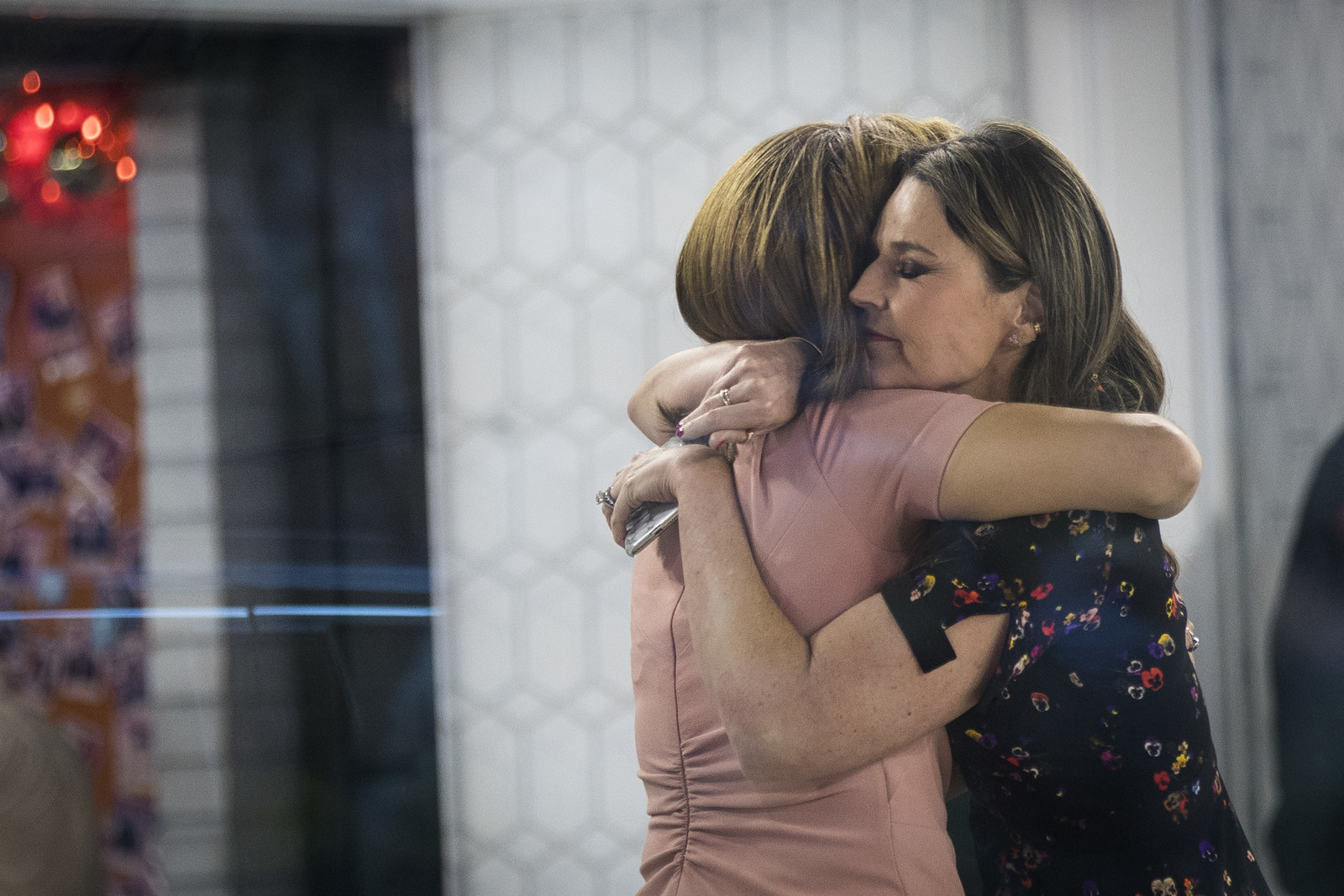 Lauer's former cohost on Today, Ann Curry, told People magazine she was "still really processing" the news of the allegations and Lauer's dismissal. Curry was axed from her position as Lauer's co-anchor in 2012, a move that many held Lauer responsible for.
Curry did, however, speak more generally as to the recent wave of allegations of sexual misconduct against powerful men.
"The women's movement got us into the workplace, but it didn't make us safe once we got there," Curry said. "I admire the women who have been willing to speak up both anonymously and on the record. Those women need to keep their jobs, and all women need to be able to work, to be able to thrive, without fear."
Natalie Morales, another former Lauer co-anchor who now hosts Access Hollywood, told viewers she was "in shock."
"It did take a lot of courage for her to come forward," Morales said of Lauer's accuser. "It was no doubt a very painful decision."
Lauer, 59, is one of most prominent and influential figures to be swept up in the wave of sexual misconduct allegations that have blanketed US media since the New York Times and New Yorker ran exposés on Hollywood producer Harvey Weinstein. Actors, politicians, and executives have all since been accused.
The news media has also faced it share of allegations. Lauer's rival morning news show host Charlie Rose of CBS This Morning was last week fired by CBS News and PBS after eight women came forward with sexual harassment allegations.
NBC News vowed to report the news of Lauer's dismissal in as "transparent a manner" possible, and released Lack's full memo to staff:

Dear colleagues,
On Monday night, we received a detailed complaint from a colleague about inappropriate sexual behavior in the workplace by Matt Lauer. It represented, after serious review, a clear violation of our company's standards. As a result, we've decided to terminate his employment. While it is the first complaint about his behavior in the over 20 years he's been at NBC News, we were also presented with reason to believe this may not have been an isolated incident. Our highest priority is to create a workplace environment where everyone feels safe and protected, and to ensure that any actions that run counter values are met with consequences, no matter who the offender. We are deeply saddened by this turn of events but we will face it together as a news organization - and do it in as transparent a manner as we can.
Word of Lauer's firing also reached the highest levels of government, with President Trump responding to the news with a tweet Wednesday:
Wow, Matt Lauer was just fired from NBC for "inappropriate sexual behavior in the workplace." But when will the top executives at NBC & Comcast be fired for putting out so much Fake News. Check out Andy Lack's past!
Later in the morning, he called on the network to investigate Morning Joe host Joe Scarborough and fire MSNBC President Phil Griffin.
In the case of Scarborough, with whom Trump has publicly feuded, the president appears to be referring to the death of an intern, Lori Klausutis, in the anchor's district office in 2001 when he was a member of Congress. The incident, however, was not an "unsolved mystery" and there is no evidence linking Scarborough to the death.
At the time, the St. Petersburg Times reported that the medical examiner had determined that Klausutis, 28, had lost consciousness because of an abnormal heart rhythm and fell, hitting her head on a desk and causing death.

Scarborough tweeted later in the day, "Looks like I picked a good day to stop responding to Trump's bizarre tweets. He is not well."
Griffin and Trump have also feuded in the past. Three sources told the Huffington Post in May that the president has pressured Griffin to fire anchor Lawrence O'Donnell on multiple occasions.
In 2011, O'Donnell called on NBC to fire Trump, then host and executive producer of The Celebrity Apprentice, following racist comments by Trump about the "birther" conspiracy theory that former president Barack Obama was not born in the United States.