Louisiana Trooper Shot During Traffic Stop Dies
Louisiana state trooper Steven Vincent succumbed to his injuries Monday. The shooter, John Daigle, is in police custody.
Trooper Steven Vincent, 43, approached a suspected drunken driver, Kevin Daigle, 54, in Bell City Sunday when Daigle allegedly shot him in the head with a sawed-off shotgun, police said.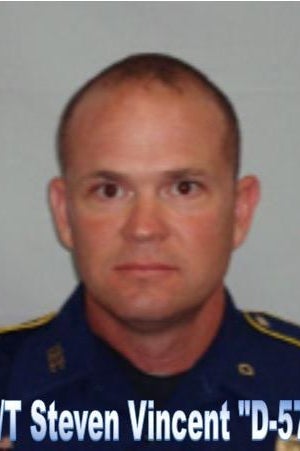 The incident was caught on video, according to Louisiana State Police Colonel Mike Edmonson.
"I watched that truck door came open and I saw a shotgun blast," Edmonson said at a press conference Sunday.
The colonel viewed video of the traffic stop gone bad and saw the moment that his trooper was mortally wounded.
"I watched that shotgun blast in that tape, I saw my trooper go backwards and go back towards his unit where he was going to try to get some help out there," Edmondson said.
He said that after the shooting, Daigle can be seen on the video staggering in the road before going over to Vincent and asking if he is still alive. It was then that Daigle said, according to Edmonson, "boy you're lucky, you're lucky, you're going to die soon."
A Good Samaritan stopped and wrestled with Daigle before some other people stopped. The people were able to subdue Daigle and used the trooper's own handcuffs to restrain him.
Daigle has been charged with first-degree murder. Edmonson said that Daigle was known to the cops in the area and had numerous DWI arrests.
Vincent was a 13-year veteran with the Louisiana State Police who ran marathons. He came from a police family – with one brother serving as the chief of police in Iowa, Louisiana and another brother who was also a state trooper.
Vincent leaves behind a wife Katherine and a 9-year-old son Ethan.
He was "just a good person. It shouldn't happen like this," Edmonson said.
Calcasieu Parish Sheriff Tony Mancuso says the owner of the truck Daigle was driving has been found dead in his Moss Bluff, Louisiana, home. Daigle is believed to be the roommate of the deceased truck owner, reports KPLC7.
Governor Bobby Jindal has ordered state flags be flown at half staff and released the following statement Monday:
"Supriya and I are deeply saddened by the loss of Trooper Steven Vincent. Steven was an honorable husband, father and State Trooper who courageously served our state for over a decade.

Brave men and women like Steven put their lives in danger every day to protect our families, and we are extremely grateful to them for keeping us safe.

Our thoughts and prayers are with Steven's family and all of our law enforcement members as we mourn this tragic loss."