The first same-sex marriage license was issued Monday by the Rowan County Clerk's Office after Kim Davis returned to work.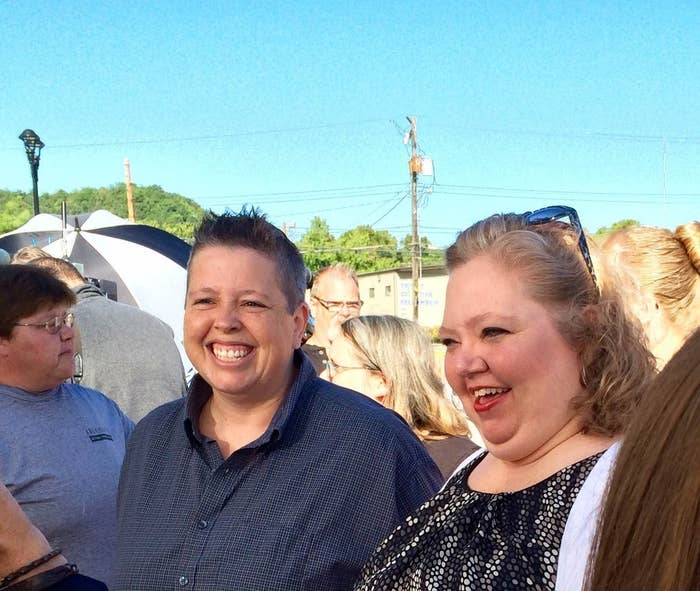 Davis returned to work Monday morning after being held in jail for defying a federal judge's order to issue marriage licenses. The religious county clerk said that she won't interfere with the issuing of licenses but any marriage license issued will not bear her name.
"Until an accommodation is provided by those with the authority to provide it, any marriage license issued by my office will not be issued or authorized by me," Davis told reporters.
The license was issued to Shannon Wampler-Collins and Carmen Wampler-Collins, a couple from Lexington, Kentucky, who have been together for 23 years.
Davis said that she loved her deputy clerks and would understand if they issued "unauthorized licenses to avoid being thrown into jail."
Davis's deputy clerk, Brian Mason, told BuzzFeed News, "We love her too," but said he would continue to issue marriage licenses today.
Davis's son, Nathan Davis, the only deputy clerk who didn't agree to issue licenses, said he had no comment.
Modifications to the licenses in recent weeks have raised questions about their validity.
Kentucky law says marriage licenses are to be issued by the county clerk. However, while Davis was incarcerated, her name was removed from them. Lawyers representing Davis have said licenses issued without her authorization were invalid, but both Gov. Steve Beshear and plaintiffs in a lawsuit against Davis have said those licenses issued while Davis was in jail were valid.
Upon returning to work Monday, Davis said the licenses issued by her deputy clerks would not have her name, title, or authorization on them. "Instead the licenses will state that they are issued pursuant to a federal order," she said.
Davis also said she had "great doubts" about the validity of the licenses issued under these conditions.
"I'm fine with it. I have my marriage license. I believe it is valid," Shannon Wampler-Collins, told BuzzFeed News after getting her marriage license on Monday.
The license says it is "issued ... pursuant to federal court order."
In addition, while Deputy Clerk Brian Mason's name is on the license, the form identifies him as a "notary public" instead of a deputy clerk.
Those two most recent changes — naming a court order instead of Davis's name and calling a deputy clerk a notary public — went further than changes that had been made to licenses issued while Davis was in jail, leading the ACLU, which has represented plaintiffs in the lawsuit against Davis, to suggest that the modified licenses may be invalid.
James Esseks, director of the group's LGBT project, said in a statement Monday night he has "concerns about the validity of the marriage licenses issued today given the further alteration of the forms." The group said it reviewing it's options, but, when asked by BuzzFeed News, ACLU staff did not elaborate on its concerns with the legality of forms or explain what actions it could take.
Speaking at a press conference Monday, Davis's lawyer, Harry Mihet, said Davis was solely responsible for modifying licenses issued by deputy clerks in order to comply with the federal injunction, but she was not interfering with the clerks themselves.
Calling her the "bravest woman in the country," Mihet said, "We will continue to vigorously pursue the litigation involving Kim Davis."
Mihet also said Davis would file a new lawsuit in state court by Friday against Gov. Beshear for violating the state's religious freedom law and seeking an exemption that accommodates her religious beliefs.
"I hate no one," Davis said in her statement. "I love every person. I put my faith and trust in God. ... Are we not a big enough, loving enough, and tolerant enough state to find a way to accommodate my deeply held religious beliefs?"
Follow BuzzFeed News reporter Dominic Holden on Twitter for updates throughout the day.