Historic $20.8 Billion Settlement Reached With BP Over Deepwater Horizon Oil Spill
This is the largest ever settlement with a single entity, the U.S. Department of Justice announced Monday.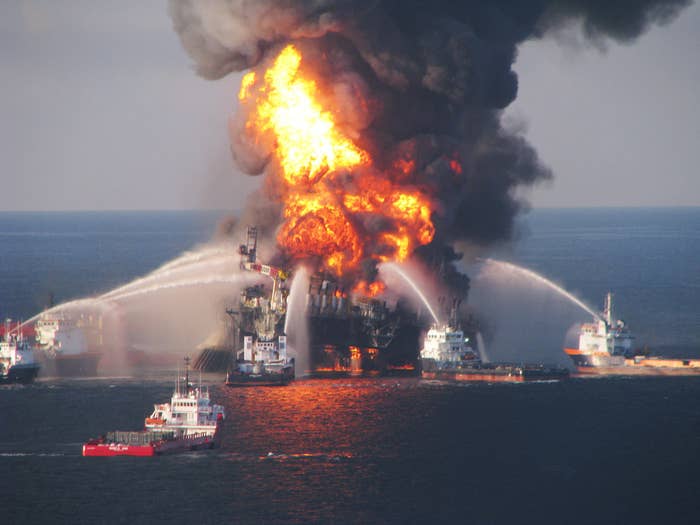 The U.S. Department of Justice announced Monday that the U.S. and five Gulf states have reached a $20.8 billion settlement with BP over the 2010 Deepwater Horizon oil spill.
"BP is receiving the punishment it deserves, while also providing critical compensation for the injuries it caused to the environment and the economy of the Gulf region," Attorney General Loretta Lynch said in a statement.
The settlement, which will be paid out over time, is a combination of economic damage claims from the five Gulf states (Alabama, Florida, Louisiana, Mississippi and Texas) and local governments, as well as claims under the Clean Water Act and Oil Pollution Act.
The Deepwater Horizon drilling rig suffered a blowout on April 20, 2010, just off the coast of Louisiana that led to the leaking of three million barrels of oil into Gulf of Mexico over a three month period. In addition to the environmental devastation, 11 people were killed in the blast and subsequent fire. Oil slicks extended more than 43,000 square miles and oil washed up along 1,300 miles of coastline from Florida to Texas.
"With this settlement, federal, state, and local governments and the Gulf coast communities will have the resources to make significant progress toward restoring ecosystems, economies, and businesses of the region," Secretary of Commerce Penny Pritzker said.
A civil trial from a lawsuit filed by then Attorney General Eric Holder in December 2010 proved that the spill was the result of gross negligence on the part of BP.
As part of the settlement, $5.5 billion, plus interest, is a penalty under the Clean Water Act. Of that, 80% will go toward restoring the Gulf region. The other multi-billion dollar payouts include $8.1 billion for natural resource damages and another $5.9 billion to the five Gulf states and local governments.
Here's a breakdown of the payments: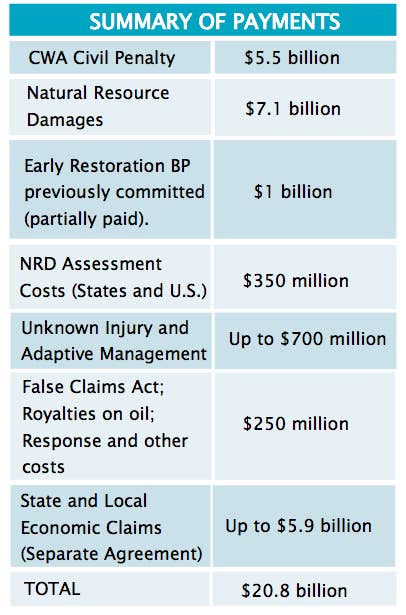 "It's good to see BP paying record fines, but the damage to the Gulf is irreparable," Miyoko Sakashita, director of the Center for Biological Diversity Oceans Program said in a statement. "The BP oil spill is a tragic reminder of the dangers of offshore drilling, and that's why we need to stop leasing our oceans to safeguard marine life and our climate."

The $20.8 billion is in addition to earlier settlements, civil and criminal, concerning the Deepwater Horizon explosion and spill.

CORRECTION
The Deepwater Horizon blowout occurred April 20, 2010. An earlier version of this post listed the incorrect date.