Here Are The Highlights Of The Iran Nuclear Agreement
Iran has agreed to never "seek, develop or acquire any nuclear weapons." President Obama said Tuesday that "this deal is not built on trust — it is built on verification."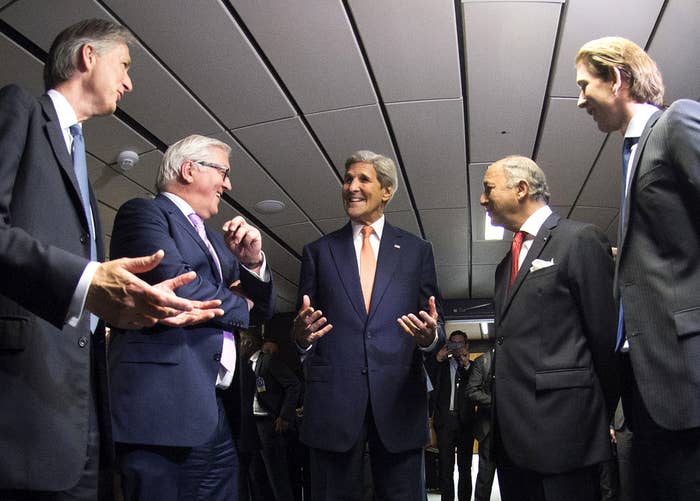 Iran signed a historic 159-page deal with six world powers on Tuesday to not produce or acquire any nuclear weapons. The agreement is both highly technical and politically complex. Here are the highlights:
– There will be regular monitoring of the deal's progress:
* World powers will meet with Iran every two years, or earlier if the situation warrants, to review the progress of how the terms of the agreement are being implemented.
* The International Atomic Energy Agency will monitor the "nuclear-related measures" in the agreement and will provide regular updates to a board of governors.
* Inspectors will have 24-hour access to Iran's nuclear facilities as well as its entire nuclear supply chain to ensure that Iran doesn't divert materials to covert locations.
* The IAEA's access to Iran's nuclear facilities is permanent. Other transparency measures will remain in place for 25 years.
* The IAEA will also have access to complete its investigation into the possible military aspects of Iran's nuclear research.
– Sanctions will be removed in phases as the deal is implemented:
* All sanctions will be lifted eight years from either the adoption day or when the IAEA concludes that nuclear materials in Iran are being used for peaceful activities, whichever is sooner.
* There will be no new nuclear-related United Nations Security Council sanctions or European Union nuclear-related sanctions or restrictive measures.
* If Iran violates the deal, all sanctions will be reimplemented.
* The agreement also includes a list of people and organizations that have been taken off the sanctions list, including Qasem Soleimani, the head of the Iranian Revolutionary Guards' elite Quds Force, as well as the entire Iranian Air Force and Quds Force unit.
– Here are some of the more technical points:
* Iran is to begin phasing out its IR-1 centrifuge within 10 years, during which time, it will keep its enrichment capacity at Natanz facility at a total installed uranium enrichment capacity of 5,060 centrifuges. All excess centrifuges and enrichment-related infrastructure at the facility will be stored under IAEA's continuous monitoring, the deal says.
* Iran will have to remove two-thirds of its installed centrifuges and will not use centrifuges to produce enriched uranium for the next 10 years. Put simply, a centrifuge is a machine that produces enriched uranium, a raw material used in the creation of a nuclear bomb.
* The deal also put a 15-year limitation on the amount of enriched uranium that Iran may have, allowing the country to maintain a total stockpile of no more than 300 kilograms of up to 3.67% enriched uranium. Anything in excess of that amount, the agreement says, would be downgraded to natural level uranium or sold in the international market to buyers who will provide natural grade uranium for Iran.
* Iran's current stockpile is enough to produce up to 10 nuclear weapons — by reducing the stockpile by 98%, there wouldn't even be enough left over to produce a single weapon, President Obama said.
* Iran must also modify the core of its reactor in Iraq so that it will no longer produce weapons-grade plutonium. In addition, it has agreed to ship, out of the country, all of the used fuel from the reactor. This will remain in effect for the lifetime of the reactor.
* Under the joint agreement, Iran will modernize the Arak heavy water research reactor, halting any ongoing construction at existing unfinished reactor. The deal says Iran will redesign the facility for purposes of peaceful nuclear research, minimizing production of plutonium and not producing any weapons-grade plutonium.
* Iran will also not build any new heavy water reactors for the next 15 years.