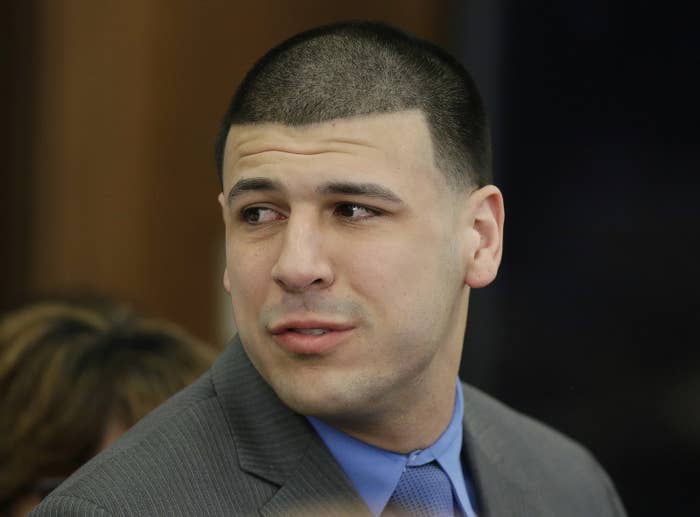 Former NFL star Aaron Hernandez was found hanged early Wednesday inside his Massachusetts prison cell where the 27-year-old was serving a life sentence for murder.
The former Patriots tight end was found around 3 a.m. ET at the Souza-Baranowski Correctional Center and rushed to a hospital in Leominster where he was pronounced dead, according to the Massachusetts Department of Corrections.
On Thursday, the Worcester County District Attorney's office ruled the death a suicide.
His death came just five days after the former pro-football star had been acquitted in the killing of two men in Boston during a drive-by shooting in 2012. But the acquittal was a bitter victory for Hernandez, who returned behind bars to serve a life sentence for the 2013 killing of semi-pro football player Odin Lloyd in 2015, the boyfriend of his fiancé's sister.
In addition to the two men's relationship, prosecutors at one point believed his girlfriend had helped Hernandez dispose of the murder weapon and then lied about it in court. Hernandez was found guilty and perjury charges against his girlfriend were dropped.
News of his sudden death surprised Hernandez's family and attorneys, who said there had been no indication he was considering killing himself.
"The family and legal team is shocked and surprised at the news of Aaron's death," his attorney, Jose Baez, said in a statement. "There were no conversations or correspondence that would have alarmed the legal team or family."
Baez also told reporters Thursday that the family had decided to donate Hernandez's brain to Boston University for research into chronic traumatic encephalopathy, commonly known as CTE, a degenerative disease found in people who experience repeated blows to the head.

Doing so might "possibly help other young men who decide to play football," he said, "and also possibly shed light and more evidence on this case."
However, Baez accused the medical examiner, who has not released autopsy results, of illegally holding onto the brain. The medical examiner's office did not immediately comment.
The former New England Patriots tight end hanged himself using a bedsheet attached to a window in his single cell, according to a statement from the corrections department. He also attempted to block the door by jamming items into it.
Multiple Boston news channels, including Fox 25 and ABC affiliate WCVB-TV, reported Hernandez was found with a Bible verse, John 3:16, written on his forehead with red marker.
Boston radio news station WBZ also reported a similar description. All three outlets quoted unnamed sources.
That verse reads, "For God so loved the world that he gave his one and only Son, that whoever believes in him shall not perish but have eternal life."
Despite the life sentence, Baez said Hernandez had been looking forward to a possible release via a legal challenge.
"We are heartbroken and we are determined to find the truth," Baez said. "We are looking into the process and will conduct a transparent investigation into his untimely death."
News of his death prompted reaction from athletes who had played with Hernandez.
Despite Hernandez's acquittal in the 2012 Boston killings, an attorney representing families of the two men killed said Wednesday he would continue to go forward with a wrongful death lawsuit that was filed the same year.
"We started these wrongful death cases before there were any criminal cases against Mr. Hernandez," Attorney William T. Kennedy said at a press conference, adding that the case would continue against Hernandez's estate.
Another wrongful death case filed by Lloyd's family was also pending when Hernandez died.
Those civil cases could be complicated by a Massachusetts law that would technically make Hernandez an innocent man because he died before exhausting all of his legal appeals.
Hernandez's attorney, John M. Thompson, told The Boston Globe he would be filing a motion to that effect as soon as a death certificate was available.

Kennedy said he and other counsel would be looking at how the civil cases would be affected.
"Is it better or worse, I don't know, but a case can still proceed against his estate," he said.
Kennedy said Salvador Furtado, whose son was killed in the 2012 drive-by, did not take any joy in finding out about Hernandez's death, and still considered the former NFL star responsible for his son's death despite the acquittal in court.
As a high schooler in Connecticut, Hernandez had shown promise in several sports, but he left early in his senior year to play football at the University of Florida.
During his freshman year, he was linked to a fight and punched a restaurant manager, CNN reported. The next year, he and several other football players were linked to a shooting.
But with the prospect of a professional football career, Hernandez again left school early during his senior year in 2010. According to CNN, the athlete promised to turn his life around if he was drafted by the New England Patriots, agreeing to submit to biweekly drug tests.
"I will tie any guaranteed portion of my 2010 compensation to these drug tests and reimburse the team a pro-rata amount for any failed drug test," Hernandez wrote the team.

But in 2013, Hernandez was linked to Lloyd's killing, spelling the end of his professional career.
News of Hernandez's suicide came on the same day his former teammates were in the White House being congratulated by the president for their Super Bowl win.
The team, however, told reporters they would not be issuing a statement about his death.