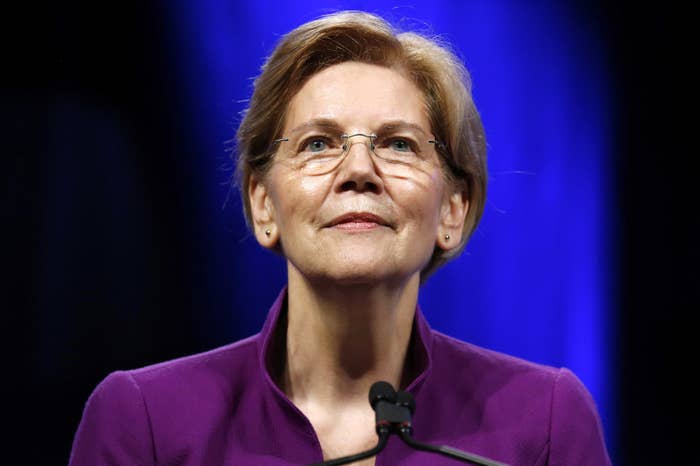 Sen. Elizabeth Warren released the results of a genetic test Monday, saying that they prove she has Native American ancestry.
In a video posted on Twitter, the Massachusetts Democrat and her family talked about their family history and Warren's mother's heritage — she grew up in Oklahoma and was said to be part Native American.
Carlos Bustamante, a professor of genetics at Stanford University, reviewed the results of Warren's test and concluded that she "absolutely [has] Native American ancestor in [her] pedigree."
"In the senator's genome we did find five segments of Native American ancestry with very high confidence, where we believe the error rate is less than one in a thousand," Bustamante said.
Those Native American genes were most likely introduced into her genetics eight generations ago, the analysis concluded, give or take two generations. Warren's family had claimed her great-great-great-grandmother, O.C. Sarah Smith, was at least partially Native American, from Oklahoma.
Less than 1% of people who claim European descent have some Native American genes, according to a 2014 survey. That's not surprising since the Native American population in North America was likely small to start with, and was cut in half by diseases introduced by tens of millions of Europeans who migrated to North America.
Armed with results to back up the ancestry she has long claimed, Warren added: "I'm not enrolled in a tribe, and only tribes determine tribal citizenship. I understand and respect that distinction, but my family history is my family history."

The Cherokee Nation — a federally recognized tribe of 350,000 based in Warren's home state of Oklahoma — said the senator's use of DNA tests to claim a connection to a tribal nation was "inappropriate and wrong."

"A DNA test is useless to determine tribal citizenship. Current DNA tests do not even distinguish whether a person's ancestors were indigenous to North or South America," Cherokee Nation Secretary of State Chuck Hoskin Jr. said in a statement sent to BuzzFeed News.
"Sovereign tribal nations set their own legal requirements for citizenship, and while DNA tests can be used to determine lineage, such as paternity to an individual, it is not evidence for tribal affiliation," the statement continued.
"Using a DNA test to lay claim to any connection to the Cherokee Nation or any tribal nation, even vaguely, is inappropriate and wrong. It makes a mockery out of DNA tests and its legitimate uses while also dishonoring legitimate tribal governments and their citizens, whose ancestors are well documented and whose heritage is proven. Senator Warren is undermining tribal interests with her continued claims of tribal heritage."
Native Americans have pushed back on commercial genetic tests, noting that the presence of DNA in a person doesn't say anything about what tribe it might have come from generations ago.
"The main thing is that DNA doesn't have anything to do with tribal identity in general, and especially in Oklahoma. It doesn't matter whether she has 'native DNA' or not," Charles Mann, the author of 1491: New Revelations of the Americas Before Columbus told BuzzFeed News, by email.
"It's a bit like asking someone if they have 'Episcopalian DNA'. There are DNA markers associated with British descent, but you'd rightly be regarded as bonkers if you said that having those markers 'proved' that someone was Christian."
"We don't understand all the variation that exists among indigenous people," Keolu Fox, a geneticist at University of California San Diego, who is Native Hawaiian, told BuzzFeed News. Fox is among many Native American and indigenous experts who argue that their identity is defined more by shared cultural experience and knowledge of indigenous traditions. "If you don't have a reference point or a good enough reference, then it's really hard to talk about something like authenticity."
President Donald Trump has mocked Warren on several occasions for her claims of Native American ancestry, referring to her as "Pocahontas." In a speech at the White House last November, Trump he even referenced the senator while honoring Native American code talkers who fought in World War II.
"You're very, very special people. You were here long before any of us were here. Although we have a representative in Congress who they say was here a long time ago. They call her Pocahontas. But you know what, I like you," Trump said, while addressing the Navajo code talkers.
When asked to comment Monday on Warren's genetic test, Trump replied, "Who cares?"
One reporter asked Trump if he would now make good on a promise he made at a campaign rally in Montana in July, when he said he'd donate to a charity of Warren's choosing if she took an ancestry test that proved she had Native American ancestry.
"I will give you a million dollars to your favorite charity, paid for by Trump, if you take the test and it shows you're an Indian," he said at the rally.

But on Monday, Trump denied ever having said that: "I didn't say that. You better read it again. I didn't say that."
He went on to say that he hopes Warren runs for president, as she'd be very easy to beat, and also said she would "destroy the country" and turn it into Venezuela.
"I don't want to say bad things about her, because I would hope that she would be one of the people who would get through the process," Trump said.
Dan Vergano and Nidhi Subbaraman contributed reporting to this story.