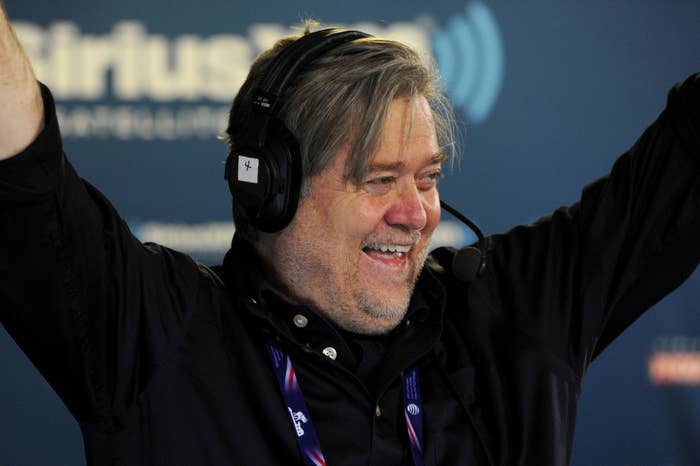 Donald Trump shook up his campaign management structure for the second time in months by bringing in Breitbart News' executive chairman as the chief executive officer and promoting a senior adviser to the role of campaign manager.
The GOP presidential nominee announced he has hired Stephen Bannon as CEO and elevated pollster and senior adviser, Kellyanne Conway, to campaign manager early Wednesday, as first reported by the Wall Street Journal.
"I have known Steve and Kellyanne both for many years. They are extremely capable, highly qualified people who love to win and know how to win," Trump said in a statement. "I believe we're adding some of the best talents in politics, with the experience and expertise needed to defeat Hillary Clinton in November and continue to share my message and vision to Make America Great Again."
As Bannon joins the campaign full-time, he will temporarily be stepping down from his position with Breitbart News and, according to a news release, will "bolster the business-like approach" of the campaign.
In a statement, the news group said Bannon would take a "temporary leave of absence" and resume work at Breitbart News on Nov. 8, 2016, after the polls close.
There will be no interim replacement, a Breitbart News spokesperson said.
The move is seen by some as a demotion to campaign manager and chief strategist Paul Manafort, who Trump said will remain in the same position.

"It's an expansion at a busy time in the final stretch of the campaign," Conway told the New York Times. "We met as the 'core four' today," Conway said, referring to herself, Bannon, Manafort and his deputy, Rick Gates.
In the statement put out by the campaign announcing the personnel moves, Manafort said, "Steve and Kellyanne are respected professionals who believe in Mr. Trump and his message and will undoubtedly help take the campaign to new levels of success."

In June, Trump fired his controversial campaign manager, Corey Lewandowski, who had been charged with simple battery after he allegedly manhandled then-Breitbart News reporter Michelle Fields in April. He was not prosecuted on the basis of insufficient evidence.

Fields and Breitbart editor-at-large Ben Shapiro resigned from the company over the site's handling of Lewandowski's alleged assault. A senior editor at the site ordered staffers in an internal chatroom to stop defending Fields after she was allegedly assaulted by Lewandowski.

"I do not believe Breitbart News has adequately stood by me during the events of the past week and because of that I believe it is now best for us to part ways," Fields said after resigning.

Shapiro said Bannon, who he described as a "bully," had "sold out" the mission of Breritbart's late founder, Andrew Breitbart, "in order to back another bully, Donald Trump."

He said that Bannon had "shaped the company into Trump's personal Pravda, to the extent that he abandoned and undercut his own reporter."

According to results of an NBC News/Survey Monkey weekly poll released Tuesday, Hillary Clinton is leading Trump by nine points.