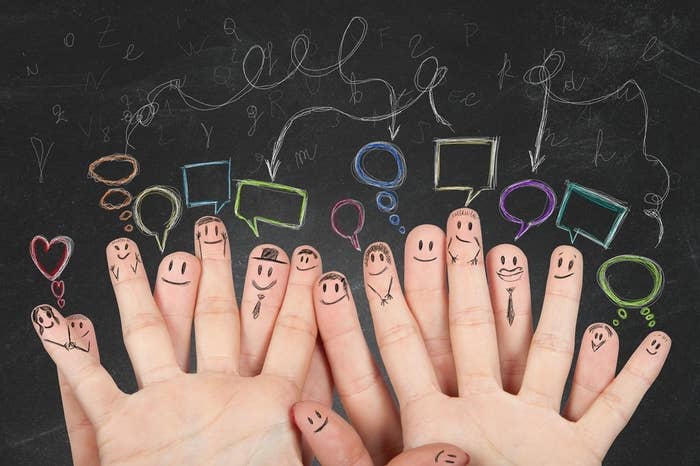 When the University of Florida announced in June that it was launching the first-ever master's degree program in social media in the U.S., the school faced no shortage of nonplussed critics.
Still, it's 2013, and job seekers surely want to have something more tangible on their résumés' skills sections than "proficiency in Microsoft Excel." But can post-grad education in, well, using iPhone apps really prop you up for a cushy media gig?
Blythe Duckworth, 28, who is now in her second semester in the 33-credit-hour, $27,000 program, spoke with BuzzFeed about just what you learn in an advanced social media degree, anyway.
Where did you go to college, and what made you decide to go to grad school for social media?
Blythe Duckworth: I grew up in Ohio, but I live in Jacksonville, Florida, now. I went to undergrad at Transylvania University in Lexington, Kentucky. I decided to go to graduate school because I've recently returned from Peace Corps service in Ukraine.
When I went on job interviews, I discovered I was falling in this in-between area: overqualified for entry level and not enough experience for a mid-level position. Many of the positions I was interested in wanted people with a master's degree. Getting my master's became a really good use of my time in order to move to a mid-level management position and eventually, management.
What's your typical day like?
BD: The degree is online, but each course is different in the engagement requirements. A syllabus outlines your week of work, which changes from week to week. Live lectures are recorded, and you have the ability to watch these at alternate times. There are no designated log-in times, so you can do your work when it's convenient for you.
What is the master's degree program teaching you so far that transcends what a normal person who uses Twitter and Facebook knows?
BD: A lot of people have social media accounts, but not a lot of people understand how to gain followers, when to post to get the most hits, or how to write short copy to engage people reading a gigantic newsfeed. In addition, we are really learning about social media from the angle of marketing, branding, and return on investments. A huge component of life on social is being able to measure the engagement and growth, and this program teaches you how to grow your brand through social media and make it part of an integrated marketing strategy.
What classes do you take?
BD: This semester I'm taking two intro courses: Multimedia Communication and Social Media. Both classes require me to create and maintain a blog with class assignments, then share the content with the class and my social networks.
Every week I have to make a blog post for each class. For example, on Monday I'll complete the readings for my Intro to Social Media class, which doesn't have a textbook! The field is constantly developing, so the professor compiles a list of articles and blogs for us to read on the topic (last week was all about Twitter), and then I have to write a blog post with a reaction to the readings and apply any of my insight/thoughts.
The other part of this course is highly focused on application of social media tools, engagement, and analytics. So, there are assignments each week in which we have to practice using social media. For example, start following five influential brands, send a tweet to at least three people and try to start a conversation, or tweet two pieces of content from the lecture. Actually, retweeting [a BuzzFeed post] was part of my weekly assignments. These are the weekly assignments, but we also have mid- and final-term projects, and sometimes group work.
What I'm learning in the program is how to be most efficient in social media, what are the dos and don'ts of social media, and how to build a brand on social media.
What would you specifically say to someone who would tell you that doing a master's in social media is a waste of time/money? (People have critiqued master's programs in "branding" for the same reason.)
BD: I could see how it would be easy to think that because of the term "social media," but the degree is in Mass Communication, not just social media. I'm not just learning how to create social media accounts and update them; anyone can do that. What I'm learning is about business, marketing, and branding. In today's world where an average American interacts with 3,000 ads a day, it's the most competitive market ever and knowing the strategies to get your brand noticed is proving to make the difference. That's what this is degree is all about, and I think it will give me the competitive edge I need.