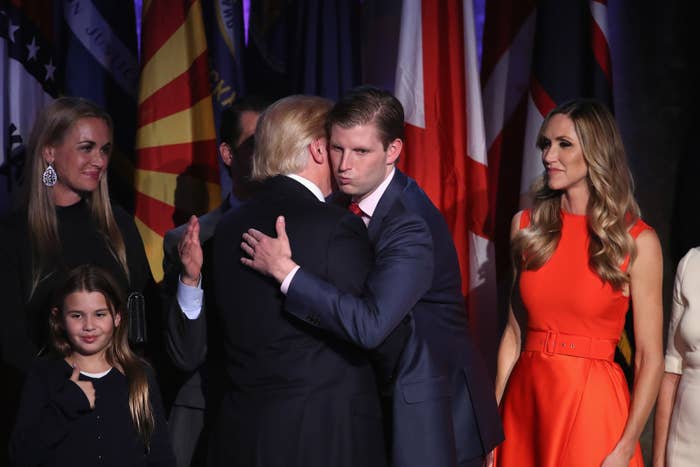 As Donald Trump prepares to assume the presidency after campaigning to restore American jobs, a Virginia winery owned by his son, Eric Trump, has applied for permission to import more foreign workers to prune grapevines.
On Wednesday, the Department of Labor posted a petition from Trump Winery, also known as Trump Vineyard Estates, asking to bring in six vineyard workers under the federal H-2 visa program, which permits US employers to bring in foreign laborers on temporary work visas. Since 2003, more than 100,000 foreigners have been brought in under the program each year.
Combined with this latest request, companies owned by Trump or bearing his name have sought permission from the Department of Labor to hire at least 263 foreign guest workers since he launched his presidential campaign. Many work as servers and house cleaners at Mar-a-Lago, his Florida estate.
The Trump transition team did not immediately respond to a request for comment, nor did Trump Vineyards. In the past, Trump has said it is "almost impossible" to find Americans who want such jobs. Trump has sought to bring in foreign guest workers at a number of his businesses since at least 2003.
The latest request, signed December 2, was posted just two days after a special envoy from the United Nations raised concerns about the federal guest worker program, saying it puts workers at risk of exploitation and even trafficking.
A BuzzFeed News investigation last year that found that H-2 workers were often exploited, and sometimes raped or beaten. BuzzFeed News also found that many Americans were denied jobs in favor of guest workers. Trump companies have not been accused of abusing H-2 workers.
In its application, Trump Vineyards said it planned to pay guest workers $10.72 an hour to work 40 hours a week, from 7 a.m. to 2:30 p.m. Monday through Friday and from 7 a.m. to noon on Saturdays. Applicants are required to have at least three months' experience and will get an unpaid lunch break, the application said. The job is seasonal, and projected to start in January and end in June.
The winery's website says it is not owned directly by Trump or his organization, but rather by his son Eric. News reports say Trump gave the winery, which sits on 1,000 acres near Charlottesville, to his son Eric in 2012.
Still, in March of this year, on the night he won Republican primary victories in Michigan and Mississippi, Trump held a press conference at his Trump National Golf Club in Jupiter, Florida and publicly claimed ownership of it. Speaking before a table stacked high with wine, he said: "I own it 100 percent, no mortgage, no debt."