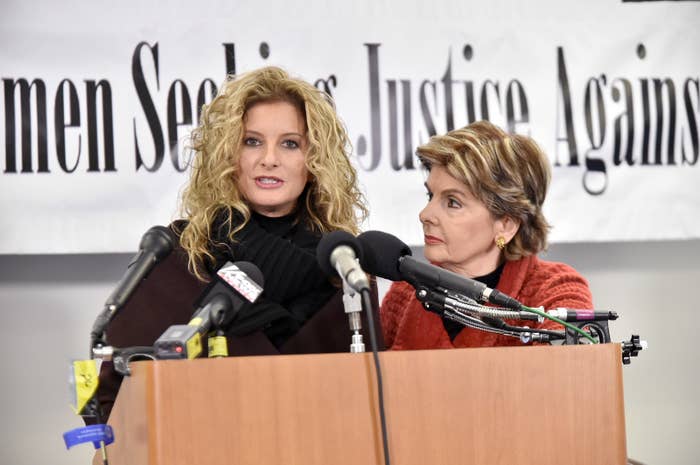 President Donald Trump's lawyers sought, once again, the dismissal of a defamation suit filed against him by a woman who claims he groped her, arguing that her claims are false and the suit is "politically motivated." In a court filing Tuesday, his lawyers also argued that when he took to Twitter and the debate stage and called the woman and others who made similar claims liars, it was an expression of political opinion that is protected by the First Amendment.
"Courts consistently recognize that Internet postings — particularly on social media like Twitter — are on forums that an audience would understand to contain 'vigorous expressions of personal opinion,' 'rather than the rigorous and comprehensive presentation of factual matter,'" his lawyer wrote in a brief filed in New York state court.
Summer Zervos, a former contestant on the Trump's reality TV show The Apprentice, accused Trump of kissing and grabbing her when she went to his bungalow at the Beverly Hills Hotel in 2007 to discuss a possible job at the Trump Organization. After Zervos made the accusation last October, Trump called it a lie.
She sued him for defamation just days before his inauguration and in March, Zervos's lawyers served a subpoena for all documents from his campaign pertaining to "any woman alleging that Donald J. Trump touched her inappropriately."
In yesterday's filing, Trump's lawyer, Marc Kasowitz, reiterated that "what Ms. Zervos alleges occurred never happened." The brief pointed to instances where she continued to seek employment from Trump and invited him to her restaurant, after the alleged incident.
Zervos is one of at least 10 women who, in the weeks before the election, accused Trump of touching them inappropriately. Trump has denied the allegations. In a recent press conference, White House press secretary Sarah Huckabee Sanders said all of the women who accused President Trump of sexual harassment are lying.
If the judge does not agree the case should be dismissed at this point, Trump's lawyer asked that a minimum it be delayed until after his presidency.
"Civil litigation places a substantial burden on the president," he said, citing a case brought against then President Bill Clinton by Paula Jones, who sued him for allegedly exposing himself to her in a hotel room in 1991. "It is now beyond a reasonable debate that Clinton v. Jones — which included claims for defamation — occupied an inordinate amount of Clinton's time and impeded his ability to carry out his duties," Kasowitz wrote.
Regarding the subpoena, Trump's lawyers said it is "far-reaching" and "seeks wholly irrelevant information intended solely to harass the president."
In a statement, Zervos's lawyer, Gloria Allred, called Trump's brief "a rehash of arguments that he has already made. We look forward to answering any questions that the Court may have in a hearing if the Court feels that a hearing is appropriate."
Trump's lawyers didn't immediately return a request for comment.