Maine Nurse Says Quarantine Fight Is About "Much More Than Myself"
The nurse at the center of the controversy over an Ebola quarantine, told reporters she intends to fight the state of Maine over efforts to keep her isolated.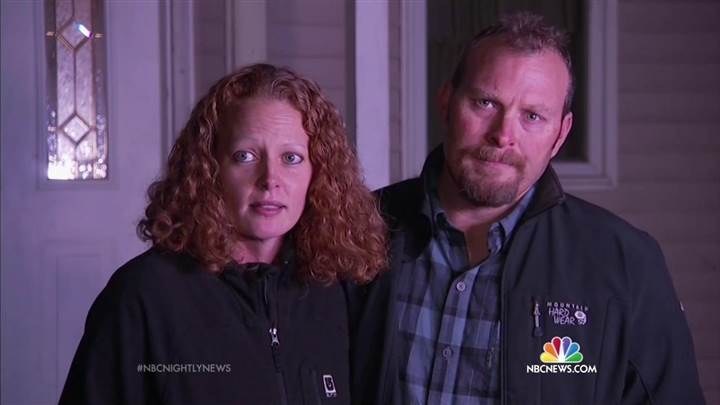 Kaci Hickox, the nurse at the center of the controversy over an Ebola quarantine, told reporters Wednesday night that she intends to fight the state of Maine over efforts to keep her isolated until the 21 day incubation period for the virus is up Nov. 10.
Standing in front of her home in Fort Kent in the far-northern part of the state, Hickox characterized the fight against a mandatory quarantine as being about "something much more than myself."
"There are so many aid workers coming back and it scares me to think about how they are going to be treated and how they are going to feel," she said.
The Portland Press Herald reported that state and local police, who have been stationed outside the home, watched from a distance as Hickox made the statement.
Maine officials have indicated they intend to seek the legal authority to enforce a quarantine order, but Hickox has vowed a legal challenge to those powers.
"If these restrictions placed on me by the state of Maine are not lifted by Thursday morning I will go to court to fight for my freedom," Hickox told Today show host Matt Lauer via Skype Wednesday morning.
"I truly believe this policy is not scientifically nor constitutionally just, and so I'm not going to sit around and be bullied around by politicians and be forced to stay in my home when I am not a risk to the American public," she said.
Hickox has been at the center of a national debate over how to treat health workers and travelers returning from Ebola-affected countries in West Africa since she landed at Newark Airport last Friday, returning from a monthlong stint treating patients as a volunteer with Doctors Without Borders.
Hickox was confined to a tent at a New Jersey hospital after a forehead scanner at the airport registered a fever, even though subsequent temperature readings showed no fever and an Ebola test was negative.
Hickox wrote a column objecting to her isolation on her phone and sent it to the Dallas Morning News. In it she attributed the high temperature reading from the forehead scanner to being "flushed and upset" at being held for hours at the airport.
On Monday, New Jersey officials released Hickox to return to the home she shares with her boyfriend in Maine.
In a statement Maine Gov. Paul Le Page expressed frustration that Hickox may refuse to stay in isolation at her home.
"While we certainly respect the rights of one individual, we must be vigilant in protecting 1.3 million Mainers, as well as anyone who visits our great state," the governor said in a statement.
Several other states have issued quarantine orders this month. The most recent, California, issued a directive Wednesday that calls for returning health care workers to be quarantined if they are high risk, but officials also allowed one doctor back from Liberia to leave his home to go jogging. By himself.
Doctors Without Borders issued its own statement condemning "blanket forced quarantine for health care workers."
Speaking in her driveway Wednesday night, Hickox said she was frustrated by the situation.
"We have been in negotiations all day with the state of Maine and tried to resolve this amicably, but they are not allowing me to leave my house and interact with the public even though I am completely healthy and symptom free," Hickox said. "I am frustrated by this fact, and I have been told that it is the Attorney General's intention to file legal action against me. And if this does occur, I will challenge the legal actions."