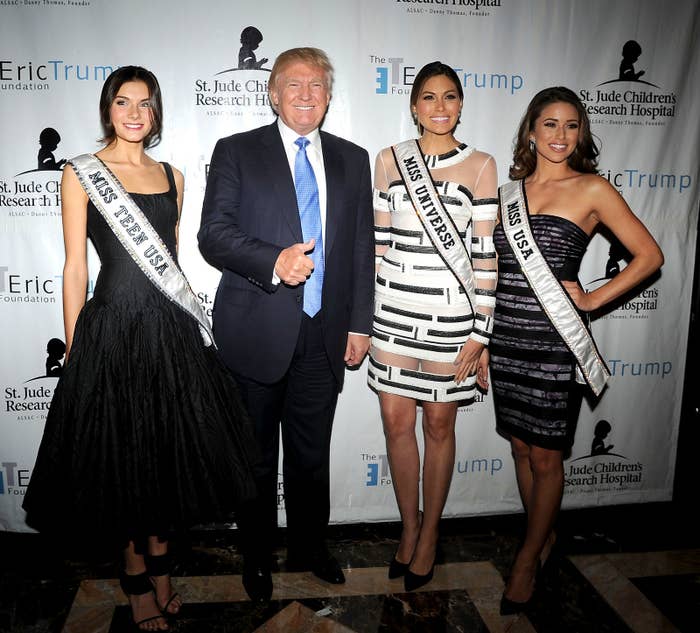 Donald Trump's relationship with women now stands at the heart of his presidential campaign. The candidate, who has married two models, has also made female beauty his profession. He bought the Miss Universe organization in 1996, boasting that "the bathing suits got smaller and the heels got higher and the ratings went up." He sold the pageant business last year for about $50 million, according to federal election filings released today.

How women see Trump may determine November's election. His lewd comments on The Howard Stern Show, unearthed by BuzzFeed News, feature in a new series of attack ads from Hillary Clinton's super PAC. And the New York Times published a widely read story on Sunday alleging "unwelcome romantic advances, unending commentary on the female form, a shrewd reliance on ambitious women, and unsettling workplace conduct."
The pageant world, a heady mixture of business and beauty, was one place where Trump dealt with women, many of whom desperately wanted to win a crown. This winter, we spoke to more than a dozen former contestants and several former staffers, and we read hundreds of pages of legal documents.
That dive into the pageant world didn't produce the sort of clear picture that either Trump or his enemies would like to project. Many women, including several who say they are disgusted with Trump's campaign rhetoric, said their experiences were positive; they said they were treated professionally and with respect. Some even said they wished they had something negative to say about him because they don't want him to win the presidency — but they had nothing. Several also noted that, in contrast to his sexist rhetoric on the campaign trail, Trump has a history of hiring and empowering women executives.
Sexual harassment is part of pageant world lore, but no one told us that Trump made unwanted sexual advances. Some said, however, that Trump made them uncomfortable — one pageant contestant likened Trump to a "creepy uncle." Another contestant, who did not want to be identified, said he flew her to New York for what she thought was a business meeting but which turned out to be a date. But we also heard the reverse: A contestant said she was summoned to Trump's office for what turned out to be — to her relief — a hoped-for business meeting.
One contestant, Leah Laviano, offered a decidedly pragmatic understanding of many contestants' relationship with Trump and Trump's with them: a transaction. Trump's business, she wrote in a Facebook message, helped him "to look superior and like a 'man' by having all these beautiful women around him" — but the benefits ran both ways. "[People say,] 'Oh, pageant girls,'" said Laviano, 28, a makeup artist and former Miss Mississippi USA who was first runner-up for Miss USA in 2008. "I think they give us less credit than we deserve." She explained, "If anything, the girls are using Trump more than he's using them. I don't mean that in a bad way either. It's networking and being smart. If he really thinks that they're into him, then that's his own delusion. I think both parties probably know what it is and see it in their benefit."
In response to a request for comment about what contestants said about interacting with him during pageants, Trump spokesperson Hope Hicks offered a two-part email response. She said "Mr. Trump appreciates" the idea that some women had a positive experience but added "other stories you mention are totally false." The candidate himself has tweeted, "Nobody has more respect for women than Donald Trump!"
Here's what six women involved with Trump's pageants told BuzzFeed News:
Mary Hilliard Harrington, 39, artist manager for country artists. Director of marketing and publicity at Miss Universe from 2000 to 2005.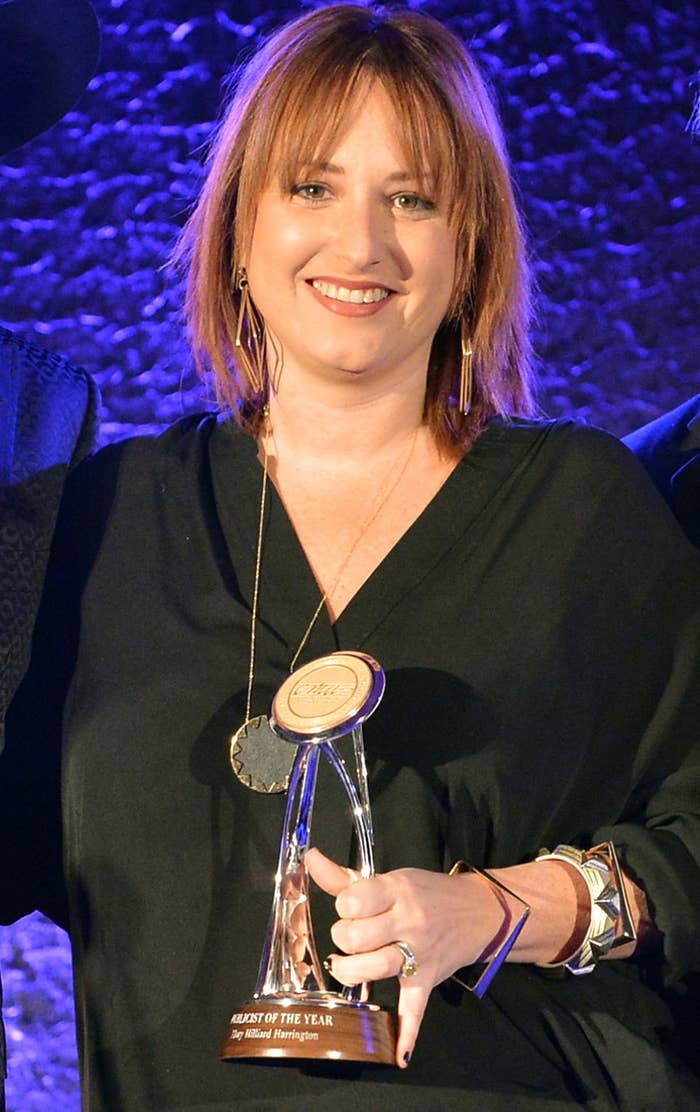 "I loved working for him. I don't have one bad word to say about him."
Coordinating the promotion of the national and international television broadcasts is not unlike coordinating the Super Bowl, except in over 100 countries, Harrington said. Trump was a master of publicity, and she said she learned more from him than she ever could have learned in graduate school.
"I see all these things — I read all the press about how he treats women. Honestly, I never had that experience with him. He was nothing but respectful to me. This is coming from someone who does not agree with his politics," she said.
Bridget Sullivan, 35, mother and model, Miss New Hampshire 2000, first runner-up Miss USA.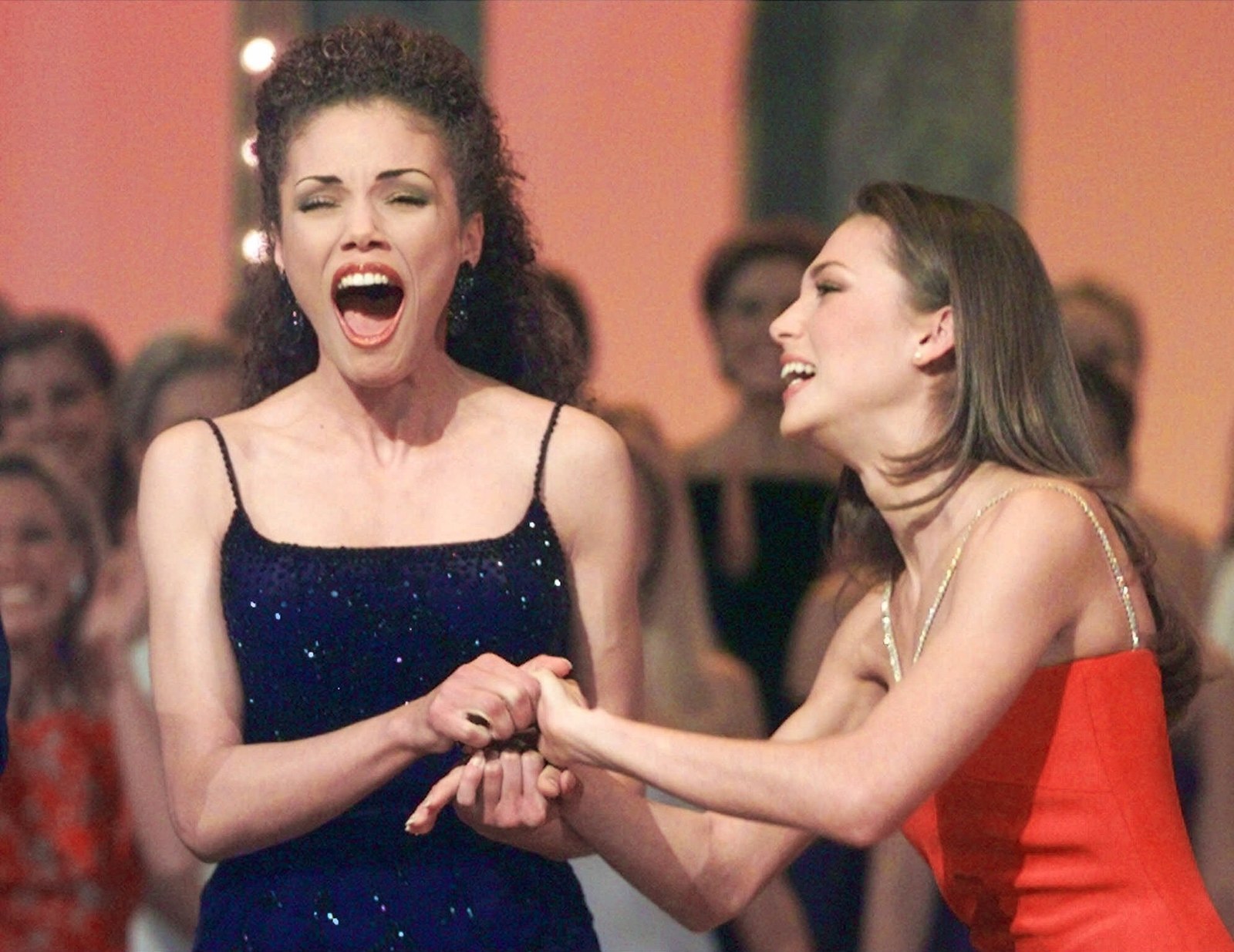 She said that while the staff of Miss Universe was great overall, she found Donald Trump unsettling. When she first met him at a party in New York held to promote the contest, "he'd hug you just a little low on your back," she said, and give you "a squeeze that your creepy uncle would."
While preparing for the national broadcast in 2000, Trump came backstage to wish the contestants good luck, even though many of the women weren't dressed. "The time that he walked through the dressing rooms was really shocking. We were all naked," Sullivan said.
We spoke with four other contestants from that year, none of whom remembered Trump walking through the dressing room when contestants were naked.
Kelly Hubler, 39, an attorney. Miss Indiana USA, 2002. Worked for one of the state pageants from 2004 through 2009 as a director of Indiana operations.
She met Trump at the national telecast and said he was always very cordial. "He was never impolite, condescending, or sexist in my experience."
Overall, she said her experience with the Miss Universe organization was great, and people unfairly assume that pageants are bad for women. "I'm an attorney, I consider myself to be an intelligent person. Did I once put on high heels and a bathing suit on national television? Sure. Did it damage me? No," she said.
Brittany Mayer, 31, Miss California 2005, first runner-up Miss USA.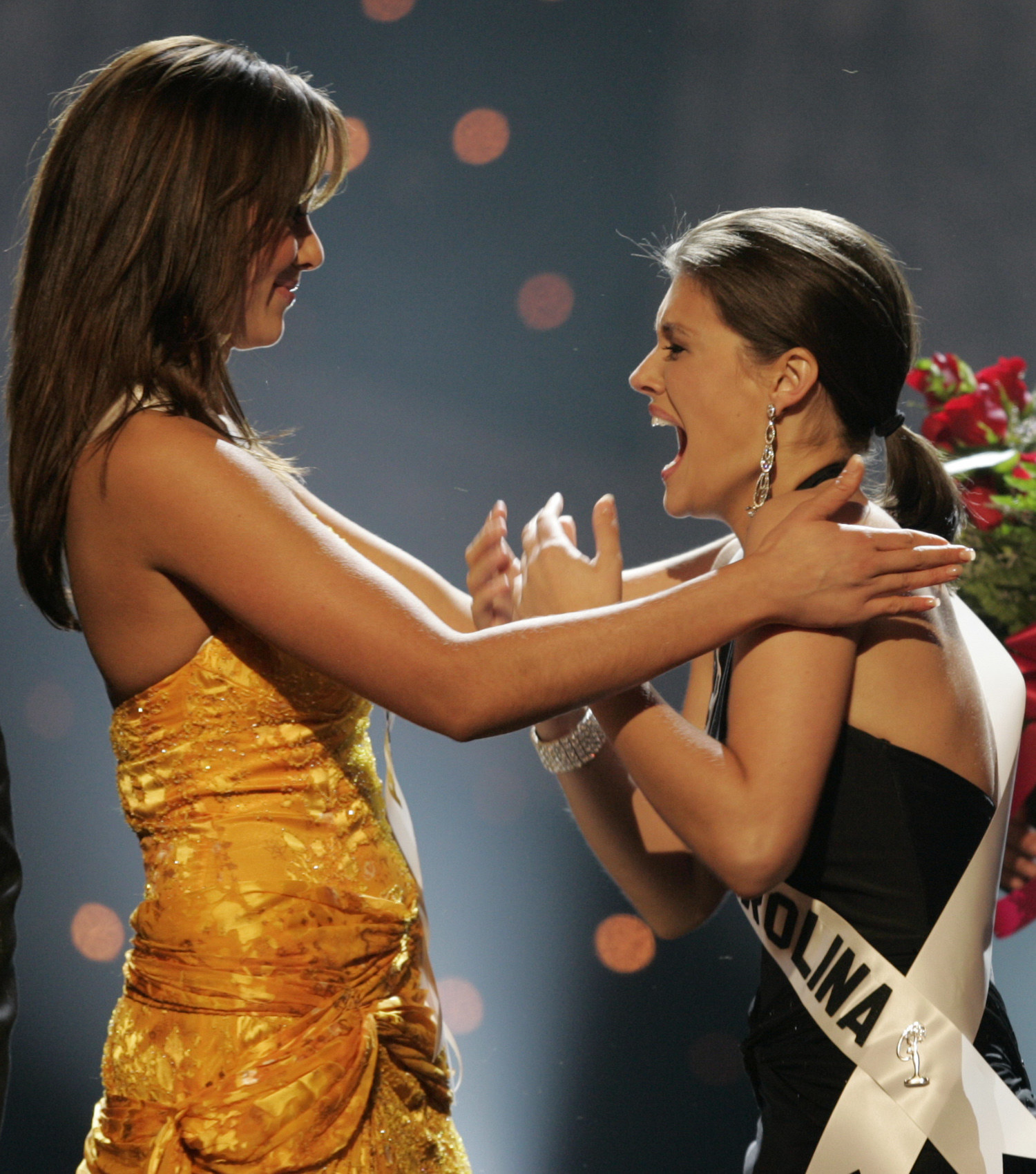 "His pageants were run tight as a ship."
"There's nothing bad I can say, and nothing really deep I can say," said Mayer, who now lives in San Diego with her husband and daughter. She said she has been startled by some of the "off-the-cuff" things Trump has said about women on the campaign trail. Her experience with Trump, she added, "was really nice," although she met him only briefly when he came to greet the contestants and then later, after the pageant, had a "very professional" sit-down with him.
"He has a way of talking that comes across as very shocking," she added. "But at the end of the day, he does what he does very well."
Mayer said the thing that struck her the most was how well the pageant was run. "We were all well taken care of," she said, adding, "You can have terrible stuff in pageants. Directors who want to take the girls into bedrooms … being told what to do and treated like an object." Not so, she said, with Miss USA, which is a division of Miss Universe: "It was an extremely clean environment, and very safe."
She competed in several of the Miss Universe pageants over the years, as a teen and then in Miss USA. "Those are years as a girl, it could have broken me and pushed me down," she said, but instead "I felt empowered as a woman."
Leah Laviano, Miss Mississippi USA 2008, first runner-up Miss USA.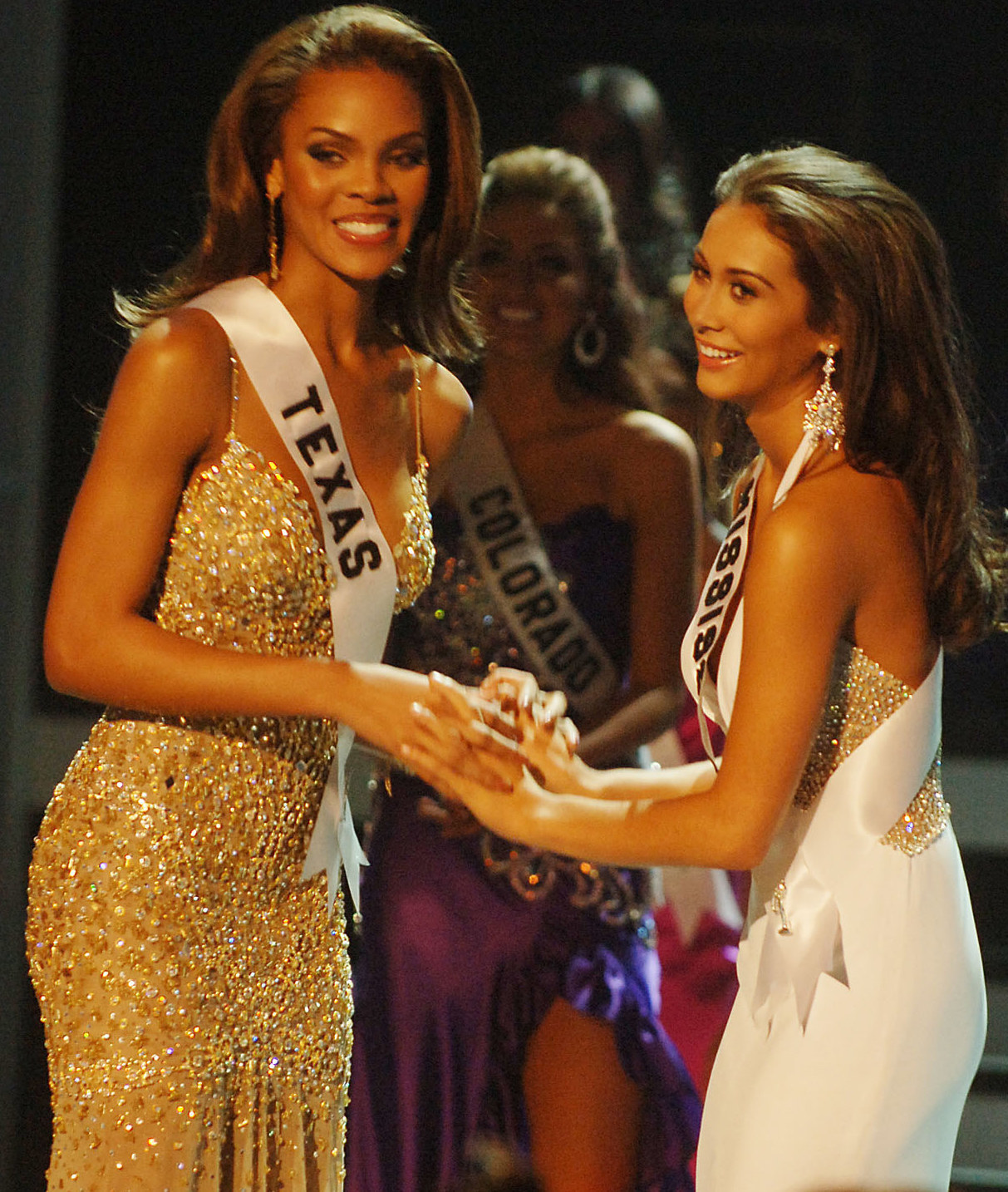 Laviano, who now runs "BlushTones," a bridal makeup business in Virginia, and also does makeup for the Miss USA pageant, said all the contestants met Trump backstage during rehearsals for the pageant telecast. But it didn't feel like a social visit. "We didn't know what to expect. Everybody got dressed to go meet him. We thought we were meeting him, but we felt very evaluated." She added that she felt like he was "judging us up and down. I call it like a cattle call. We were just standing there, and he's picking us apart."
Yet Laviano said the overall experience was positive. "I would do it again in a heartbeat."
Sheena Monnin, 31, a business consultant in private practice in Michigan, was Miss Pennsylvania USA 2012.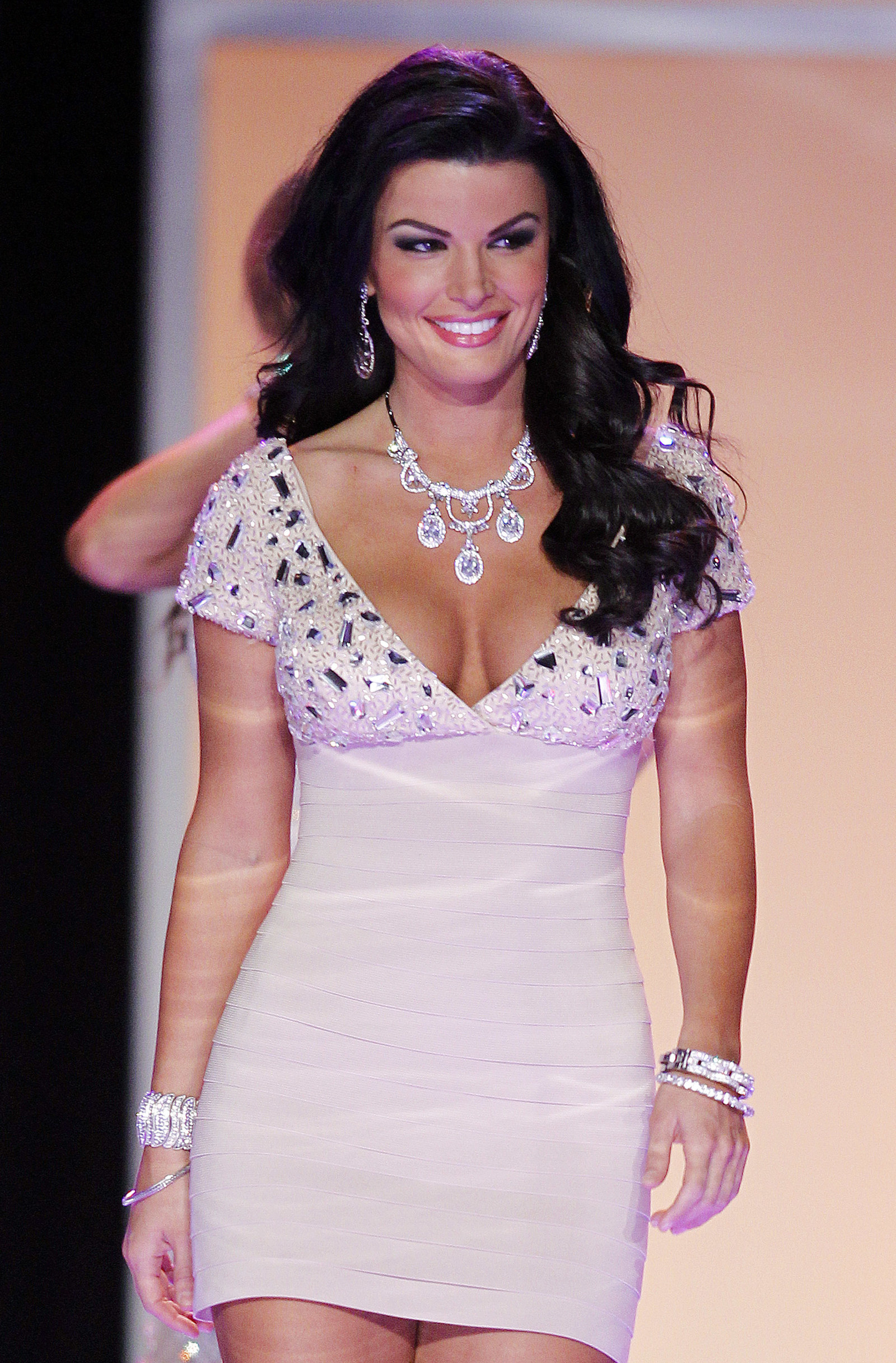 "It was a scary experience."
During the 2012 pageant, Monnin said she became convinced that there were irregularities in the judging and that the pageant was rigged. She resigned and posted her concerns on her Facebook page. In response, Trump went on Good Morning America and accused her of sour grapes. "She suffers from a thing called loser's remorse," he said. "If you looked at her compared to the people that were in the top 15, you would understand why she's not in the top 15." Then Monnin went on Today herself and repeated her allegations. Whereupon the Miss Universe organization filed a $10 million claim against her, which was reduced by an arbitrator to $5 million. She said she ultimately entered into confidential settlements with both her own lawyer and the Miss Universe pageant.
In a statement, a Trump spokesperson noted that he won the suit against Monnin and added that the other women's stories about Trump in this article are "totally false."
A few years ago, Monnin moved to Michigan to leave the experience of Miss Universe behind her. She runs a consulting company, Custom Life Design, and has authored a forthcoming self-help book drawing on her "experiences feeling bullied and using psychology to take control of your own life." The book will be self-published.
She said she remains upset about Trump's behavior toward her, although she said she read a news account where Trump's lawyer claimed to have "destroyed my life" but said that is far from true. "I have moved on. My focus is on the future, and on growing my company and reaching personal goals."
"I was 27 at the time. I most certainly didn't have even $1 million. I'm a normal person. Why the overkill?" she asked. "That was very hard to understand." She added, "I see a pattern of potential narcissism. And it's amping up now, and it makes me concerned for our country."