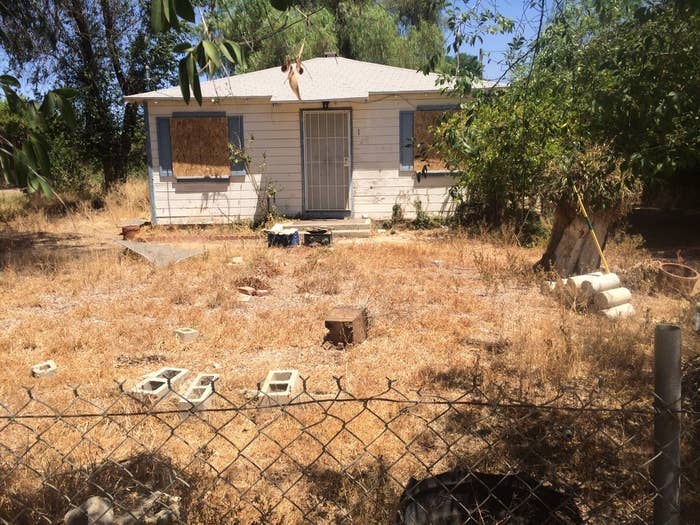 During his eight frenetic and flashy years as mayor of Los Angeles, Democratic Party star Antonio Villaraigosa often pointed to his success at improving the quality of life in the nation's second largest city.
But 65 miles east of Los Angeles, neighbors of a rental property the mayor long owned take a dimmer view.
"He's a slumlord, that's what he is," complained Steven Patzer, who lives next door to the small house on Eucalyptus Avenue in the city of Moreno Valley.
Town records show that the house — which recently featured boarded-up windows, peeling blue and white paint, and cinderblocks in the weed-choked front yard — racked up a series of code violations, including for unmaintained landscaping and discarded junk in the yard. Villaraigosa owned the house from 1990 until last month, county records show.
"You see it for yourself. It looks like shit, and you can quote me on that," said Patzer, 42. He said it "shocked the living daylights out of me," when he learned last year that the absentee owner he had long resented was the former mayor of Los Angeles. A charismatic politician and a leading ally of both President Barack Obama and Hillary Clinton, Villaraigosa chaired the 2012 Democratic National Convention. Many believe he has a shot at being California's next governor or senator.
But on Eucalyptus Avenue, votes might be scarce. Rita Ortiz, who lives across the street and spoke in Spanish, called the house "ugly" and "dirty." She wondered: "If he's the mayor, why does it look like that?"
In an interview Monday, Villaraigosa said this was the first he was hearing of problems at the property or of neighborhood discontent.
"If I had known, I would have taken care of it as soon as possible," he said. "I had two property managers who would inform me when there were issues, and we would fix it as soon as we were informed."
He added that he was unaware of any code violations, or any notices from the city.
He said he bought the property in 1990 as an investment and visited it just a few times in all the years he owned it. "You know, this is 60 miles away," he said. "We never went over there."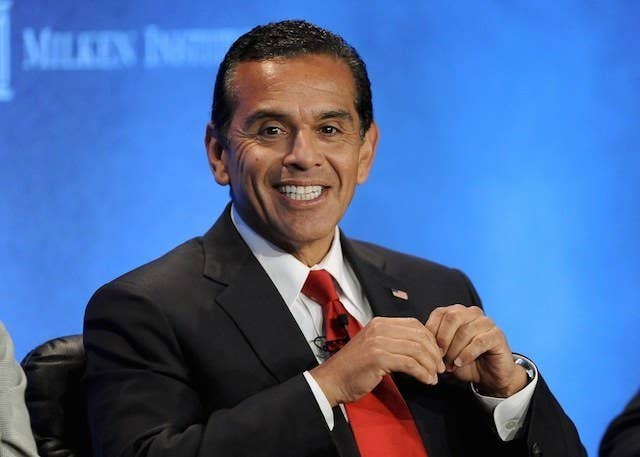 Moreno Valley city records indicate that the property — which is in a neighborhood of modest houses and apartments, some a bit dilapidated — has a long history with the code enforcement department.
In 1999, city officials caught workers installing a new roof without the required permits. In 2003, code enforcement officers were back out at the property because of complaints about an abandoned vehicle. In 2009, they faulted the then-mayor for unmaintained landscaping and discarded junk in the yard.
During the course of that case, the officials said, they discovered the mayor was using the property as a rental without a business license.
In each of those cases, the city code enforcement officials said, the problems were promptly fixed.
The most recent case, lodged in September 2013, has not been resolved, the officials said. It involves a complaint of trash and debris in public view, as well as graffiti.
In his 2013 statement of economic interest, required of elected officials in California, Villaraigosa reported earning between $1,000 and $10,000 in rental income in 2012. It was the only income he reported that year outside of his city salary, which was about $232,000, and a slate of gifts.
County records indicate the mayor sold the house last month. Based on taxes paid for the transaction, county officials say the sale price was likely about $110,000.
The buyer was Heira Diamonds LLC, a limited liability company that lists a mail box at a UPS store in the city of Walnut, Calif., as its address. The company could not immediately be reached for comment.
Neighbors said the property had been vacant for about a year.
At one point, Patzer said, homeless people occupied the house. Someone came by recently and boarded up the windows, he said.
"I can only keep my fingers crossed that the new owner is a better landlord, a better property owner," Patzer said.
Ken Bensinger contributed to this article.