On the morning of May 10, 2013, George Wright woke up in the small Ghanaian town of Domenase to learn that the country's largest media outlet was accusing him of murder. The day before, he and the entire cast and crew of the Discovery Channel reality show Jungle Gold had fled a nearby village fearing an armed militia was after them. Now, as he scanned his iPhone, Wright saw that he and his co-star, Scott Lomu, were also facing government accusations of illegal gold mining. "The two Americans will be tracked down and arrested," a Ghanaian official declared.
It was clearly time to go. But where? Wright and Lomu considered escaping into the jungle, but Discovery made the final decision. As a nationwide manhunt ensued, Discovery ordered Wright, Lomu, and the show's 20-person British film crew to evacuate Domenase and head to the airport in the capital city of Accra. The next morning, they passed through customs and boarded a privately chartered jet bound for Paris.
At the time, Wright and Lomu — brawny, clean-living Mormons from Utah — were in the midst of shooting Jungle Gold's second season. The show's first season had been a hit, airing on Friday nights behind Gold Rush, Discovery Channel's highest-rated show. But its neocolonial echoes had caused Ghanaians at home and abroad to accuse Wright and Lomu of exploiting Africa for their personal gain. Within months of Jungle Gold's U.S. premiere in October 2012, they had become the face of Ghana's foreign mining community, which many blamed for destroying the country's environment and harming its people. Now, it seemed, Ghana was taking its revenge.
As the coastline faded in the distance, Wright leaned across the aisle. "Take a good look, Scottie," he said. "That's the last we're going to see of Ghana."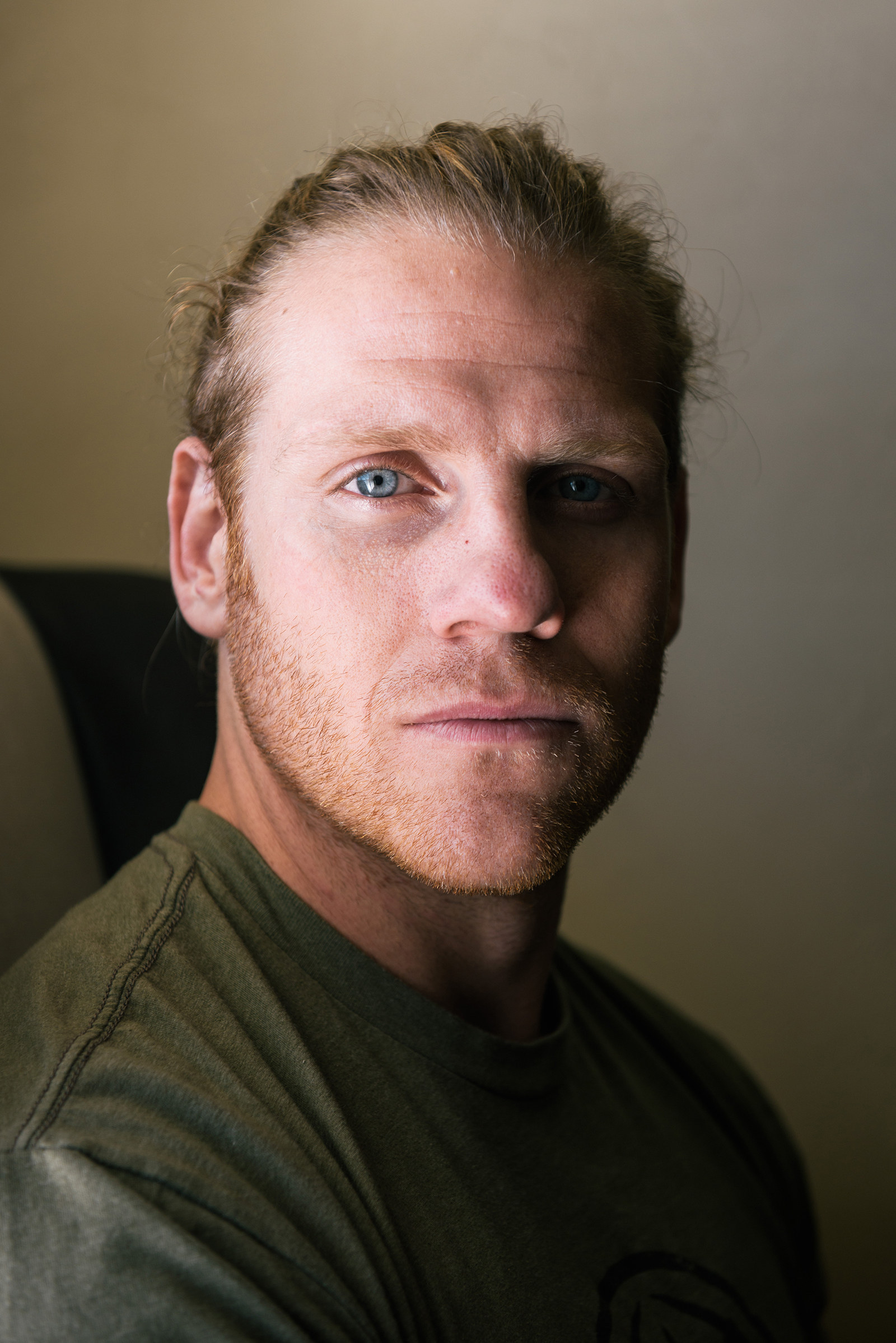 Wright and Lomu had never imagined they would end up mining for gold in Ghana. But like gold miners throughout history, a mixture of delusion, pioneering instinct, and financial desperation drove them to it.

Wright, 32, a mixed martial arts enthusiast with long blonde hair and piercing blue eyes, grew up in California before moving to Utah at 16. A theatrical streak led him to join his high school's cheerleading squad senior year, and he wound up with a cheerleading scholarship to the University of Utah. But he dropped out after a year to serve a Mormon mission in Buenos Aires. Back home at 21, he got married and landed a spot on the Utah Jazz Stunt Team. He also began investing in real estate, which was how he met Scott Lomu.
As methodical and reserved as Wright is impulsive and outspoken, Lomu, eight years Wright's senior, was raised outside Phoenix. Tall, handsome, and half-Polynesian, he studied business at Arizona State University and did his Mormon mission in Indianapolis. He moved to Utah in 2000, and when the Olympics Winter Games came to Salt Lake City two years later, he rented furnished houses and apartments to people in town for the event. "I made a killing," he said.
The next few years were good for Wright and Lomu, who often exchanged tips about real estate deals. They amassed large portfolios of raw land and residential properties throughout Utah. And so they were deeply leveraged when the housing market collapsed in September 2008. By then, they each had two kids and houses in the suburbs. Lomu took out a loan modification to save his mortgage; Wright's home went into foreclosure. "We were hemorrhaging money," Wright told me. In 2009, when Lomu's father-in-law, a wealthy lawyer in Salt Lake City, suggested Lomu try dealing gold in Ghana, he latched onto the idea.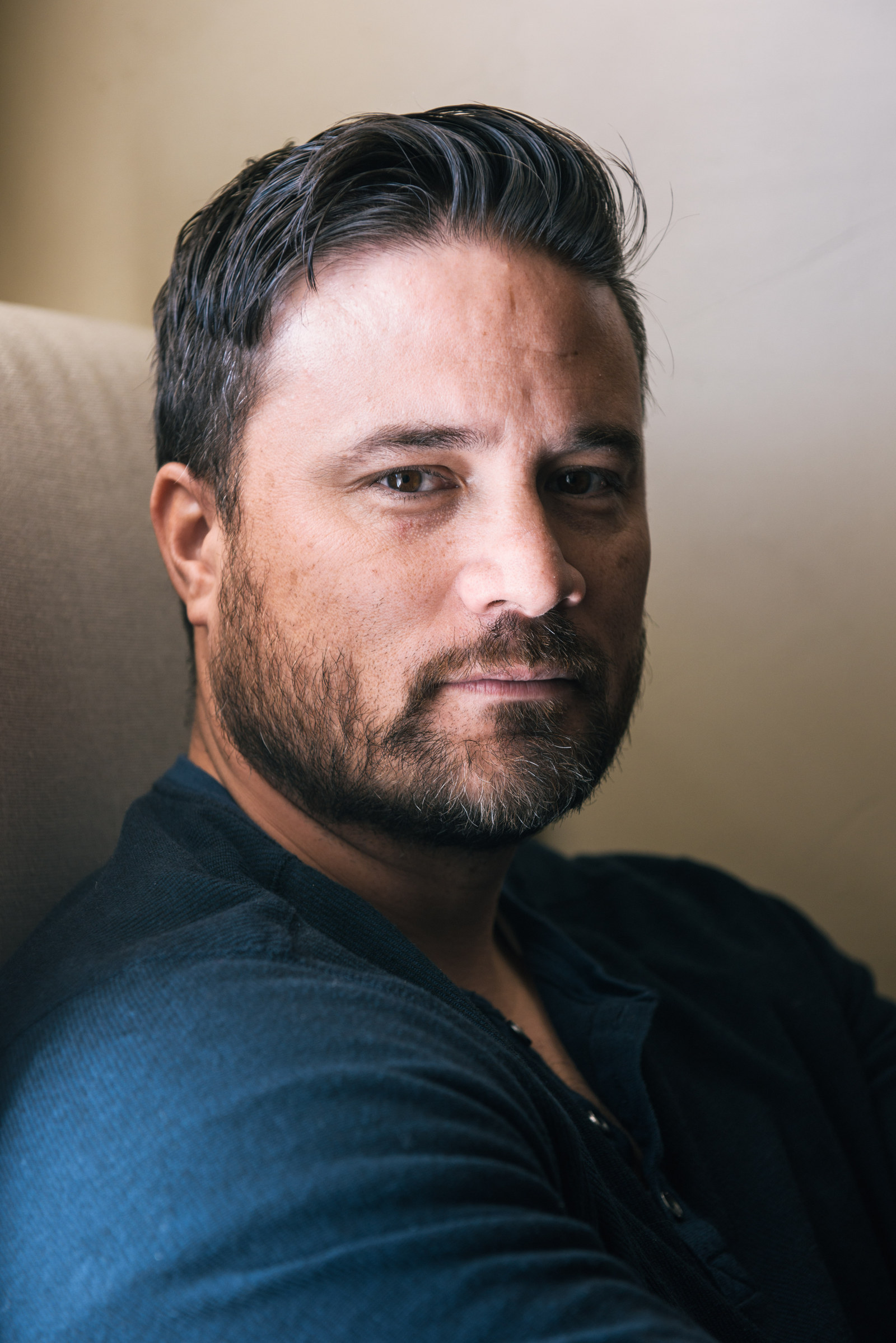 That Mormons would choose to deal gold in West Africa may seem odd, but the pursuit of gold carries historical significance in the Mormon church. The California gold rush of the mid–19th century coincided with the Mormon pioneers' arrival in Utah. "A lot of Latter-day Saints did go mining," said David Walker, assistant professor of religious studies at the University of California, Santa Barbara. "Brigham Young, the president of the church, was nervous about it, criticizing it as a tenuous and irregularly profitable profession." Such sermons did little to dissuade Mormons, whose trademark optimism stems from a belief that God is on their side. As Richard Bushman, a professor emeritus of history at Columbia University, put it: "Mormons think things will work out for the best."
His optimistic nature notwithstanding, Lomu saw more cause for hope in Ghana's relationship to Mormonism. The Church of Jesus Christ of Latter-day Saints has over 62,000 members in Ghana, the second-highest membership in Africa behind Nigeria. And though Mormons make up less than a quarter of 1% of Ghana's 25 million people, they hold a strong symbolic presence in the country. A soaring Mormon temple, one of only three on the continent, sits in the heart of Accra's commercial district, surrounded by European embassies.
Still, the acceptance of Mormonism in Ghana today belies a troubled history. Missionaries first arrived in Ghana in the 15th century, but the Mormon church was not established in West Africa until 1978, when it reversed a long-standing policy barring black men from the priesthood. A decade later, Mormonism's rapid growth and displays of wealth led the Ghanaian government to ban all Mormon activities, suspecting the church was a front for the CIA. It was a typical move: Ghana, formerly the Gold Coast, was one of the earliest African countries to declare its independence from colonial rule in 1957. The Ghanaian government permitted Mormon activities to resume 18 months after the ban. But in Ghana, as in other former colonies, a strong aversion to neocolonialism endures.
Lomu had heard that Americans could expect to buy gold in Ghana and resell it in the U.S. for a profit approaching 20%. Desperate for cash, he recruited two men he thought would make enthusiastic gold dealers.

One of them was Wright, whose entrepreneurial drive and years in South America Lomu saw as an asset. The other was Wally Macias, a charismatic Mexican-American and former undercover narcotics agent in Kanab, Utah. Lomu and Macias had been best friends growing up; as a teenager, Lomu had baptized him into the Mormon church. In 2009, Macias was working as a private security contractor in Afghanistan, but he'd grown tired of war zones. When Lomu proposed gold dealing in Ghana, Macias needed no convincing.
The men expected to make easy money in Ghana. But on Macias and Wright's first trip in May 2010 (Lomu stayed behind in Utah), buying gold proved trickier than they'd anticipated. Every other cab driver offered to sell them gold at what they claimed were heavily discounted rates. It was tempting, but it didn't make sense: Anyone could sell gold to the state-run Precious Minerals and Marketing Company for just 2% under the global price.
Gold dealing, they concluded, was a scam. But they soon discovered a more viable option: gold mining. At the time, Ghana, Africa's second-largest gold producer behind South Africa, was in the midst of a modern-day gold rush. Tens of thousands of foreigners, the majority of them Chinese, had flocked to the country's rural mining regions since the recession, lured by stories of Klondike-caliber windfalls. Ghanaian law prohibits non-Ghanaians from mining on plots of 25 acres or less, which make up Ghana's small-scale mining sector. But nothing prevents foreigners from investing in small-scale companies owned by Ghanaians. By paying for excavators and local laborers, foreign investors could split the gold profits with the company's owner.
Invigorated by this new prospect, the three men invested in a small-scale operation near the mining town of Obuasi, a four-hour drive from Accra, and took turns traveling to Ghana over the next three months. It was a humbling experience. The men worked 18-hour days, commuting two hours over rutted dirt roads through poverty-stricken villages. The site itself was a wide clearing in the jungle scarred by gaping 20-foot pits, where Ghanaian laborers wrangled the equipment in pools of coffee-colored mud. Rainstorms and excavator breakdowns caused endless delays. Villagers routinely set up roadblocks and demanded hundreds of dollars to pass. The little gold they found went directly into equipment costs.
Broke and demoralized, the three men abandoned their nascent mining operation in October 2010. "We'd put our last $50,000 into that site," Wright said. "We were in panic mode." Wright found work translating Spanish for an Arizona-based equipment supplier bidding for contracts in Colombia's mining sector. Lomu and Macias worked construction for a Mormon homebuilder in Utah. Their dreams of getting rich in Ghana faded from view.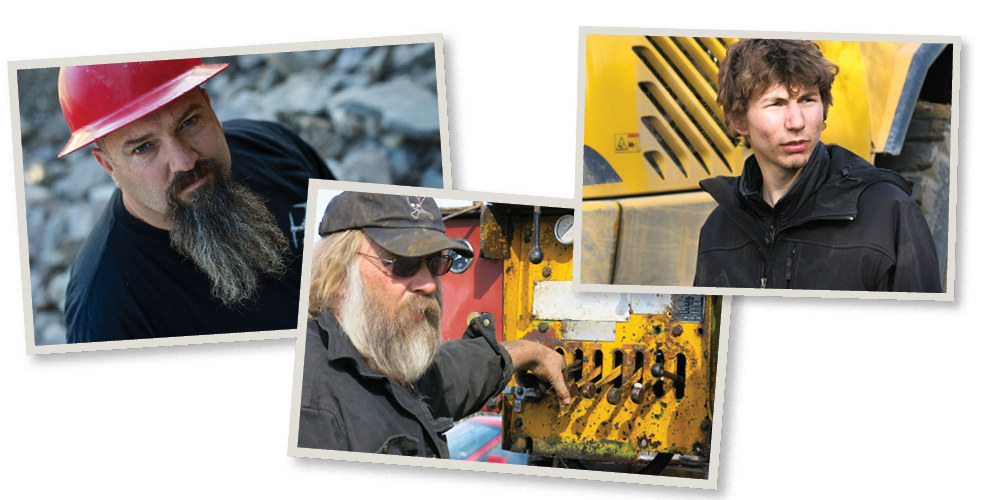 Lomu couldn't believe what he was seeing. Onscreen, an overweight guy with a wizardly goatee was struggling to fix the motor of an excavator. Snow-covered peaks rose in the distance behind him. It was January 2011, and Lomu had stumbled onto the first season of Gold Rush, a Discovery Channel reality show that follows three men from Oregon as they mine for gold in Alaska.

"What the freak is this?" Lomu shouted. He was standing on his bed in boxer briefs as his wife lay beside him and laughed. "One day in Ghana is more dramatic than this entire freaking episode!"
That summer, the men resumed their former routine, traveling to Ghana in shifts. This time, they mined on the land of a Ghanaian Mormon bishop who had partnered with Lomu's father-in-law. The new operation went as poorly as the first. They got through it by dreaming up episodes for their nonexistent reality show. "Wally was convinced it would happen," Wright said.
But it was Lomu's identical twin brother, Bill, a divorce mediator then living in Arizona, who finally took action. For fun ("I didn't want anything out of it," Bill told me), he learned the format for reality show treatments from a producer friend in Los Angeles. The Lomu brothers then drew up a three-page final draft outlining the premise and sample episodes, in which three American entrepreneurs in dire financial straits would grapple with Ghanaian tribal chiefs, gold robbers, rival miners — and each other. That November, Bill emailed the treatment to a handful of production companies, including Raw TV, the British company that produces Gold Rush.
On the night of Nov. 13, Lomu was returning alone from their mining site when he got a phone call from Macias's wife. She was crying hysterically. Patchy reception made it hard to hear, but a few words registered clearly: "Wally's dead." That morning, Macias had driven into the mountains outside Kanab and shot himself with a rifle. Lomu knew his friend had experienced post-traumatic stress from his tours in Afghanistan. He later learned Macias had become dependent on pain medication due to injuries he suffered in a roadside bomb attack.
Reeling from the news, Lomu flew to Utah the next day. During a layover at JFK, he checked his voicemail and found it full of condolences from friends and family. Near the bottom, he noticed a message from his brother Bill.
"Raw TV wants to talk," Bill said.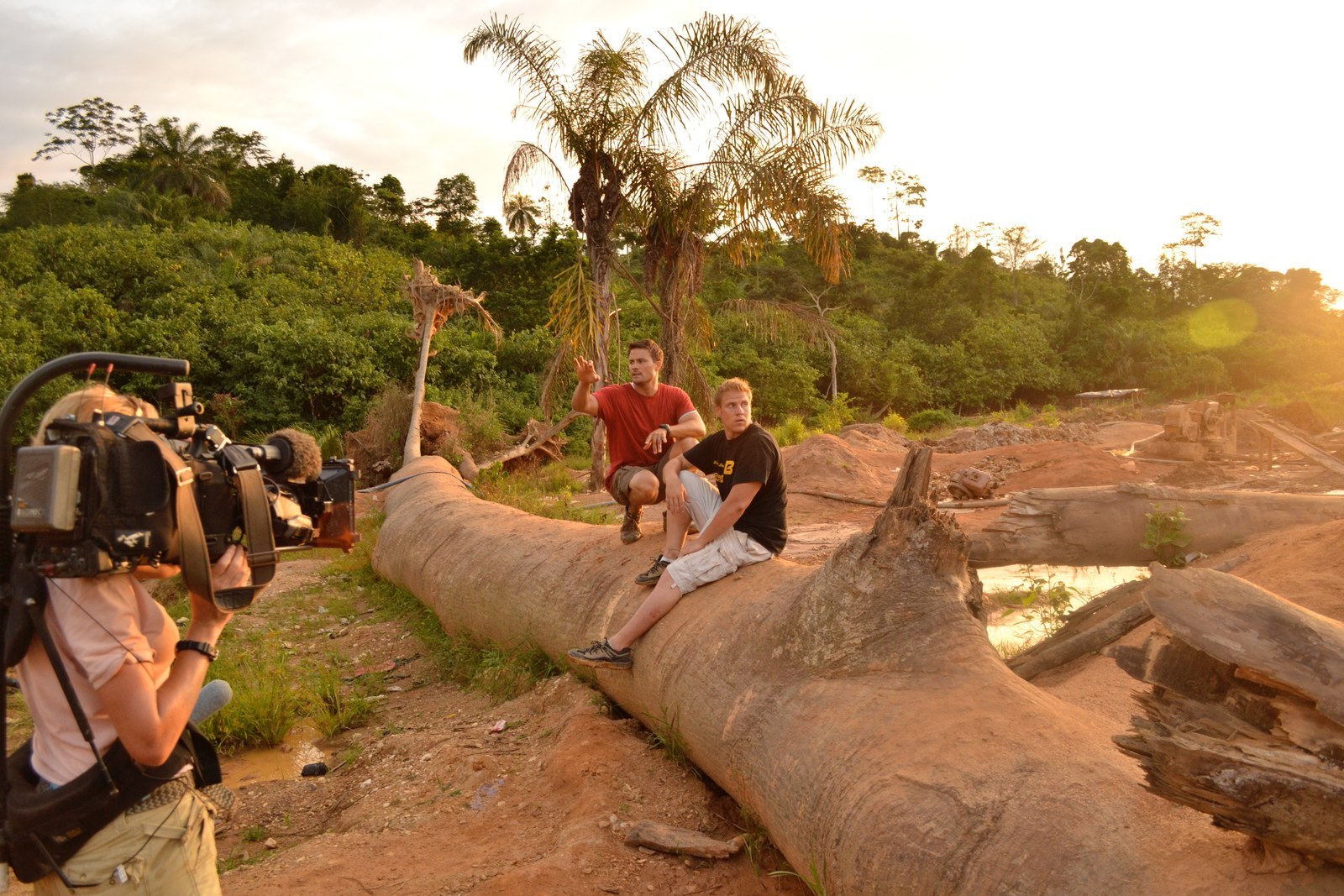 Six months later, in May 2012, Wright and Lomu met with the Raw crew inside an opulent conference room at the Golden Tulip hotel in Accra to discuss the projected arc of Season 1. They hoped early struggles would lead to large profits by the end of the 10-episode run, benefiting both the stars and the villages they worked in. Their timing was perfect. That February, 5 million people watched the Season 2 finale of Gold Rush, continuing its two-year run as the most-watched cable show on Friday nights. Bering Sea Gold, a new offshoot, was averaging 3 million viewers a night.

Yet, at the same time, Ghana's small-scale mining sector had grown increasingly chaotic. The influx of Chinese miners had triggered a rise in armed robberies of Chinese mining camps. In 2011, an undercover video published by Al Jazeera revealed Ghanaian children as young as 14 working in Chinese-run mining pits. Laborers were shown polluting water bodies with mercury, which is used to recover gold from other minerals. Ghana's Minerals Commission had taken to decrying what it called "the illegal mining menace."
These controversies presented possible PR problems. But Raw believed they could meet the challenges of filming a gold-mining operation in Ghana; in the Season 1 synopsis, they noted that their contributors would be "paragons of responsible mining." Discovery, which had green-lit the show in March, had insisted Wright and Lomu hire locals, replant cocoa crops on mined land, and abide by the rules of Ghana's Environmental Protection Agency. "We came to realize this was a perfect opportunity to show how foreigners can do business the right way in Ghana," Lomu told me. Should they find enough gold, they intended to build a Ghanaian schoolhouse in Macias's name. (Both Discovery Channel and Raw, which was acquired by Discovery in 2014, declined to comment for this story.)
Ghana challenged their intentions from the start. Months before the shoot, Lomu had paid a village chief $12,500 of his Utah investors' money to secure a 25-acre plot of land an hour outside the town of Dunkwa, the epicenter of Ghana's gold rush. When the cast and crew arrived on the first day of filming, however, they found it crawling with Chinese miners. Furious, Wright and Lomu gathered a dozen local chiefs and tribal elders to solve the dispute. A heated argument ensued. When Lomu suggested removing the miners by force, a chief replied: "If you attempt it, they will kill you!" The crew captured everything on film — and loved it. Discovery was so impressed by the clips they upped the season from 10 episodes to 16. "That's when we realized our tragedy was good for the show," Lomu said.
The Chinese miners remained on the site, and Lomu forfeited the money he paid for it. Instead, the men joined a mine support company, run by a fellow Mormon, in the nearby village of Romaso. But once again, the cost of equipment and labor exceeded the meager amount of gold they found. There was also an image problem. Under Ghanaian law, Wright and Lomu could not physically mine. But the sight of two white guys standing by as a half-dozen Ghanaians labored in the heat created a disquieting visual reminder of Ghana's years as a British colony. The stars solved the dilemma by essentially pretending to mine, digging in the mud or washing gold by hand when a scene called for it.
Other scenes needed no stage-managing. In perhaps the best-known episode from Jungle Gold, an excavator is ripping up an acre of cocoa trees when an irate cocoa farmer named Akwesi emerges from the bush, machete in hand. As it happened, Akwesi was the brother-in-law of the landowner, who had cut him out of the $5,000 the show paid in compensation for the cocoa crops. "Who gave you permission to work here?" Akwesi demands, before tackling the crew's Ghanaian security guard. Wright quickly ends the fight by locking the farmer in a chokehold, causing him to pass out. "He had no idea George is an experienced MMA fighter," the show's gravel-voiced narrators says.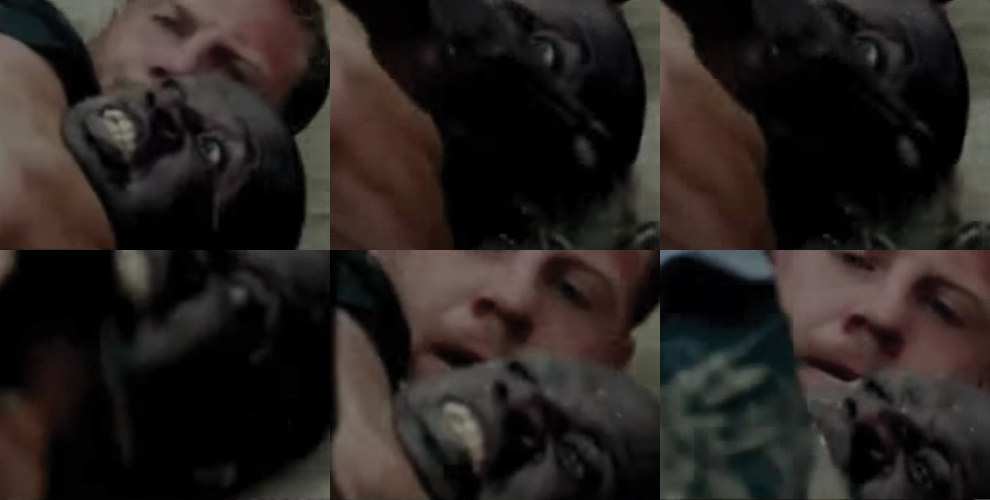 According to Lomu, Raw later paid Akwesi $3,000 for his troubles. (A spokesperson for Raw would not comment on whether the farmer was paid.) But the incident changed the dynamic in the village. When I visited Romaso months after Wright and Lomu fled, a cocoa farmer who'd witnessed the fight told me it had been painful to watch. Akwesi was preparing to harvest his crops when the crew leveled them, he said. Prior to the fight, locals had regarded the cast and crew with friendly curiosity. Afterward, the farmer said, people viewed them more cautiously.
By August 2012, more than two months into the shoot, the stars' joint venture had found only a few ounces of gold. A rosy conclusion to Season 1 looked unlikely. But Alan Reece, a Guyanese mining foreman the men had befriended, discovered a promising alternative in the nearby village of Fahiakobo, a hilltop settlement of around 30 mud huts flanking a red dirt road.
"We didn't exploit anyone. Only the most coldhearted, inhumane person could spend more than an hour in Ghana and think to do that."
In Ghana, non-Ghanaians are allowed to mine on plots of more than 25 acres, known as large-scale concessions. Large-scale licenses begin at around $3 million, putting them out of Wright and Lomu's price range. But as Reece explained it, a wealthy Ghanaian who owned land around Fahiakobo was willing to acquire a large-scale license himself and hire Wright and Lomu to mine his property. In exchange, he asked Wright and Lomu to put up $50,000. Weary of small-scale mining, the men enthusiastically agreed. But they only had $35,000 left. To raise the rest, they decided to deal gold in the jungle.
In the Season 1 finale, Lomu stuffs the remains of their initial investment into his backpack and walks into the bush. He reappears with a gold bar he claims is worth $75,000. But as the cast and crew's Land Rovers pull out, a pile of logs impedes their path. Wright and Lomu step out to investigate. Seconds later, a gunshot rings out. The camera catches a masked African man dashing into the jungle, a submachine gun in one hand and Lomu's gold bar in the other.
In a 2013 Reddit AMA, several commenters asked Wright and Lomu whether the scene was scripted. Lomu responded by saying "the things that happen on the show are 100% real," though he allowed that "it's a tv show and things will get overly dramatized." But the robbery, which cut the season short at Episode 7, offered a convenient end to a story that was spiraling out of its creators' control.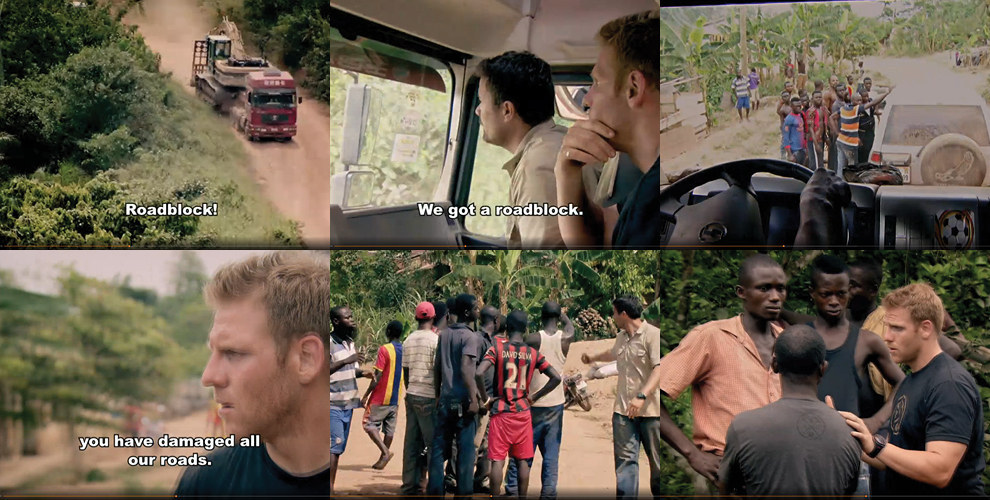 On Oct. 26, 2012, the night of the U.S. premiere, Wright's extended family gathered around the TV in his living room in Eagle Mountain, Utah, a predominantly Mormon town an hour outside Salt Lake City. They watched as the title card flashed onscreen to the sounds of an explosion and a screeching howler monkey. The episode catalogued a series of ugly confrontations, including an "illegal roadblock," the tense argument with tribal chiefs, and a risky "back alley" gold deal. Wright's wife, Marie, sat in amazement as her unflappably nice Mormon husband imitated Rambo: shouting orders, grimacing at the camera, and heaving logs out of the road, his every "flippin'" and "shoot" bleeped out to create a bawdier impression. I have never seen this dude, Marie remembers thinking.

Around 2.75 million viewers tuned in, making it the fourth most popular primetime cable show that Friday night. Wright and Lomu found it hard to watch. "It brought back a lot of stressful memories," Wright said.
The next six episodes unfolded in similar fashion. They cast Wright and Lomu as hardworking family men engaged in a heroic struggle against hostile and uncooperative natives. But regardless of their portrayal onscreen, Wright and Lomu believed they had done more good than harm in Ghana. They had paid locals well, contributed to the local economy, and obeyed Ghana's mining laws, they said. "We didn't exploit anyone," Lomu told me. "Only the most coldhearted, inhumane person could spend more than an hour in Ghana and think to do that."
"This is a disgrace for a brand such as the Discovery Channel to glorify what these bandits are doing in our country."
But many viewers of Jungle Gold thought exploiting Ghanaians was precisely what Wright and Lomu had done. Focused on the action, the show failed to explain the complicated licensing process, causing many to assume they were mining illegally. The men said they received "tons" of outraged tweets and Facebook messages, many from Africans in the U.S., accusing them of deceiving Ghanaians and raping the countryside. Jarred by the response, Wright and Lomu responded to many of them, trying to clarify any misunderstandings. "We split the gold with the locals, & they of themselves dnt [sic] have the machines to get to the gold," Wright wrote to one skeptical American viewer on Twitter who had suggested they mine in the U.S. instead, before softening her opinion. "Hopefully you guys get some good stuff, so everyone can benefit," she responded.
One op-ed, titled "Jungle Gold: A Case Study in the Exploitation of Africa," captured the collective indignation that greeted the series. Its author, Amma Bonsu, a Ghanaian activist and investment banker in Toronto, wrote that Jungle Gold reprised "the antiquated narrative of Africa as a lawless jungle." "[The] under-bed of racism is so alive in this [show]!" she later told me.
By the time the season ended, three Change.org petitions had called for the show's cancellation, drawing a total of 3,000 supporters from the U.S., Europe, South America, Australia, and across West Africa. One Ghanaian commenter wrote, "This is a disgrace for a brand such as the Discovery Channel to glorify what these bandits are doing in our country."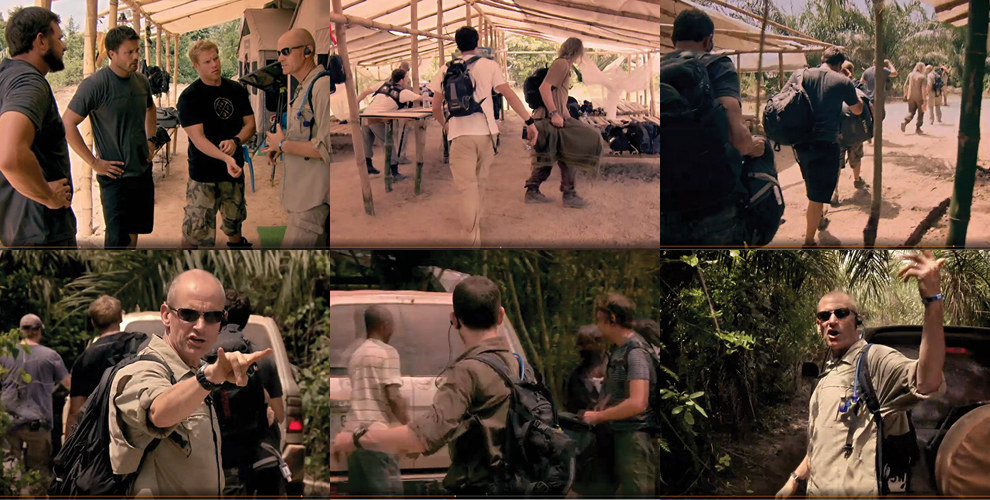 While Ghanaians in the diaspora were railing against Jungle Gold online, members of Ghana's Minerals Commission were quietly fuming about its existence. They had first heard about the show in July 2012, while the cast and crew were still in Ghana filming Season 1. According to government records, the Minerals Commission's district officer in Dunkwa had discovered Raw filming a mining site without its owner's consent. (Raw declined to comment on the incident.) The crew had received press accreditation from the Information Services Department, he said. But they had not received permission from the Minerals Commission to film mining lands.

Whether the Information Services Department had instructed Raw to seek the commission's approval is unclear; the permit protocol for foreign documentary film crews in Ghana was somewhat vague in 2012. (It has since been clarified in the wake of Jungle Gold.) Nevertheless, the district officer demanded Raw visit the Minerals Commission's headquarters in Accra before they continued filming.
In early August 2012, records show, several Raw crew members sat down with Joseph Aboagye, the Minerals Commission's stern director of policy, planning, monitoring, and evaluation. When I visited Aboagye in his cluttered office the following year, he told me he'd requested a synopsis of the program the crew planned to make. "We didn't want them to present Ghana as a lawless place where foreigners can come and engage in illegal mining," he explained.
On Oct. 15, 2012, more than two months after the meeting, the synopsis arrived. "This is a tale of our times — the new American Dream set in the jungles of Africa," the introduction read. Under the section "Danger and Risk," Raw wrote: "It would be easy to paint Ghana as a dangerous and risky environment, and by our audience's standards it certainly is. But, you will find Ghana a fantastic country. ... The people are very friendly and non aggressive." Two weeks later, before the commission had a chance to review the seven-page document, Aboagye said, Jungle Gold premiered in the U.S. Phone calls from furious Ghanaian expatriates poured in. "They wanted to know how we had allowed such a disgusting program to air on TV," a spokesperson for the commission told me.
Aboagye was shocked. Consumed with other business, he'd all but forgotten about Raw. It now occurred to him that they'd simply resumed filming after the August meeting.(Raw refused to comment on Aboagye's claim.) When he and other commission officials watched clips of the show online, they were appalled by its depiction of Ghana. They feared it would provoke a stampede of greedy foreign gold miners, exacerbating the small-scale mining crisis. Unbeknownst to the cast and crew, Aboagye requested that Ghana's National Security Agency investigate them.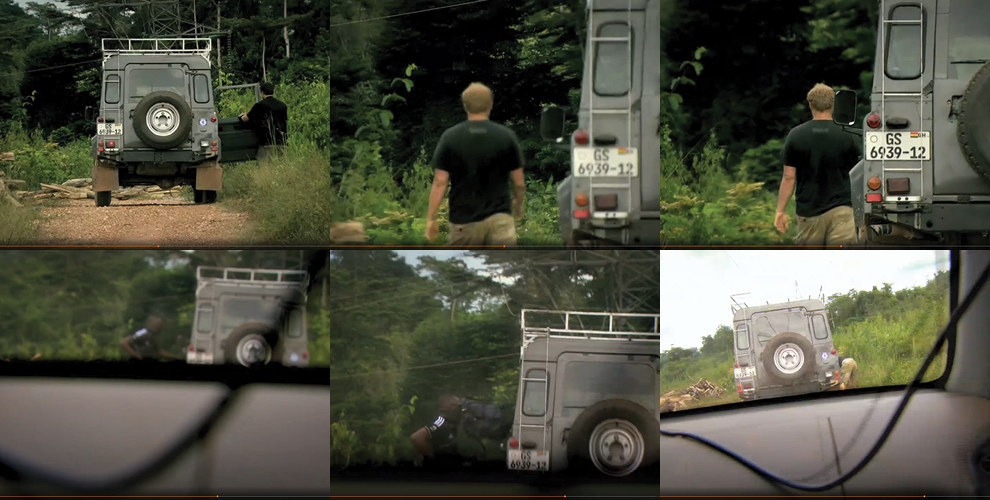 Months later, on March 6, 2013, Wright posted a photo on Instagram of Raw interviewing Lomu outside a Utah diner. "It begins now," Wright wrote. "Season 2. Filming at home. Ready to get to work in Africa!"

Jungle Gold may have enraged Ghanaian ex-pats and officials, but it was a hit with America's 18–49-year-old demographic. Airing in the slot behind Gold Rush, it had helped Discovery dominate the Friday night cable ratings. The network had green-lit a second season that February. According to Wright and Lomu, a top Discovery executive told them, "Your show is so real it's unreal."
But with the chaos of Season 1 fresh in mind, Discovery had imposed new conditions for Season 2. To guarantee cell service in the bush, the company bought Raw a 30-foot antenna. They hired a former special services agent to beef up security and instituted a "no-mercury policy," barring laborers from handling the toxic liquid. In the Season 2 synopsis, Raw admitted the first season had produced "disastrous results." But lessons had been learned. "The stage is being set for a redemptive second season of Jungle Gold," they wrote.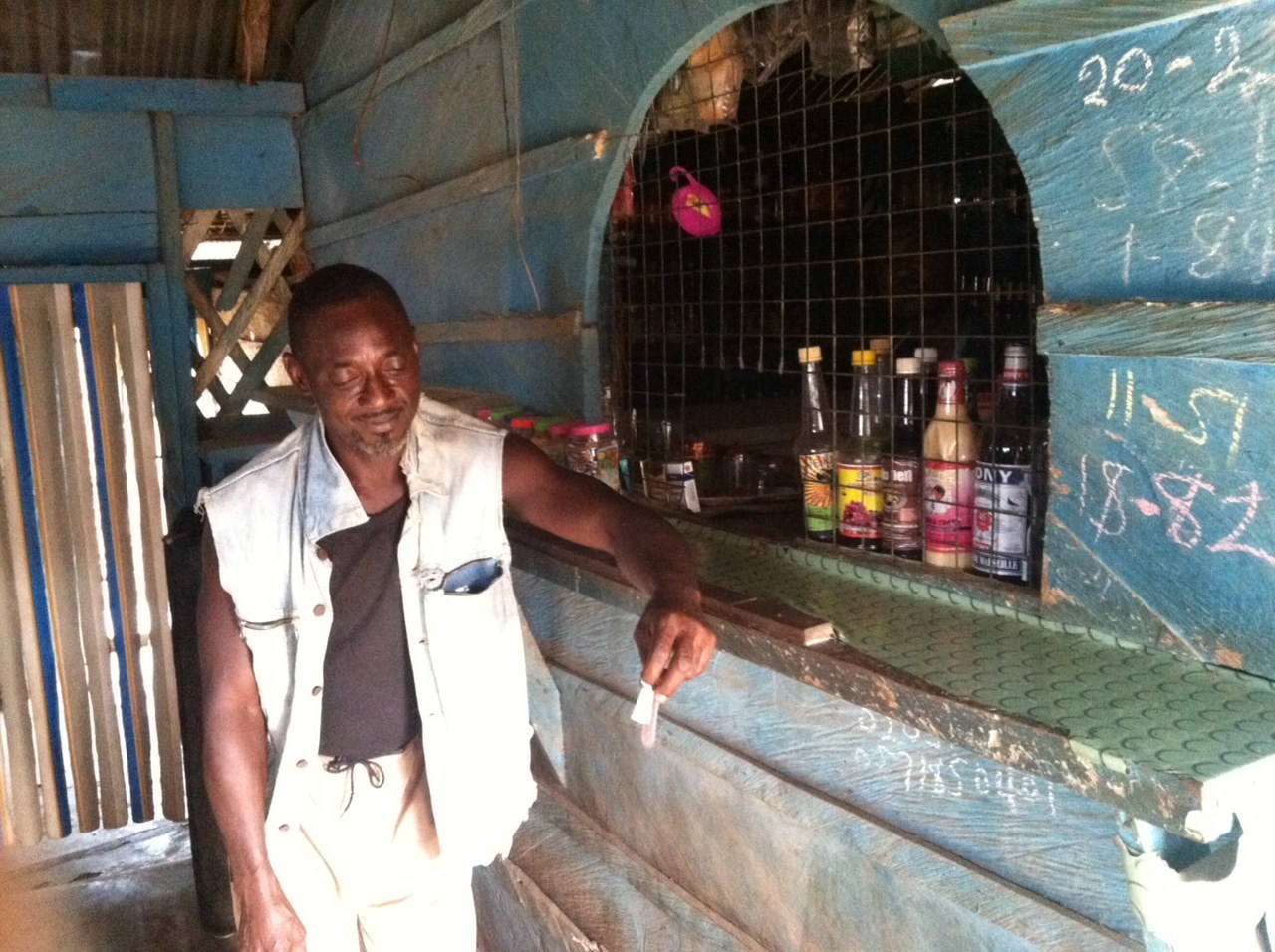 The cast and crew pulled into Fahiakobo that March. Judging from locals' reactions to them, the show may indeed have been on the road to redemption. "I believe it's God who brought them to me," Alan Tay, who served as a handyman for Wright and Lomu during the Season 2 shoot, later told me.
Tay, who at 53 resembles an older version of the actor Idris Elba, grew up in Accra before embarking on a mining career in his thirties. Months after the evacuation, I found him playing cards beside one of Wright and Lomu's $2,000 canvas tents, which he'd been living in since they left. When I asked what he and others had made of the predominantly white film crew in their midst, he shot me a confused look. "We were very happy with them," he said. Upon arrival, the cast and crew had paid the landowner $50,000 and set up camp on the village's perimeter. While the landowner applied for a large-scale license, Raw had paid dozens of local men 40 cedis per day (around $20 in 2013, more than twice the standard rate) to dig 8-foot holes in search of gold deposits, a process known as prospecting. The holes revealed a high concentration of gold in the ground.
"The stage is being set for a redemptive second season of Jungle Gold."
In many ways, the cast and crew reminded Tay of the Chinese miners, who'd come to the area three years earlier and boosted demand for taxis, food, clothing, and bottled water. Though vilified in the press, Tay said, the Chinese miners had improved the local way of life: installing electricity in thatched huts, building a public restroom with flush toilets, and putting dozens of unemployed young men to work in the mines. The problem, as Tay saw it, was that most of the Chinese miners were operating illegally, meaning they paid no taxes and ignored environmental regulations. The Jungle Gold guys had remedied this problem by obeying the law. Tay saw the show itself as a "good thing" for the village. By announcing gold existed in Fahiakobo on an international TV network, Tay believed Jungle Gold would attract other law-abiding American and European gold miners, slowly lifting the village out of poverty.
Before the men could start legally mining, however, the large-scale license had to come through. After a month of waiting, Alan Reece, the mining foreman, contacted the landowner for an update on his application. He returned with bad news: The license would not be ready for another six weeks.
The disclosure threatened to derail the season. What would they film if the stars couldn't mine? As the crew debated alternate plotlines, Lomu went out to dinner in Obuasi. He was sawing into an overcooked hamburger patty when he glanced at the flatscreen on the wall. His own face stared back.
"Oh my gosh," he said. "We're on TV."
In April 2013, six months after its U.S. premiere, Jungle Gold's first season had debuted in Ghana on DStv, an African satellite network with 8 million subscribers. Given Africans' response to Season 1 in the States, Lomu had begged Raw not to air the show in Ghana, fearing retaliation. According to Lomu, Raw had replied that Discovery could not pull the show from Ghana without pulling it from DStv altogether.
Lomu signaled for the check. The show not only increased the chances they'd be recognized, he thought, it also provided a detailed map to their Season 1 mining claim, which lay on the same road as Fahiakobo. As he later told Wright, "All it takes is a handful of guys with firearms to see the show and come looking for us."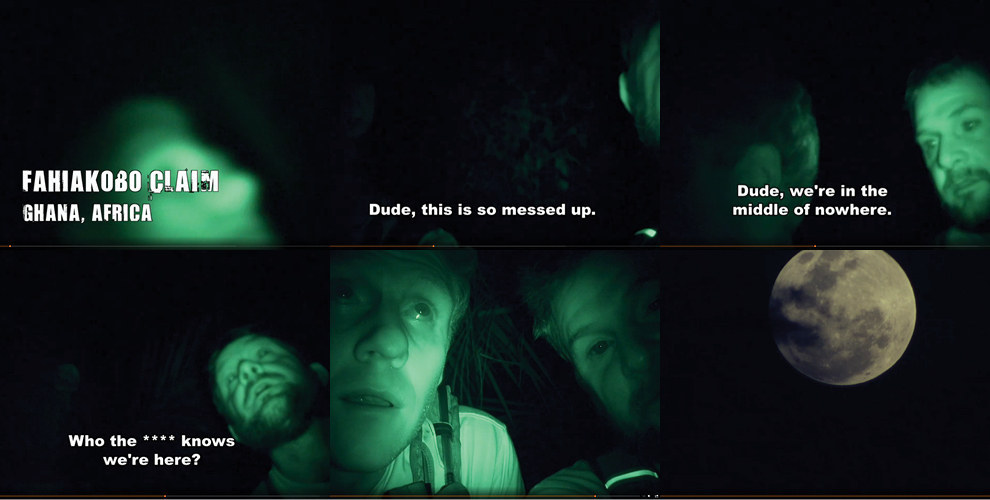 Around the time Lomu saw himself on TV, Evans Mensah was channel-surfing in his Accra apartment when an image of bright green cocoa trees filled the screen. He watched in puzzlement as Wright ordered an excavator driver to "tear it all down." The program, he soon discovered, was set in Ghana.

"I was astonished," Mensah said months later. Since small-scale mining is reserved for Ghanaians, he assumed the Americans were mining illegally. "I thought, Why have the authorities not intervened?"
Mensah was a reporter for Joy FM, one of Ghana's most popular news radio stations. When the episode ended, he immediately decided to investigate Jungle Gold. His first radio story, which cast doubt on the Americans' legal status, aired the first week of May. "It caused a media storm," Mensah said. The next day, Joy FM dispatched its Kumasi correspondent, Erastus Asare Donkor, to gather reactions to the story in the city's streets and markets. "People were actually angry!" Donkor told me. "Really angry that certain things would happen here on our soil." Many thought the stars had killed a man — a rumor based on a YouTube clip of Wright choking out the cocoa farmer. All were shocked to think Americans would film themselves engaging in illegal mining, let alone broadcast it. "It looked like we were being mocked," Donkor said.
Then the Joy News team got ahold of Inusah Fuseini, Ghana's minister of lands and natural resources. Based on the interview, My Joy Online, Joy FM's heavily trafficked website, published two short but searing articles about Jungle Gold on May 9 and May 10. The show, the first article said, "captured horrifying scenes of foreigners taking over mining sites and killing indigenes." In the second, Fuseini promised to track down and arrest the two Americans.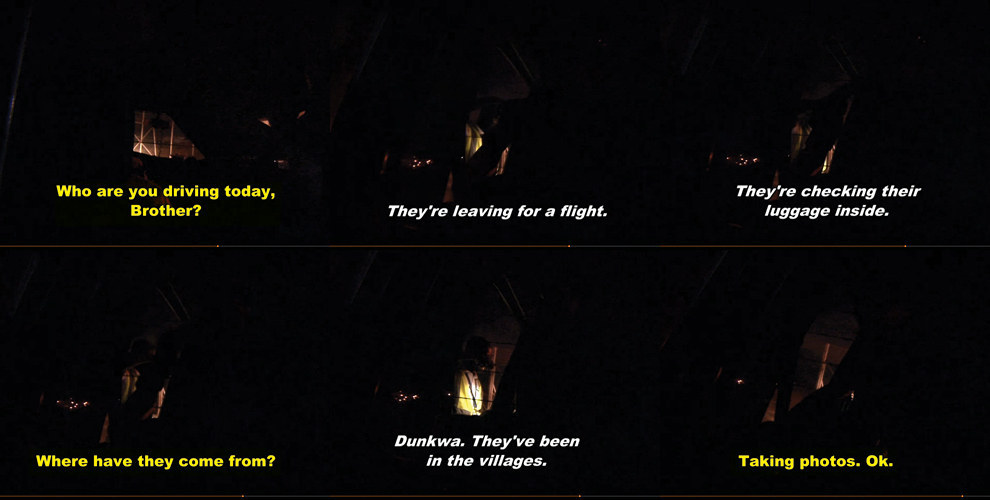 On the morning of May 9, hours before the first article ran, Wright was in Fahiakobo preparing for the day's shoot when he received a disturbing call from Reece. Reece informed him that an "armed militia" had just attacked a group of miners near Wright and Lomu's former mining site in Romaso. Though it was never confirmed who the men were or why they had attacked the miners, Wright and Lomu quickly concluded that the militia was looking for them.

Fearing another attack, the Jungle Gold cast and crew evacuated Fahiakobo and holed up in Raw's Domenase compound 20 miles away. The next morning, Wright searched his iPhone for news of the incident. He found instead the two articles in My Joy Online ordering his arrest and accusing him of killing people. (The news site had failed to provide attribution for the murder accusation.)
"Literally, I have never been so scared," Wright told me. Still, they thought the furor would blow over. They hadn't actually killed anyone, after all, and they were not mining illegally. As far as they knew, they said, Raw had all the required permits. "We thought we could explain any misunderstandings to the government," Wright said.
"Oh my word, they think I killed him."
Then the Joy Midday News came on TV. Sitting on the compound's couch, Wright watched in shock as the clip of him choking the cocoa farmer aired on national television. "Oh my word, they think I killed him," he said. Lomu peeked out the compound's window, half expecting a military convoy to break down the gate and haul them away.
Back at Discovery's headquarters in Silver Spring, Maryland, the channel was enduring its own crisis. Alerted to the situation by Raw, series producer Christo Doyle set up a "war room" as the cameras rolled. A short video about the incident appeared months later on Discovery's website. When Doyle learned the arrest warrant had been extended to the crew, he called for an immediate evacuation. Coincidentally, Discovery had recently reserved a Russian helicopter to take aerial shots of Wright and Lomu's new excavator as it trundled into Fahiakobo. Now, Doyle gave its pilot a new mission: Extract the stars from Domenase and deliver them to Accra.
That night, Wright and Lomu rendezvoused with the crew at the Golden Tulip, where everything began. They were convinced they'd be arrested at the airport and imprisoned. And yet they also felt a strange sense of calm. They'd spent the past year trying to dramatize their daily lives for the cameras. But their new status as wanted men made riveting TV with little effort.
On the morning of May 11, the cast and crew arrived at Kotoka International Airport. Had anyone in the terminal listened to the radio the day before, the sight of two dozen white people discreetly filming themselves on iPhones and iPads should have rung alarms. But no one seemed to recognize them.
Within minutes, the team slipped through customs and boarded a 30-passenger jet chartered by Discovery. Lomu and Wright sat in the back and ducked. "At any moment, a police vehicle, a military car, can come in and stop this plane," Lomu says in the finale. But no such vehicles arrived. As the wheels lifted off, the crew exploded in cheers. When the captain took off the seatbelt sign, they roamed the cabin, high-fiving each other and cracking cans of beer. The Mormons stuck to soda.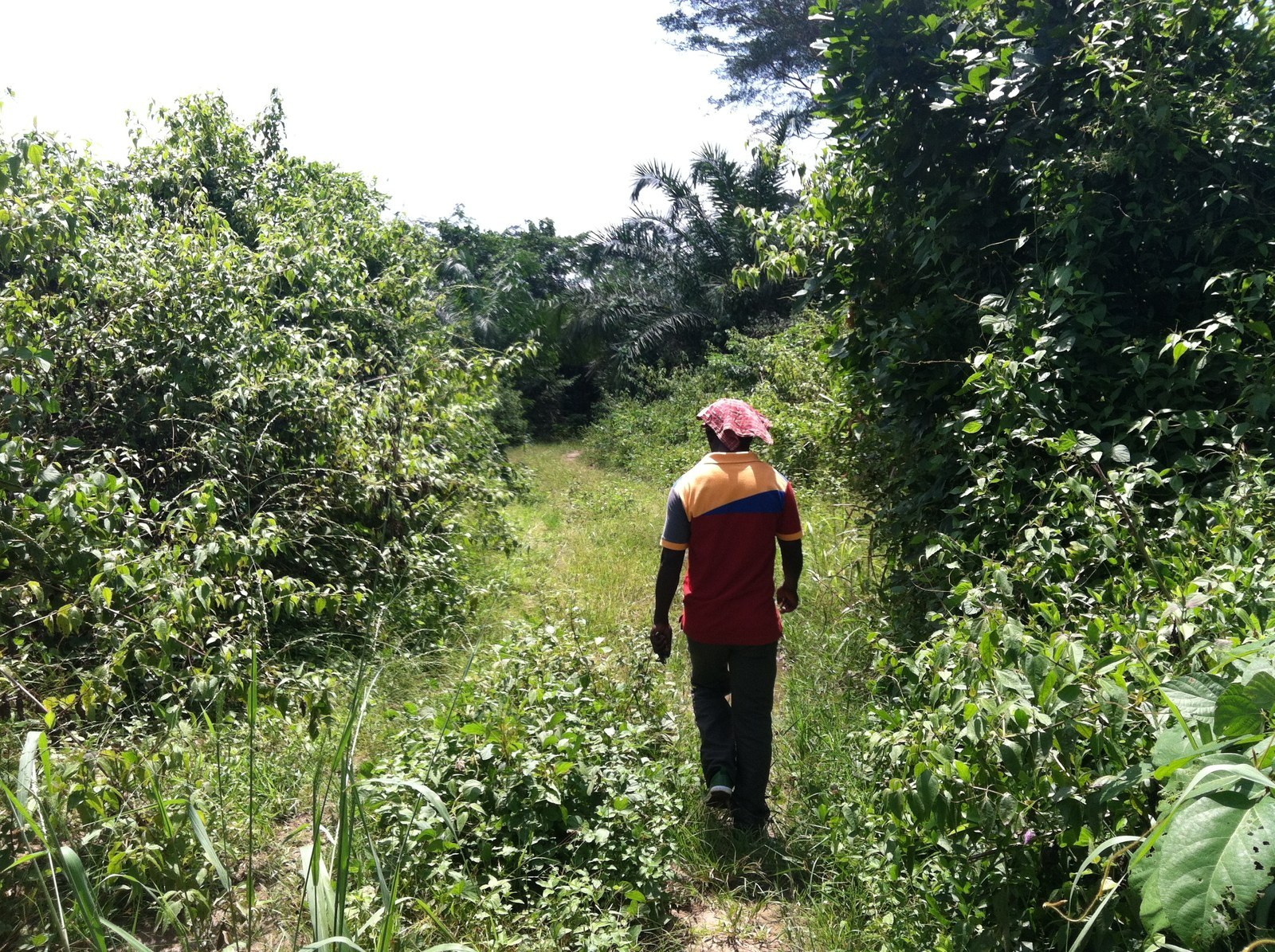 Season 2 of Jungle Gold premiered in the U.S. on Aug. 11, 2013. Discovery had ordered 12 episodes, Wright said, but their abbreviated stay produced only enough material for six. Discovery moved the show from Friday to Sunday nights, where it competed with NFL football for the eyes of American men, their primary demographic. The ratings fell. That October, Sam Maynard, Raw's head of U.S. factual television and one of Jungle Gold's executive producers, informed Wright and Scott that the show had been canceled. (DStv, they later learned, chose not to air the second season in Africa.)

Earlier this year, I met Wright and Lomu at Wright's four-bedroom house in Eagle Mountain, Utah. As Wright's four children bounced on a giant trampoline in the backyard, the men explained that they had returned to Ghana several times since the evacuation, mainly to recover the thousands of dollars in equipment they'd left behind. They were told by the Information Services Department that an arrest warrant had never officially been issued. "I think they just wanted us out of there," Wright said. Ghana's National Security Agency, meanwhile, had yet to contact them. (The agency did not respond to questions about the status of its investigation.)
When I asked what they made of accusations that they'd exploited Ghana for their personal gain, the men insisted the opposite was true: They had done good things in the country — and could have done even more if they'd been allowed to keep filming. They found it frustrating that Ghanaian ex-pats, many of whom were out of touch with the realities of Ghana's mining communities, criticized them for exploiting Ghanaians, when in fact, they said, they'd put unemployed Ghanaians to work. "When we first came to Ghana, we knew our investment could change the lives of people there," Lomu said.
But that doesn't tell the full story. For instance, the men boasted of paying farmers 10 times their annual wages to mine on their farmland. But as Ghanaian mining activist Daniel Owusu-Koranteng told me, illiterate cocoa farmers are not accustomed to receiving giant sums of cash at once. In the five years it takes a cocoa tree to fruit, he said, "they often make poor decisions that cause them to be economically or physically displaced." The lure of foreign wages, he added, can incentivize village youth to drop out of school.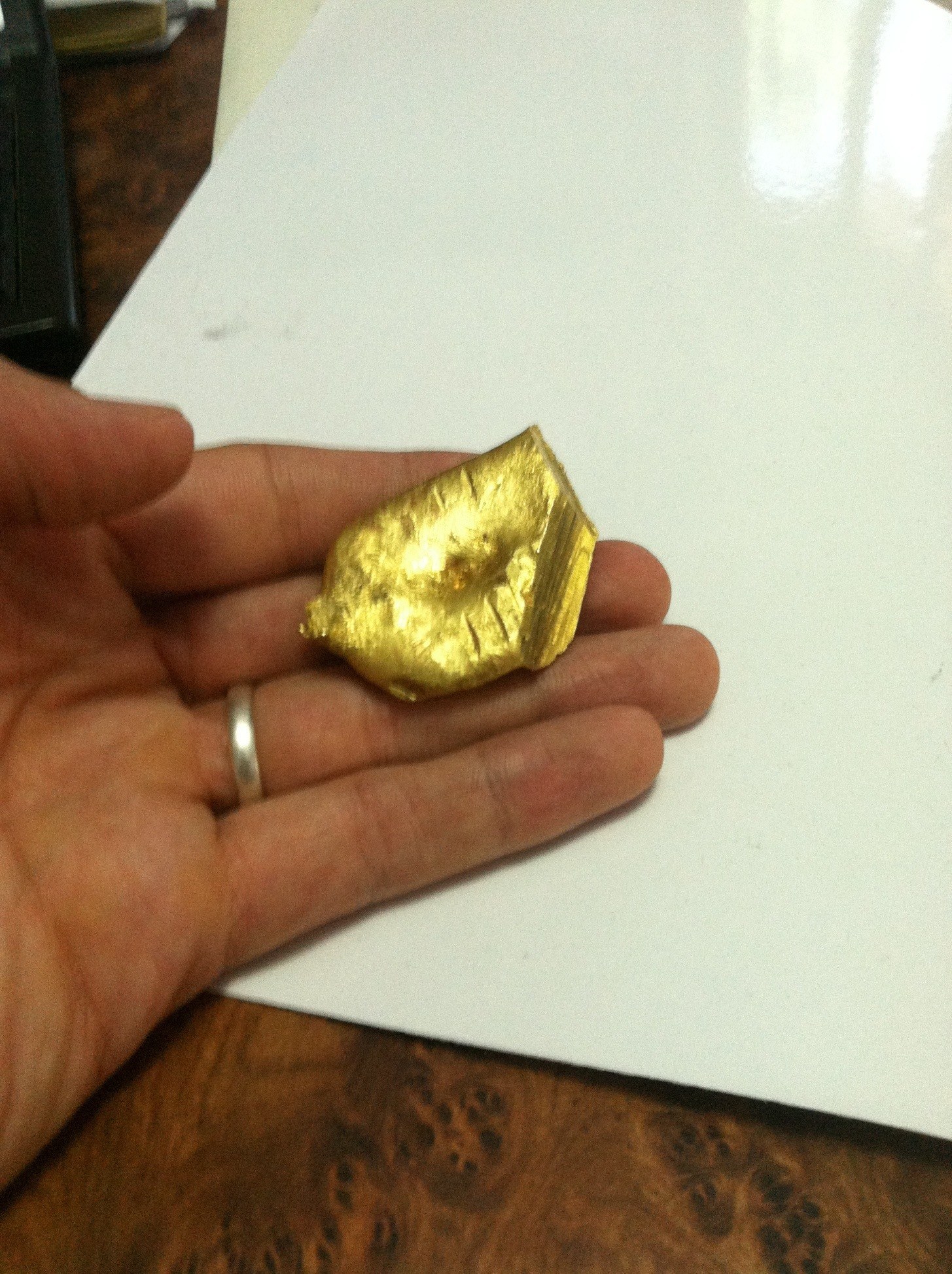 As Brigham Young understood, gold mining is an inherently unstable profession. A month after the Jungle Gold evacuation, the Ghanaian government conducted a nationwide crackdown on illegal foreign miners, causing thousands of Chinese nationals to be deported. If the global gold price plummeted, many more would leave Ghana voluntarily, depriving poor mining villages of what had become a crucial source of support.
Fahiakobo was hit hard by the June 2013 crackdown. A task force created by President John Mahama had flushed dozens of Chinese miners from the area, leaving many of the village's men unemployed. Taxis that once passed every 10 minutes, shuttling miners to work, now came a few times per day. After rainstorms, locals with nothing else to do had taken to searching the gutters for specks of gold. When I asked a 21-year-old local named Nana Jyamfi what he did for a living, he laughed: "I'm waiting for the Chinese to come back."
Alan Tay, Wright and Lomu's handyman, was doing something similar. Despite the possibility of work in Accra, he'd stayed in Fahiakobo after the cast and crew fled, guarding the stars' tent and praying for their return. He was still there when I showed up six months later. Upon meeting me, he'd asked hopefully if I was with Raw, heralding the return of Jungle Gold. He was crushed to learn I was not.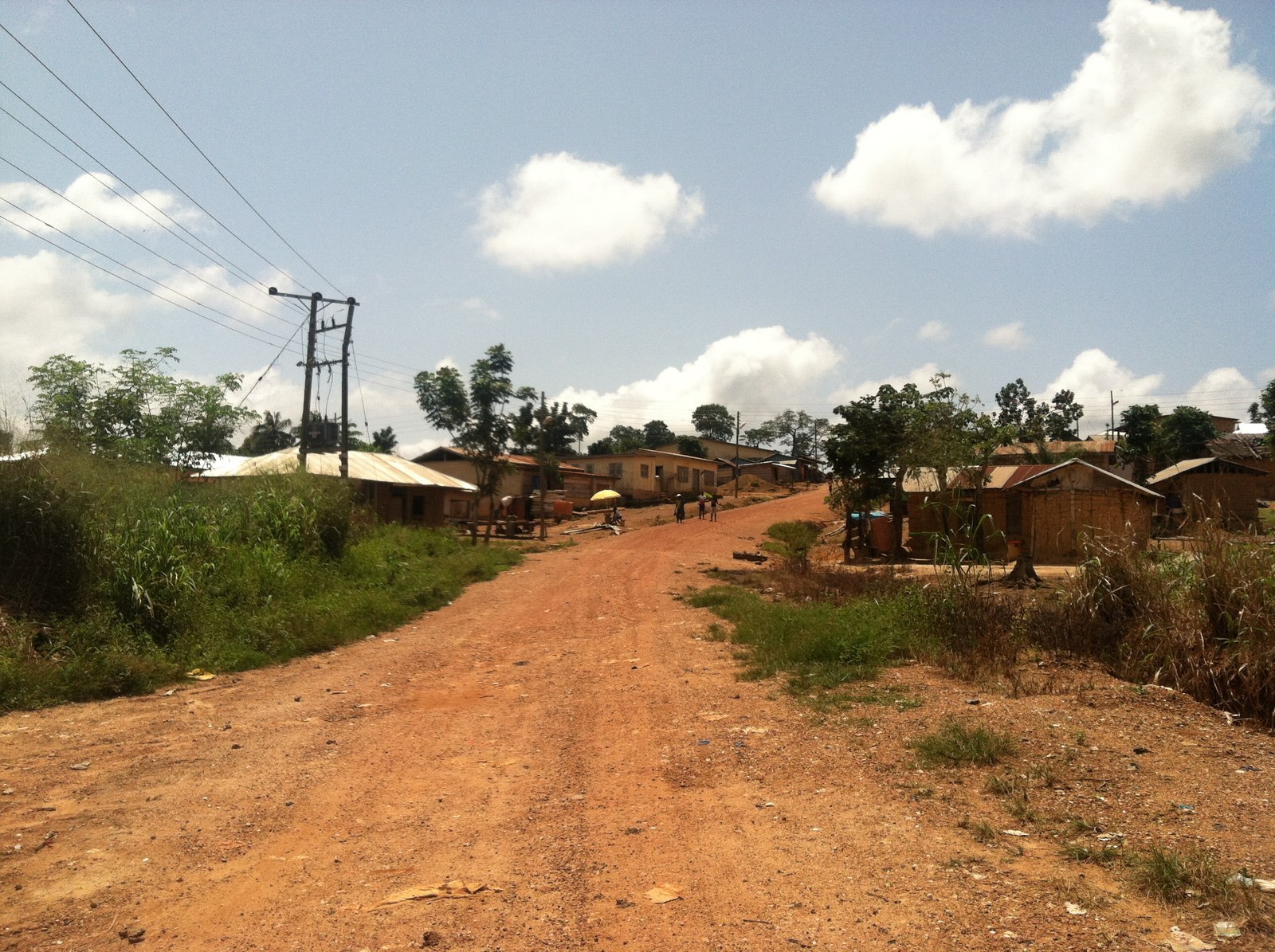 Since Jungle Gold aired, small mining companies from around the world have contacted Wright and Lomu through Facebook to propose mining partnerships. "Our first thought was always: Didn't you guys see the show? We lost a ton of money!" Wright said. Once the show ended, they pursued a few of the offers, but nothing came of them. Then, in December 2014, they met Clint Mishleau.

Mishleau, a fourth-generation gold miner from Wisconsin, had recently been named CEO of Ensurge, Inc., a publicly traded Utah-based holding company that invests in gold mines in the Americas. The company owned a large mining operation in Guyana, a former British colony on the Caribbean coast of South America. The Guyana operation was expanding, and Mishleau valued Wright and Lomu's years of mining experience in Ghana. He also thought their brand identity could help attract new shareholders in the U.S. Ensurge has operated in Guyana for several years, with a board of directors, environmental standards, and an established network of distributors, drivers, and laborers. "We were like, This is the kind of operation we want to be a part of!" Lomu said.
In April, Ensurge hired both men: Wright as vice president of public relations, Lomu as vice president of investor relations. In June, they produced a series of short videos to show prospective investors. As reggae music jingles in the background, Wright pans his GoPro across the sunny streets of Georgetown, Guyana's capital, remarking on its laid-back Caribbean vibe. Aboard a two-story mining dredge as it plies the brown waters of the Amazon jungle, he captures Guyanese miners laughing and telling jokes over lunch. "The heart and soul of this amazing piece of equipment are the people," Wright narrates.
Watching the videos, I got the sense that Wright and Lomu, regretful over Jungle Gold, were trying to redeem themselves by portraying Guyana in a flattering light. When I asked them about this, they said the thought had not occurred to them. "We just wanted to show what it's like in Guyana from our perspective," Wright said. "Those guys on the dredge — they were having a really good time." He paused. "How could I not show that?"