BERLIN — The refugee crisis that has engulfed Europe has seen tens of thousands of people make their way to Germany in the hope of making a better life. And in this ordinary district of western Berlin, a former army barracks now houses families from Syria, Afghanistan, Iraq, Pakistan, Eritrea, and eastern Europe.
Several hundred people arrive here every day, brought by bus or train, usually from Munich. The centre is now home to more than 1,000 people, some living in 10-man tents and the rest housed in old, red-brick, rundown army buildings. Between six and 12 people live in each room, sleeping in bunk beds and sharing a bathroom with 20 or so others. The rooms are clean but basic and fairly cramped.
As well as families who have traveled together, there are many men who made the often treacherous journey alone, filled with concern for the loved ones they have left behind and hoping to bring them to safety once their own asylum claim has been processed.
It will take some time before the centre is running smoothly, but the staff and volunteers are working tirelessly to achieve this. From the security and administration staff to locals offering their services as interpreters or youth workers, everyone seemed committed to meeting the needs of the refugees.
They are given food and warm clothing. They are offered German lessons and the children are taken on outings. They are treated with dignity and never patronised. Put simply, they are made to feel welcome here.
Kawa, from Syria, with his young daughter Evelin and her favourite toy.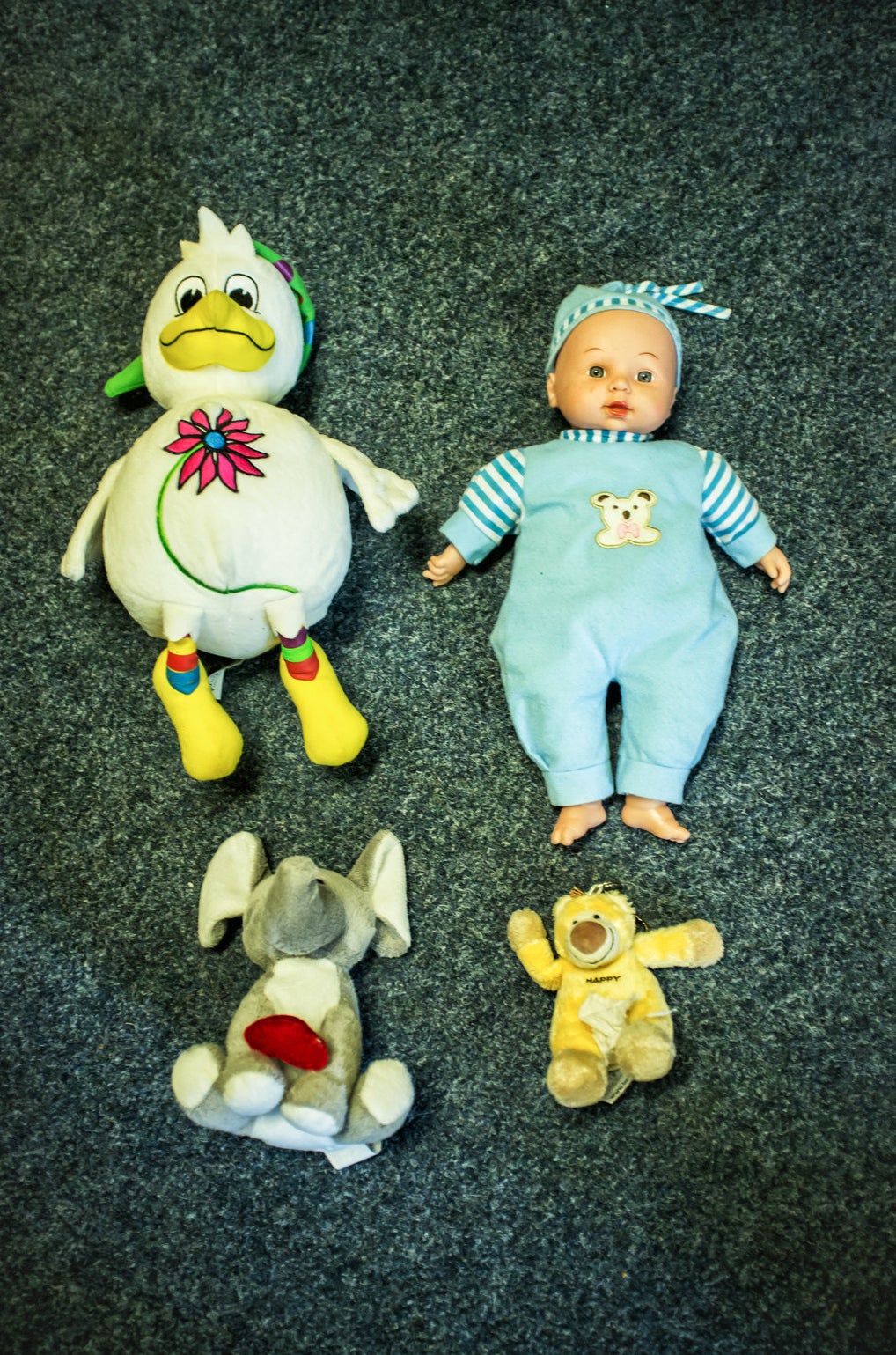 Kawa made the long and dangerous journey from Syria with his wife and his daughter, Evelin. He is living with his friend Visam and another Syrian family in a room in the old barracks. "We are very happy to be here in Germany," said Kawa.
Visam, a young Syrian man who wants to study in Germany.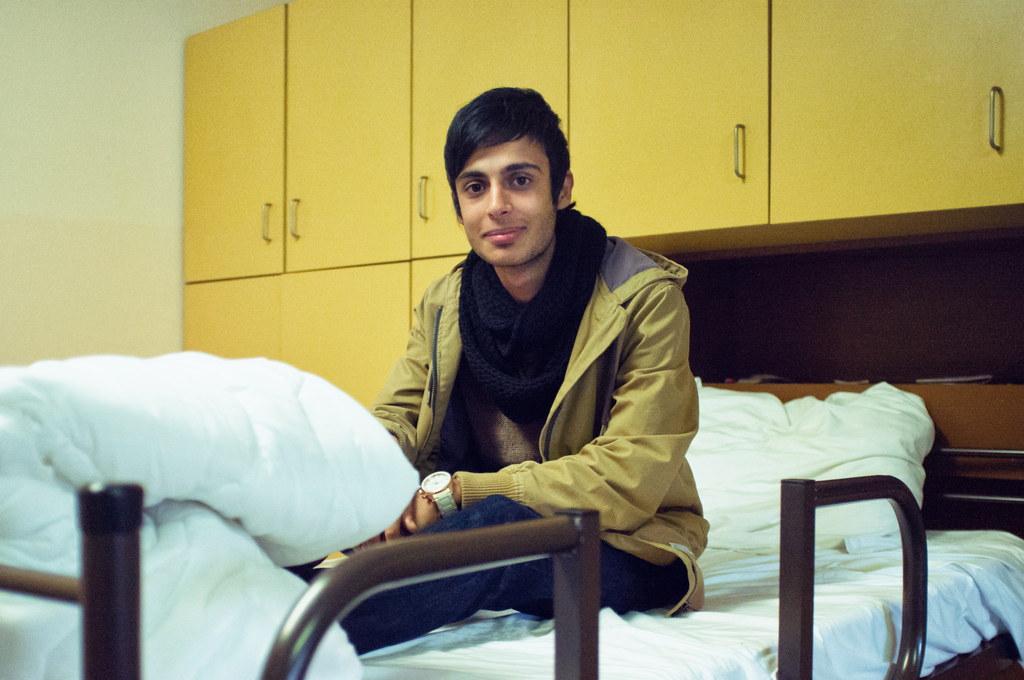 The Majid family, from Baghdad.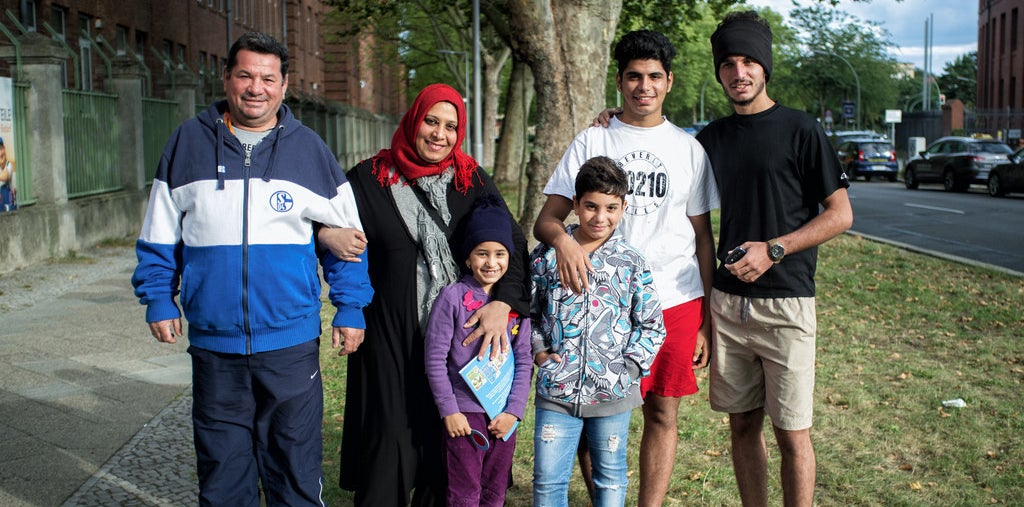 The Majid family from Baghdad were made famous by Daniel Etter's photograph published in the New York Times. After crossing the Mediterranean, they took a truck from Athens to Berlin, arriving a month after leaving Iraq. Laith and Nada live in a room together with their four children, sons Mustafa (18), Ahmed (17), and Taha (9), and daughter Nour (7).
Nada said that when they arrived in Berlin, they asked someone, "Where are we?" When they heard it was Berlin, they were all very happy, she said. "The children are now much happier."
She said: "The volunteers are teaching them German and they want to go to school." Nour proudly counted from one to five for me in German.
Nada said: "The one thing we would like is our own kitchen. We would like to be able to cook our own Iraqi food."
Nour with her new colouring book.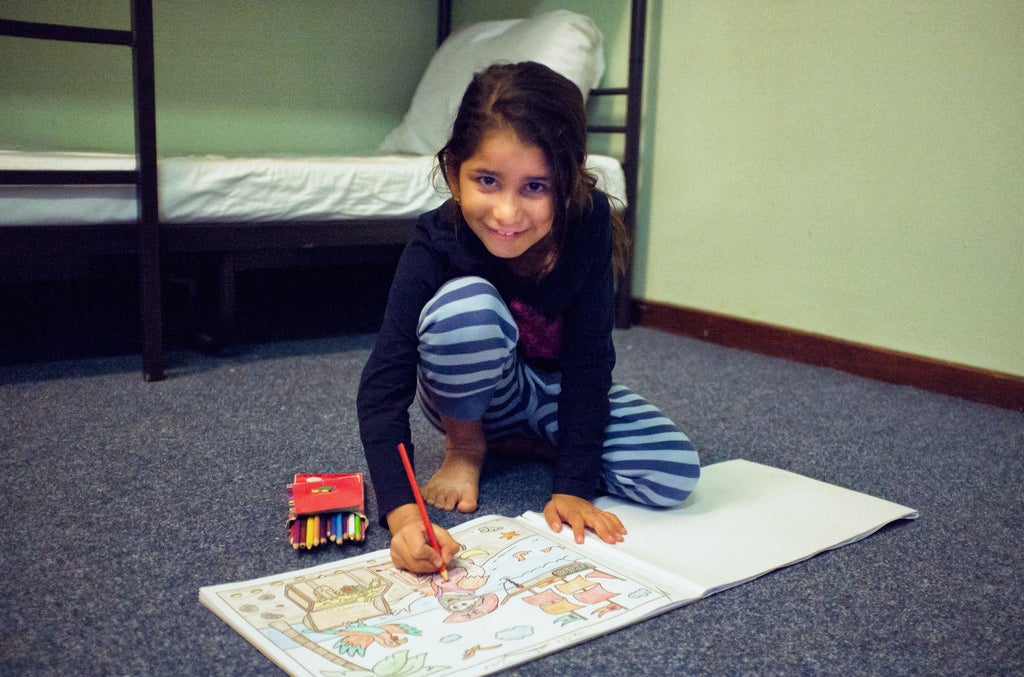 Taha playing with a truck donated by locals.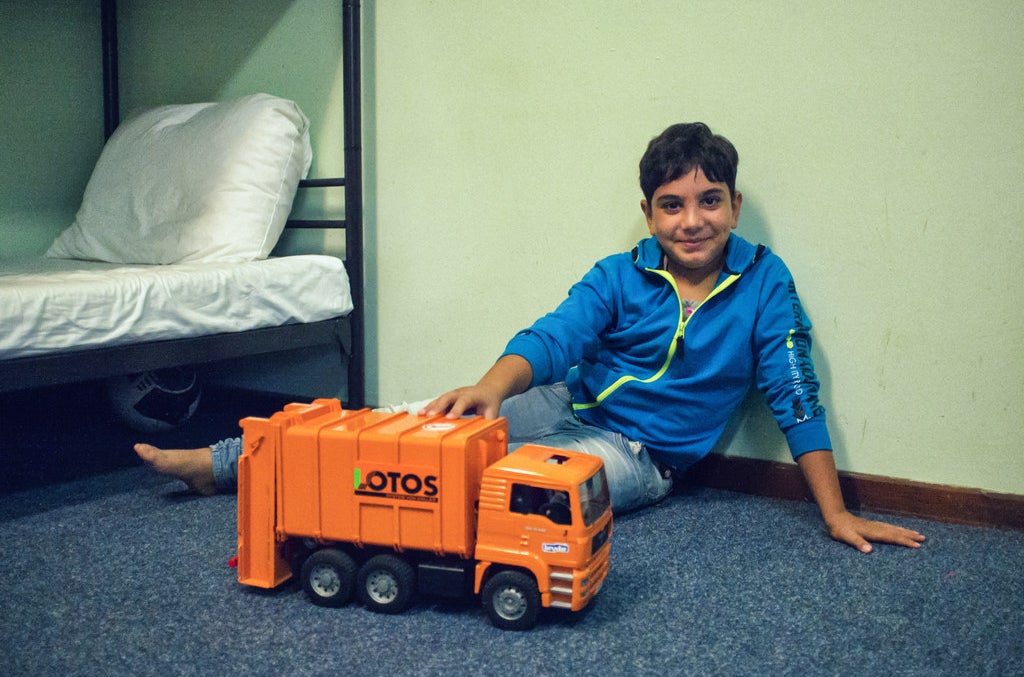 A young Bosnian boy, Michael, with his favourite new toy.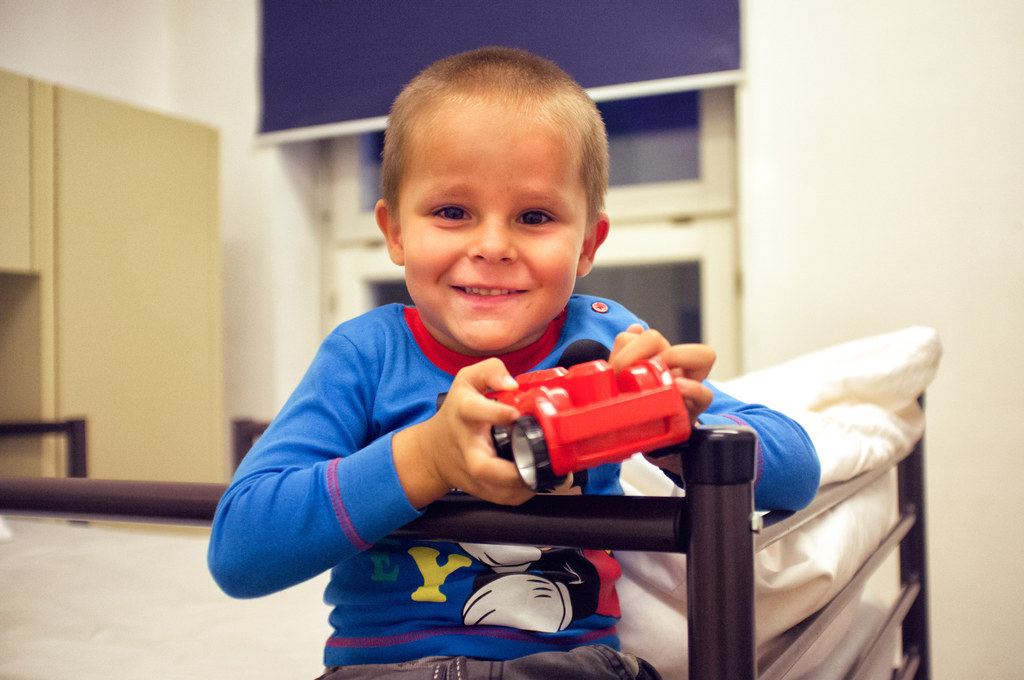 One family traveled to Berlin from Bosnia. Five children, Aila (12), Melisa (12), Zorah (8), Jasmin (4) and Michael (2), live with their parents and grandmother in one room in the barracks. "Although there is no war there," said the father, "there is simply no hope. Life is very hard and my children have no future."
Melisa with her new teddy bear.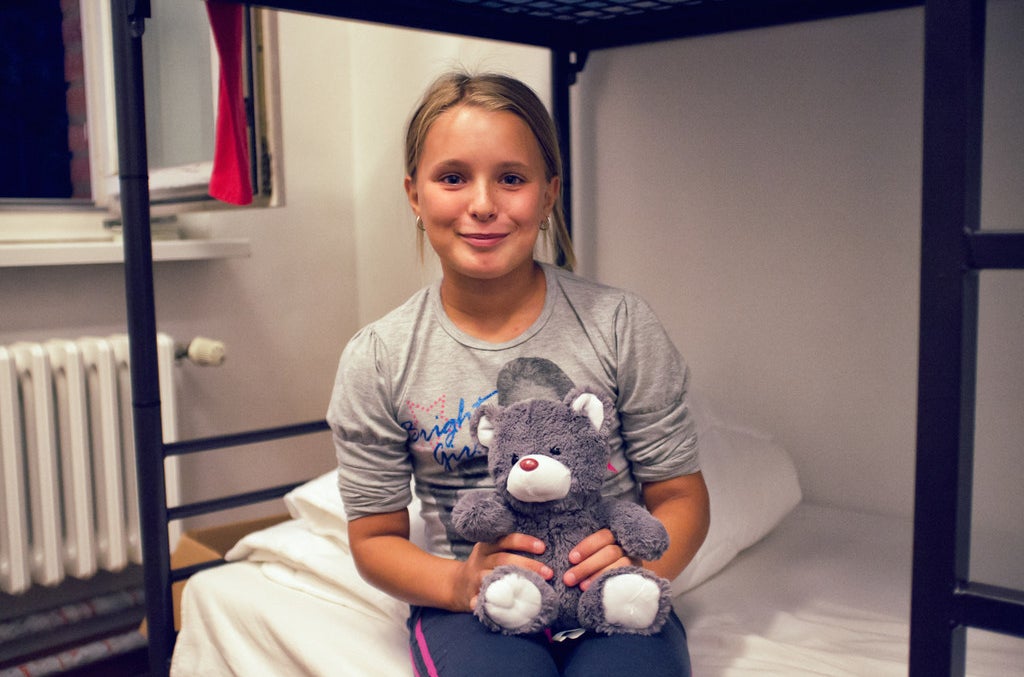 The Fartussi family, who made their way from Baghdad.
Fatima playing with one of the toys donated by local Germans.
The Fartussi family came from Baghdad, travelling first to Turkey, then to Greece by boat and using buses and trains to get to Berlin. Salam and his wife live in a room with their three daughters, Malak (8), Fatima (3) and Rayhana (1), and two friends, who are also from Baghdad.
"We are glad to be here, but we are worried. We don't know what is going to happen. We don't know if we will be allowed to stay here. Everything is very uncertain."
Malak with her father.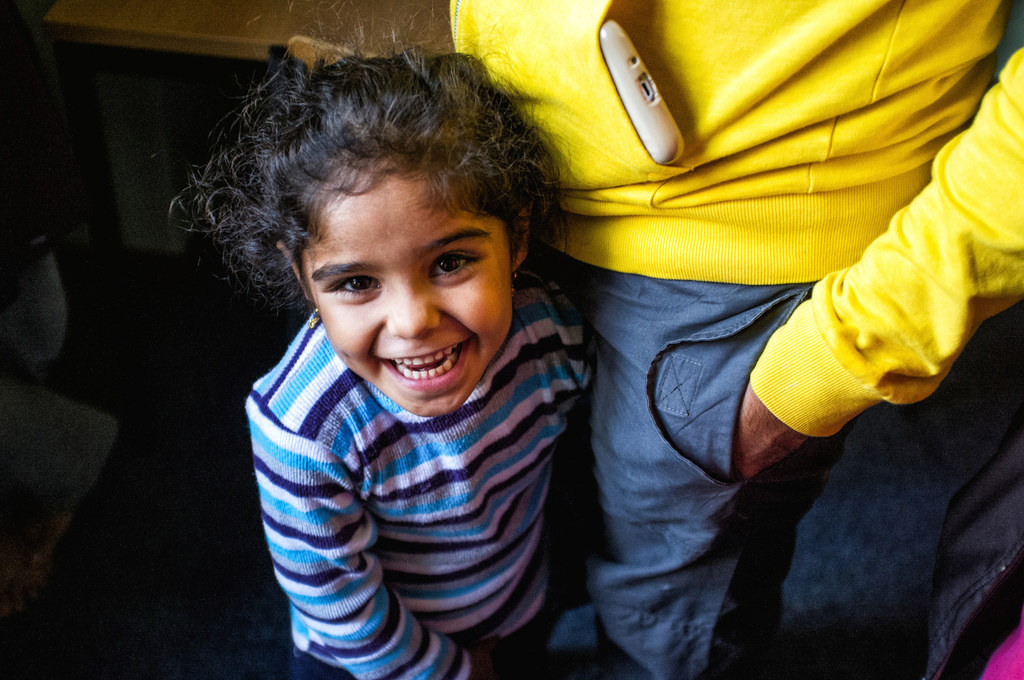 Two sisters who made the arduous journey from Iraq with their family.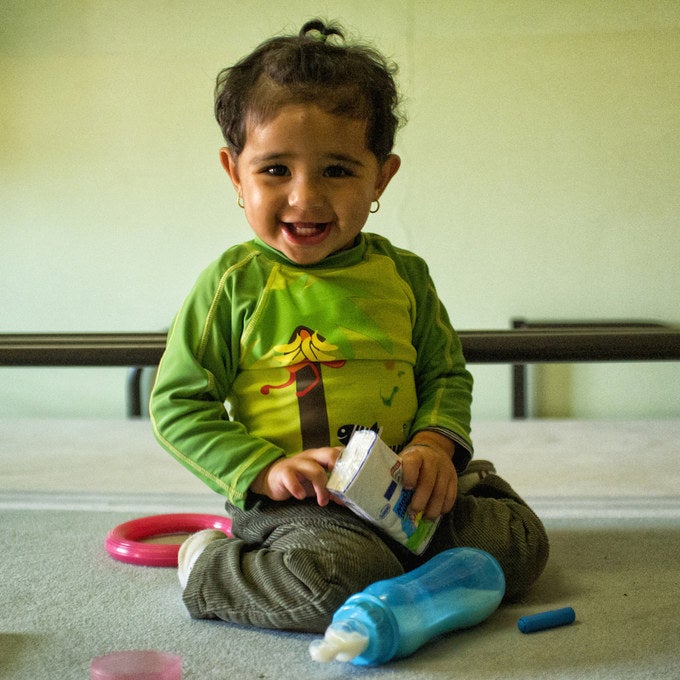 A family who came all the way from Syria.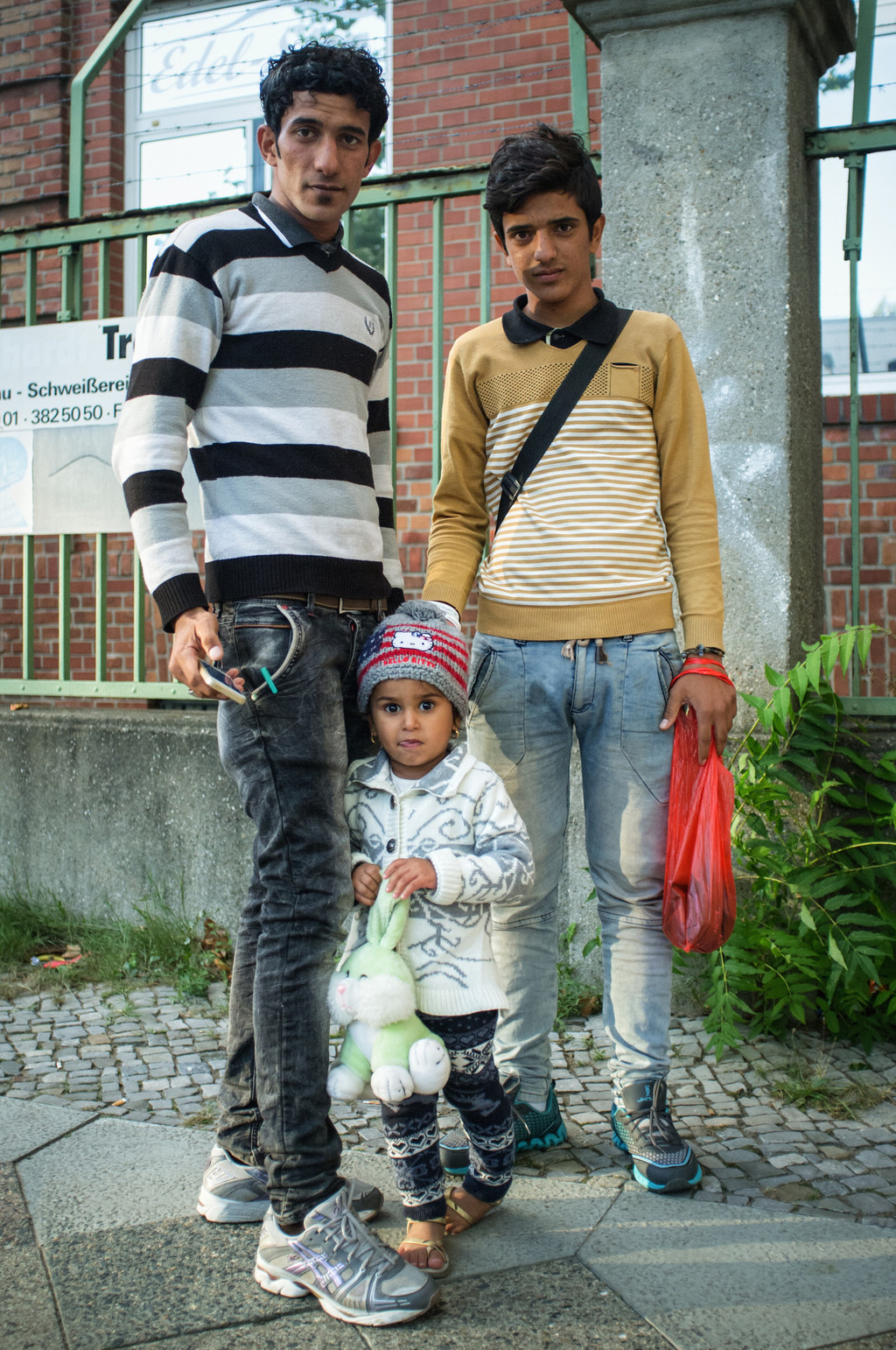 Two children who had also just been given toys by the German volunteers.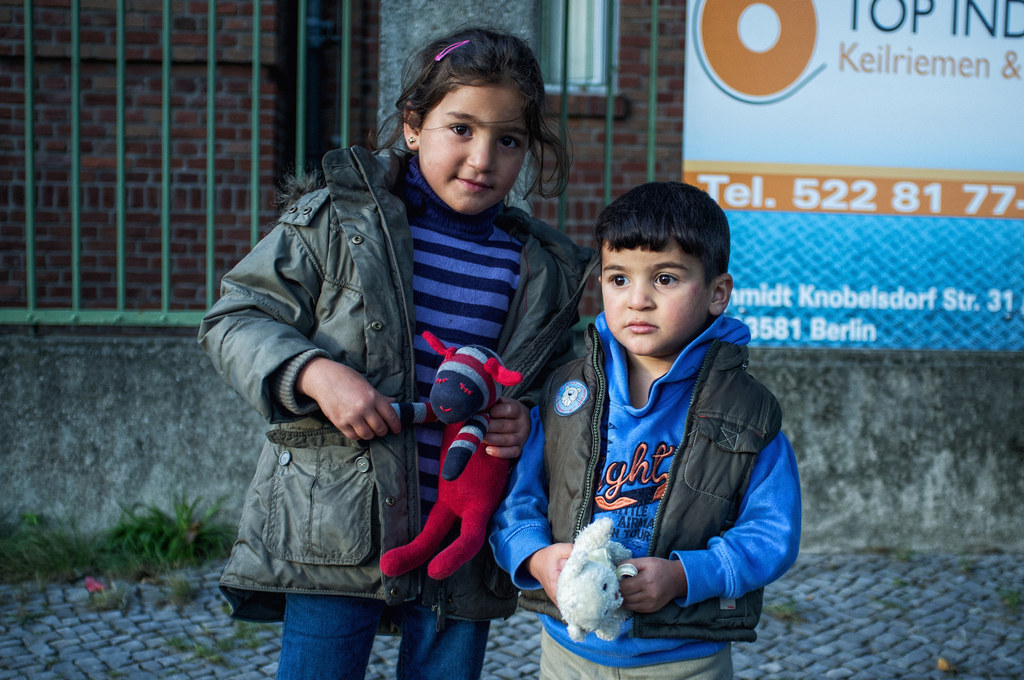 Refugees looking through piles of clothes, shoes, and games donated by local people.