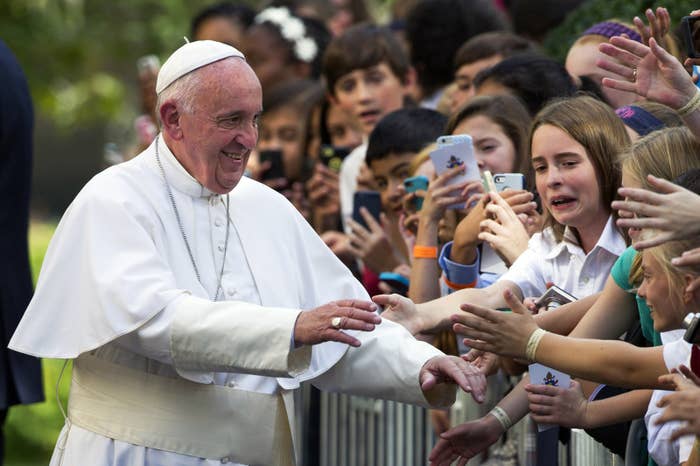 The Vatican on Friday said Pope Francis met with dozens of people during his U.S. visit, and that his interaction with Kentucky clerk Kim Davis in Washington D.C. did not indicate papal support of her position against issuing same-sex marriage licenses.
Davis is the subject of a lawsuit that says she illegally refused to issue marriage licenses; she cites her religious objection to same-sex couples marrying as a defense.

"The Pope did not enter into the details of the situation of Mrs. Davis and his meeting with her should not be considered a form of support of her position in all of its particular and complex aspects," the Vatican said in a statement.
The statement also downplayed the importance of such a meeting, saying that "such brief greetings occur on all papal visits and are due to the Pope's characteristic kindness and availability." Adding that the only "real audience" granted in D.C. with the pope was with one of his former students.
The two parties clashed over facts surrounding the encounter — specifically, who called the meeting and whether it was private.
The Liberty Counsel, a Christian law firm defending Davis in court, issued a statement Friday morning saying that neither it nor Davis ever claimed the meeting was an endorsement of her legal case but said that the pope's words "indicate support for the universal right of conscientious objection, even for government officials."
"Rather, the meeting was a pastoral meeting to encourage Kim Davis in which Pope Francis thanked her for her courage and told her to 'Stay strong.' His words and actions support the universal human right to conscientious objection," said Mat Staver, founder and chairman of the Liberty Counsel.
The two parties also clashed over facts surrounding the encounter — specifically, who called the meeting and whether or not it was private.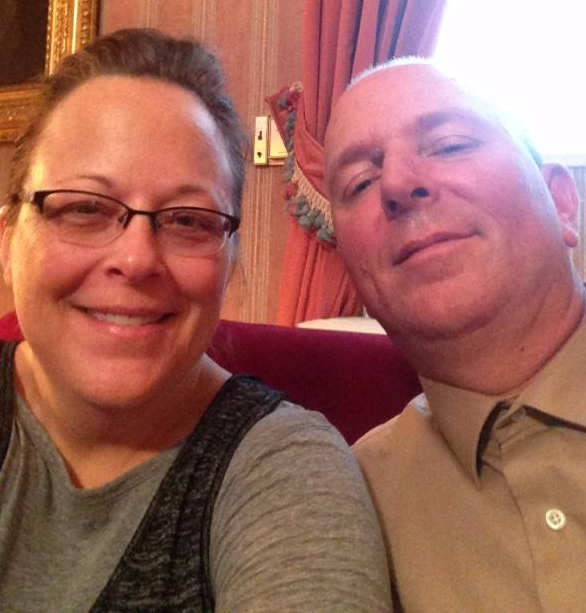 Father Thomas Rosica, an English language assistant at the Holy See Press Office, told reporters at a Rome press conference on Friday that the meeting was arranged by the Nunciature, the Vatican Embassy, in Washington, the New York Times reported. He reportedly said the invitation was not extended from Rome.
In the same vein, the Vatican said in its statement earlier in the day that "Pope Francis met with several dozen persons who had been invited by the Nunciature."
But Davis's lawyers at Liberty Counsel's press release on Friday flatly contradicted that account, stating, "The meeting with Kim Davis was initiated by the Vatican."
In another dispute, Rosica said Davis would have been part of a group or receiving line — not the sole guest in a private meeting with the pope.
Reporting for the Los Angeles Times, Tom Kington said Rosica told press: "It would have been done on the first floor as the pope is coming down the stairs to leave — 'Holy Father, these people would like to bid you farewell as you go to New York' — That is the scenario. It could have been 15 minutes [with] this grouping of people to say goodbye."
Yet Staver of Liberty Counsel said in a Friday press release, "This was a private meeting with no other people except for the Pope and select Vatican personnel."
The Vatican confirmed Friday that the only private meeting the pope had scheduled was with his former student Yayo Grassi, an openly gay man. The pontiff taught Grassi literature and psychology back in 1964-1965, according to CNN.com.
Grassi brought his longtime partner Iwan and some friends along to meet Pope Francis on September 23 at the Vatican Embassy. He said the pope "has never been judgmental" and has never condemned his sexuality.
"Obviously he is the pastor of the church and he has to follow the church's teachings," Grassi told CNN. "But as a human being he understands all kinds of situations, and he is open to all kinds of people, including those with different sexual characteristics."
The New York Times posted video that it presented as the meeting among Grassi, Iwan, and the pope.

On Wednesday — when the public was still attempting to determine if any meeting had transpired — a Vatican official had confirmed to BuzzFeed News that Pope Francis did meet briefly with Davis. When asked if the meeting took place, Vatican spokesperson Rev. Federico Lombardi told BuzzFeed News "yes."
He added, "I don't deny the meeting has taken place. But I have no comment to add."
A spokesperson for Liberty Counsel claimed the pope gave Davis these two rosaries during the encounter:
"While we await the Vatican to send pictures of the meeting between thepope and Kim Davis and her husband Joe, I thought you might be interested in a picture of the rosaries the pope gave the couple," Charla Bansley said Wednesday. Bansley added in an email to BuzzFeed News, "We were told that [the Vatican] would be sending" photos of the meeting between Davis and the pope.
No such photos had surfaced as of Friday.
The meeting that Davis and her husband, Joe Davis, had with the pontiff — first announced Tuesday night by the clerk's attorneys — reportedly occurred Sept. 24 at the Vatican Embassy in Washington, D.C.
In an interview with ABC News, Davis said she was crying when she met the pope. "I had tears coming out of my eyes," she said. "I'm just a nobody, so it was really humbling to think he would want to meet or know me."
According to an account of the exchange posted by her attorneys at the Liberty Counsel, Francis told Davis to "stay strong" and thanked her for her courage:
He held out his hands and asked Kim to pray for him. Kim held his hands and said, "I will. Please pray for me," and the pope said he would. The two embraced.
Davis told ABC News, "I put my hand out and he reached and he grabbed it, and I hugged him and he hugged me. And he said, 'Thank you for your courage.'"
The interaction took place in English, her attorneys added, with Francis blessing the married couple and giving them each a rosary for Davis's mother and father, who are Catholic.
Davis's attorney, Mathew Staver, reported that the meeting lasted for about 15 minutes, with the pope surrounded by security officers and aides. No photographs of the event were immediately released.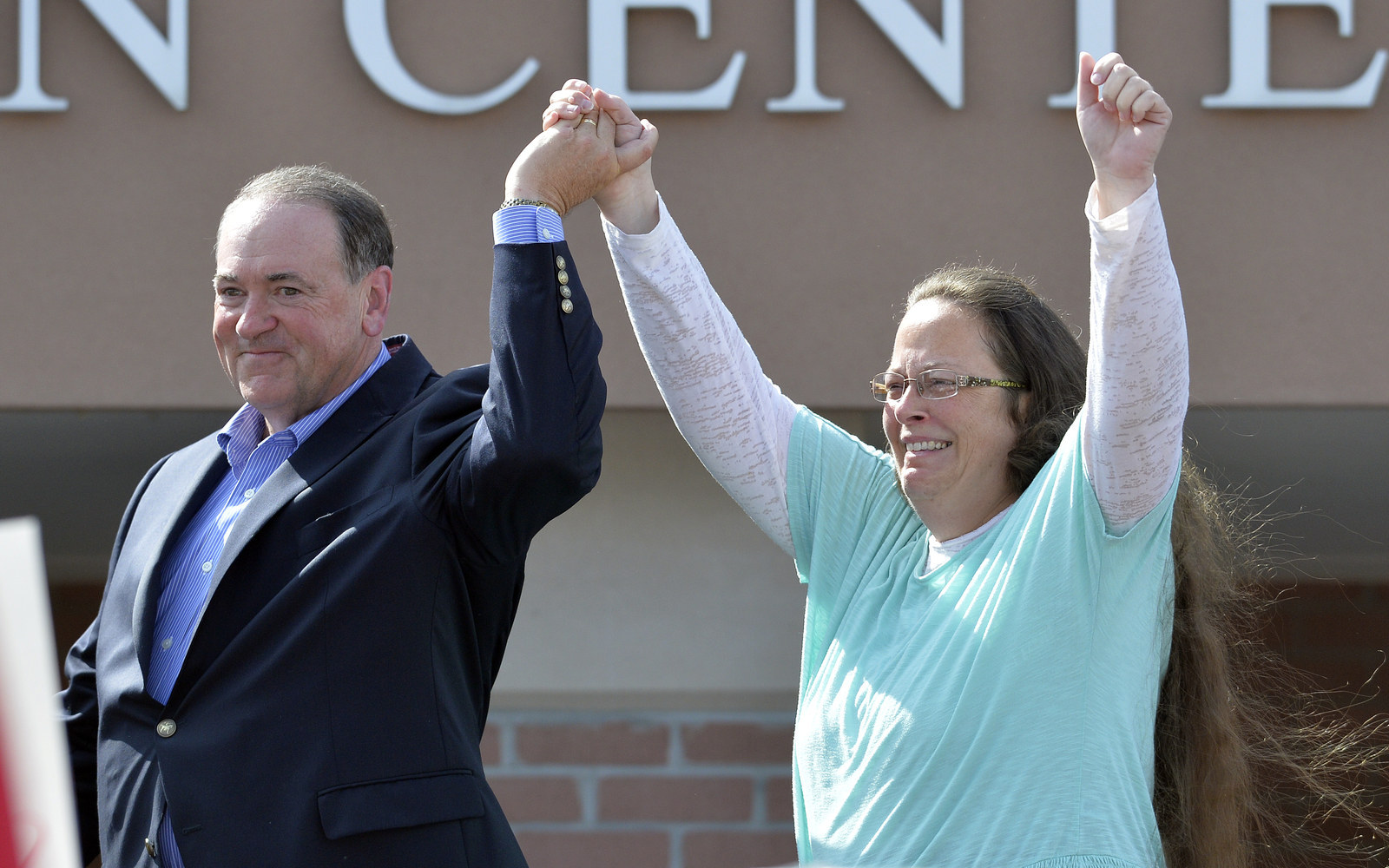 Davis, who is Apostolic Christian, made international headlines earlier this year for refusing to issue any marriage licenses in Rowan County, Kentucky, due to her opposition to same-sex couples marrying. She repeatedly cited her newfound Christian faith — and her belief in religious freedoms — in opposing a federal judge's order to comply with an earlier Supreme Court ruling that made same-sex marriage a right.
On the papal plane back to Rome from the U.S., Francis appeared to address the showdown in Rowan County, telling reporters that government workers have a "human right" to refuse to perform their duty if they have a "conscientious objection" to it.
While he did not name Davis, the pope continued: "Conscientious objection must enter into every juridical structure because it is a right."
The Liberty Counsel's announcement of the meeting was initially met with skepticism.
Earlier on Tuesday, attorneys with the firm admitted they used a fake photo in an attempt to prove there was a giant prayer in Peru in Davis's honor. The photo was actually of a religious festival held in May 2014.
The legal team, however, insisted that the underlying claim of prayer rallies occurring for Davis in Peru were real.