Two Suspects Are In Custody Following Shooting Of NYPD Officers
Two wounded police officers are in stable condition, officials said. They were shot while responding to a robbery in the Bronx Monday night.
What We Know So Far
Two NYPD officers responding to a robbery were shot in the Bronx on Monday night. They are expected to survive.
Two people are in custody after a massive manhunt.
The shooting comes after two officers were shot and killed in Brooklyn on Dec. 20.
Mayor Bill de Blasio issues a statement on the shooting.
"Last night a team of our officers displayed extraordinary bravery, going above and beyond the call to protect their fellow New Yorkers," de Blasio said in the statement. "We thank these officers for their commitment to serving our city, including answering the call after their shift had ended. Two of our officers – Officers Andrew Dossi and Aliro Pellerano – suffered wounds in the performance of their duties, and the hearts and prayers of a grateful city go out to those two fine men and their loved ones. The entire City of New York stands with these officers and their families as they recover from these injuries. "

"This incident was yet another reminder of how profoundly important the work of our police officers is, as well as the seriousness of the dangers they face every day in the line of duty. We depend on them to keep this whole city safe, and they do it with great skill and professionalism. I also commend the investigators for their smart, thorough detective work as they pieced together the facts of the case, and everyday New Yorkers for providing more than two dozen tips to the Police Department — all of which helped bring suspects into custody earlier today."
NYPD identifies shooting suspect, says officers are recovering.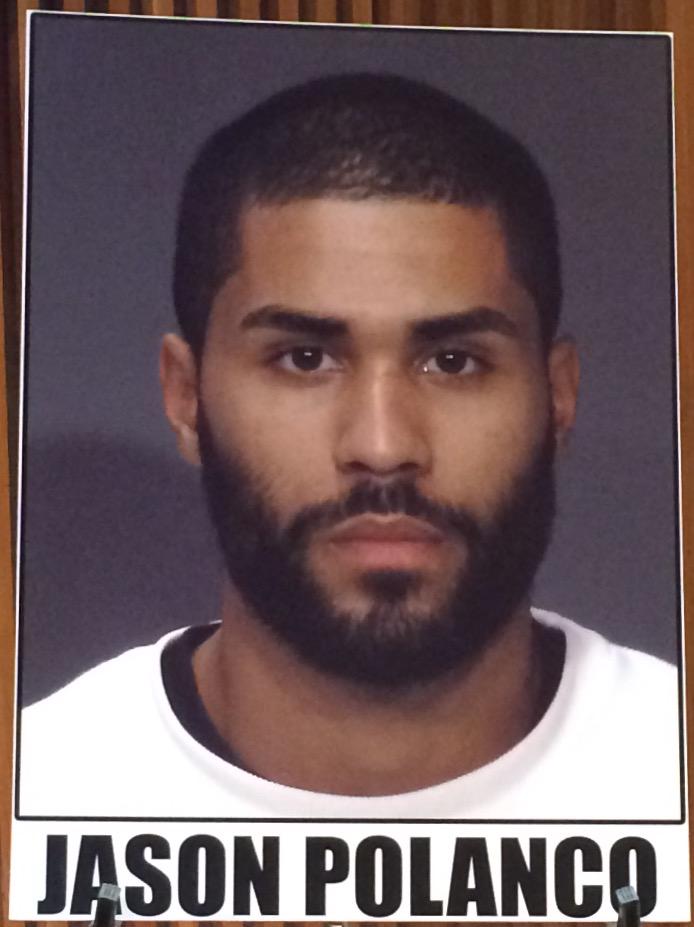 Speaking at a news conference at NYPD headquarters Tuesday, Police Commissioner Bill Bratton gave more details on the shooting of the two officers.
The officers were identified as 30-year-old Andrew Dossi, an eight-year veteran of the force, and 38-year-old Aliro Pellarano, a nine-year NYPD veteran. Both cops are in stable condition, Bratton said, and may be released from the hospital soon.
Chief of Detectives Robert Boyce identified the main suspect in the shooting as 23 year-old Jason Polanco. He was taken into custody earlier Tuesday after police received more than 10 calls identifying him as the shooter.
He faces five counts of attempted homicide of a police officer as well as robbery and carjacking.
Boyce added that Polanco had a history of "anti-police behavior" on his Instagram account.
A second suspect, 28 year-old Joshua Kemp, was taken into custody at Presbyterian Hospital in uptown Manhattan, where he was being treated for a gunshot wound.
Kemp is only being questioned for the robbery and for criminal possession of a weapon, but not for the shooting, police officials said.
The NYPD had previously said three people had been detained in relation to the incident, but no mention was made of a third suspect.
Boyce said that Dossi, Pellarano, and three other officers encountered Polanco and Kemp Monday night outside a Chinese restaurant while responding to a report of a robbery.
Polanco allegedly shot at the officers with a .44 magnum revolver, with one of the bullets believed to have hit both Kemp and one of the officers.
Police officials said Polanco then fled on foot and hijacked a white Camaro, which he crashed shortly after taking. He was arrested on Tuesday by members of the Regional Fugitive Task Force.
Boyce added that the wounded officers may not have been wearing bulletproof vests, as they were finishing their shift at the time they were called back out onto the street to investigate the robbery report.
He also said that Polanco's gun had not been reported stolen, and that the last record available for it was a legal sale in Colorado more than three decades ago.
Pat Lynch, the president of the Patrolmen's Benevolent Association, the biggest NYPD union, released a statement on the arrest of suspects in the shooting:
"Once again, the police officers of the NYPD rose to the occasion and collared the two cowardly thugs who shot two responding officers during a robbery last evening," Lynch said in the statement.
"All of the thugs need to know that when you attack one of us, you attack all of us and that the NYPD will do all in its power to bring you to justice and to hold you accountable. We congratulate those officers on their speedy and excellent work," the statement went on.
Lynch's statement refers to two suspects, but the NYPD had said three people were in custody.
The NYPD will hold a news conference on the arrests at 4 p.m. ET.
Three people have been taken into custody in the shooting of the two NYPD officers, police officials confirmed to BuzzFeed News.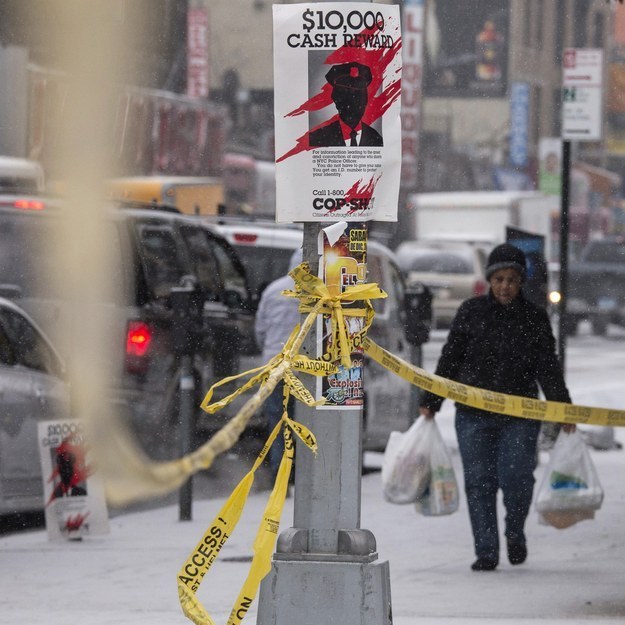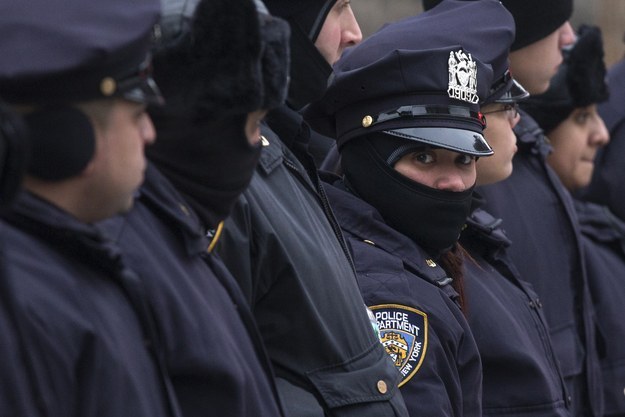 Following the senseless assassination of two fine police officers, precautions had to be taken to protect police officers so that they could protect the City's communities. Statistics sometimes have to take a back seat to safety but as we saw last night in the 46 Precinct, New York City police officers, who could have closed their lockers and gone home after their shift ended, chose to respond to robbery in progress and sadly, were shot in the process. Our members are out there doing their jobs and putting themselves in danger to keep this city safe just as they always do. That's a clear demonstration of police officer's dedication to duty and that there is no union initiated or supported slowdown.
Several media outlets are reporting the names of the two officers:
Officers Andrew Dossi and Aliro Pellerano were wounded in the gunfight, according to the New York Post and ABC7.
The Post also reported that Dossi was not happy to get a visit from Mayor de Blasio in the hospital on Tuesday morning, according to the officer's father, Joe.
NYPD Commissioner Bratton went in to the officer's room three times, and on the second time he brought the mayor – who is currently experiencing great tension with the police department.
"He (Dossi) deals with some crappy people every day and getting no support (from the mayor), come on. These are the guys in the trenches dealing with anything and everything."

...

"The mayor seemed passive, like he was just listening to what Bratton was saying and what I was saying," Dossi said.
Well, first I want to say that these officers did something that was extraordinarily brave this evening, and they did it as part of their commitment. These officers had come off their shift, and upon hearing this call, went back out in search of these criminals. And the work they do – this anti-crime work – is so profoundly important, but this instance where they went above and beyond the call – this is absolutely a case of officers going above and beyond the call to protect their fellow New Yorkers. We want to thank everyone here at St. Barnabas for taking such good care of these officers. I'd like to just name some of the doctors who've been involved – Dr. [inaudible], Dr. [inaudible], Dr. [inaudible], Dr. [inaudible], and Dr. [inaudible]. I want to thank all of them – the team here has been extraordinary. Thank God these officers are doing well and will recover. We care obviously at this moment not just for these officers, but for their families – we want to support them at this difficult time. And as always, the city of New York and the NYPD will be with them through this challenge and as these officers recover. I want to also say this is another indicator of the dangers that our officers face in the line of duty. We depend on them to keep this whole city safe. They do it with extraordinary skill and professionalism, and there are profound dangers – and we saw examples of that this evening. But again, thank God these officers will recover. I do want to ask the people of this city to help in this investigation. You've heard a description of the perpetrators. You'll get video footage shortly. It is crucial that the people of this city aid the NYPD in this investigation so that we can capture anyone associated with these crimes. Thank you very much.
The reward has been increased from $10,000 to $12,000:
Bratton and de Blasio speaking at St. Barnabas hospital early Tuesday morning: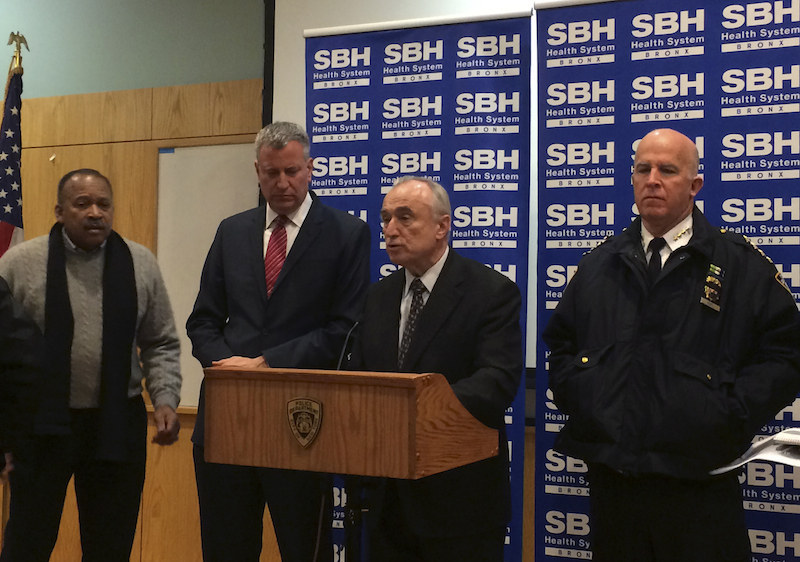 The precinct where the officers work has seen increases in shootings, homicides, and other crimes in 2014:
The 46th Precinct, which includes neighborhoods such as Morris Heights in the Bronx, has seen a nearly 58% increase in shooting victims in 2014 when compared to 2013, according to NYPD statistics as of Dec. 28.
The number of shooting incidents – where there could be more than one victim – is also up, from 29 to 42. That's a nearly 45% increase.
There's also been a 44% increase in homicides, from nine to 13.
There were also increases in rapes, assaults, burglaries, and stolen cars. There were decreases in robberies and grand larcenies (where the item stolen is worth $1,000 or more).
The precinct about two blocks east, the 48th, has also seen increases in homicides and shootings.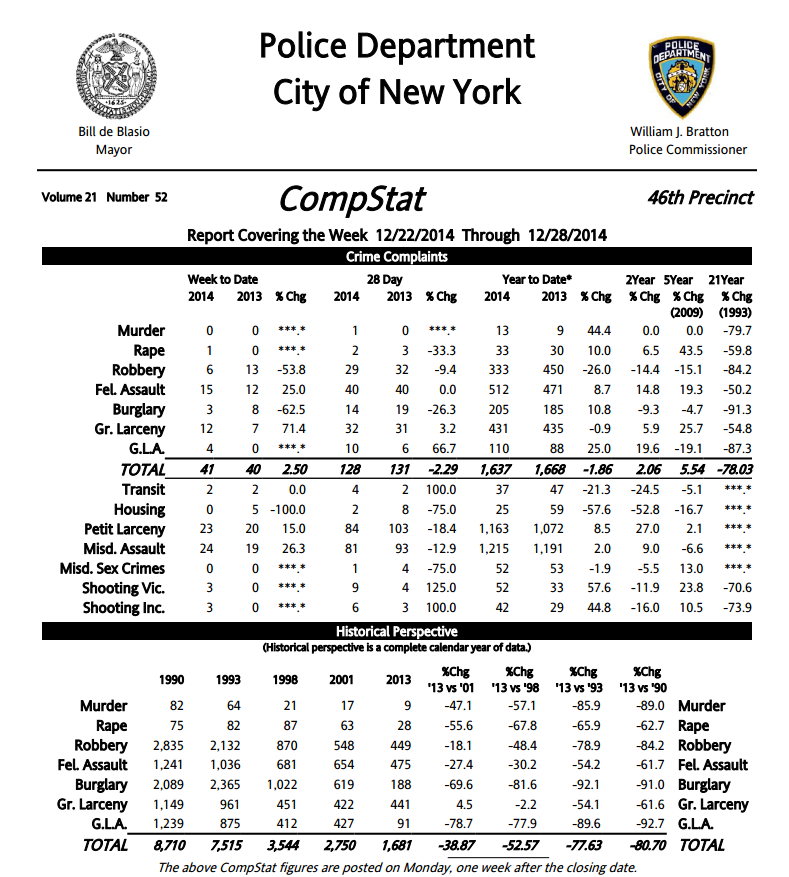 After the shootings on Monday night, Deputy Chief Kim Y. Royster made it clear that the officers had not been initially targeted by the gunman — as occurred in the Dec. 20 fatal shooting of two officers in their patrol car in Brooklyn — but were instead investigating a robbery when the shooting began.
The two main tabloids got the shooting on the front page: