Two NYPD Officers In Stable Condition After Being Shot In The Bronx
The officers, a male and female, were in stable condition after the shooting at an apartment complex. A suspect later died of a self-inflicted gunshot wound.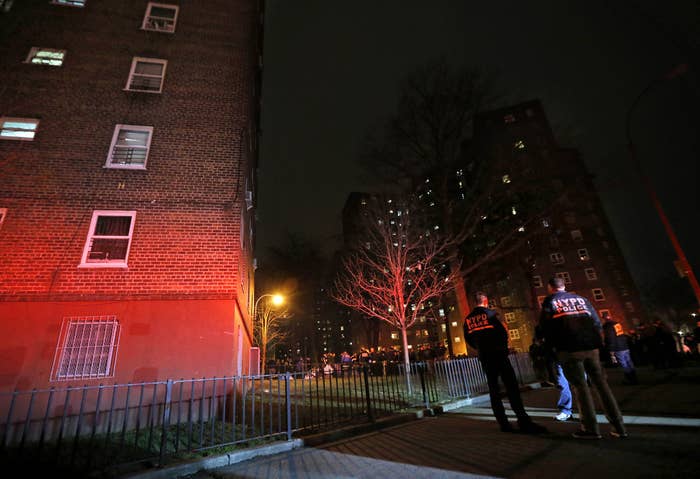 Two New York City police officers were shot Thursday night while patrolling a housing complex in the Bronx, officials said.
The officers were identified by police on Friday as Patrick Espeut, 29, and Diara Cruz, 24, both two-year veterans of the force. They were in stable condition and alert.
The shooting occurred around 8 p.m. as three officers were conducting a patrol on the sixth floor of the Melrose housing complex where they were confronted by two people, one of whom produced a handgun and opened fire. The third officer was not hurt, the Associated Press reported.
The shooter, identified on Friday as 23-year-old Malik Chavis, was later found inside a seventh-floor apartment dead of what appeared to be a self-inflicted gunshot wound, Deputy Police Commissioner Ben Tucker told reporters at Lincoln Hospital, where the injured officers were being treated.
Mayor Bill de Blasio praised the officers' bravery and the quick response to the incident.
"Our brave officers were doing their jobs tonight…keeping the residents safe when they confronted an armed assailant," De Blasio said. "But thank god, in both cases, their condition is good."
One officer was initially reported to be in grave condition after taking a bullet to the head, but New York police later said that neither of their injuries appeared to be life threatening.
At the news conference, officials said one officer sustained a gunshot to the face, the other to the abdomen.
Several others inside the apartment where the suspected shooter was found were being questioned, and the second person in the stairwell at the time of the shooting was taken into custody. A .32-caliber gun and shotgun were found inside the apartment, officials said.
The shooting occurred as De Blasio delivered his State of the City speech less than 5 miles away. According to a reporter at the event, he was whisked away by aides as news of the shooting broke.